What Does It Mean When Your House Fails An Inspection?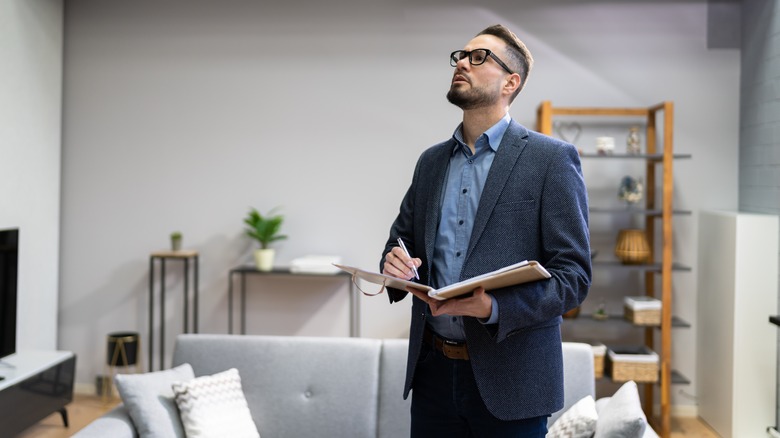 Andrey_Popov/Shutterstock
A home inspection is a significant part of the buying or selling process. It involves getting a professional home inspector to examine the condition of the entire house and provide an assessment based on their findings. They check everything, from the structure of the house to its rooms, and disclose any potential issues with it. Whether you're the owner, or you're looking to buy a home, an inspection lets you know what you're working with and helps to avoid any surprises.
Some things inspectors check during visits are the condition of the foundation, roof, and HVAC system. They also inspect plumbing and electrical systems. Based on the inspector's report, the seller then knows what to fix or repair while the buyer can decide whether they want to move forward with a deal or not. Home inspections are such a crucial part of the process, so it's important to know exactly what it means when a house fails an inspection and what to do next.
The basics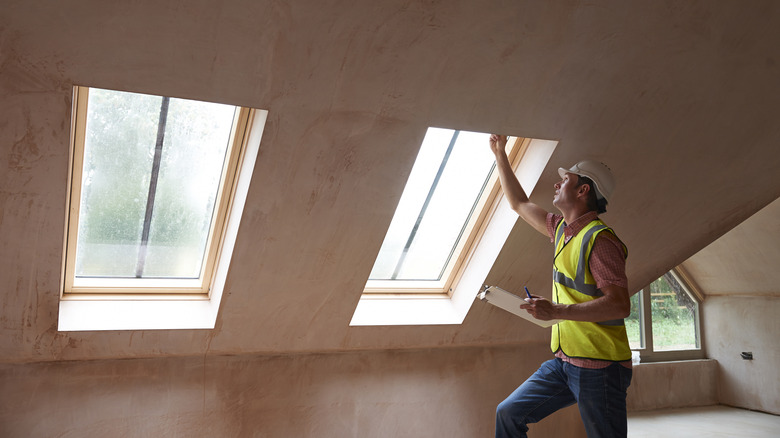 Highwaystarz-photography/Getty Images
A home inspection is intended to paint a full picture of what the home is like. It is meant to be a neutral and unbiased description, which is why the inspector usually doesn't provide serious recommendations on what to fix and how. This is why it isn't really about passing or failing inspections. According to Steve Wadlington, former president of WIN Home Inspection in Nashville, Tennessee, it is viewed "not so much as a pass-fail event, because it's really, done properly, a snapshot of the functional condition of the home's major systems" (via U.S. News & World Report.)
That being said, home inspectors check for safety and note any warning signs that may become bigger issues later. Some of these include infestations, asbestos, faulty roofs, foundations, and unsafe systems. When issues like these are uncovered, it leads to receiving a bad report. It also leads to unplanned repair costs for the seller and a longer wait or having to look for a new place for the buyer.
Next steps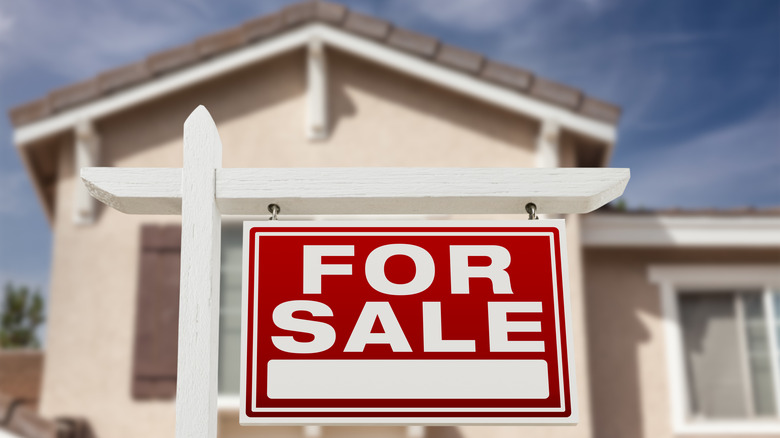 Feverpitched/Getty Images
Fixing most of these problems can be costly, and the onus is usually on the seller to take care of the repairs to attract buyers. A buyer that's considering a house is usually free to back out of their contract after a bad report, which can happen in the case of serious safety issues. If the issues are minor, however, the buyer might consider renegotiating the offer or discussing further with the seller about carrying out the repairs. If the seller doesn't want to do the repairs, a new offer can take into account the additional costs that the buyer will now have.
It can be really helpful to talk further with the inspector after reading their report. Some things you can ask about include the severity of structural issues, their input on maintenance, and any other concerns they may have. You can even ask these questions during the walk-through! This will make sure that you have all the information you need to receive a much better report after the next inspection.