Create A Stylish Headboard With TikTok's Latest Pool Noodle Trick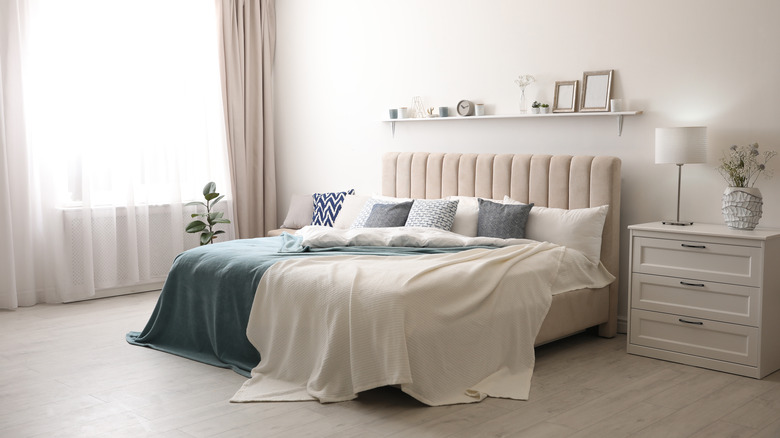 New Africa/Shutterstock
The easiest way to complete a bedroom design is by adding a headboard. There are many styles to choose from to introduce a pop of color, interesting texture, or a sense of scale and dimension. However, they can also be a costly investment many of us aren't able to purchase at the moment. While looking at the variety of products available at different online retailers, we noticed that the average price of headboards starts around $200 and can go up to $800 depending on the style and size you need. 
Fortunately, TikTok seems to have a hack for everything, including how to make your own affordable furniture. There are countless videos showcasing different ways to create a stylish headboard, however, we believe we've found one of the most affordable options that doesn't require too much skill. The main component? Pool noodles! We'll reveal all the tools and steps you need to know to complete this innovative DIY.
Step-by-step tutorial
TikTok user Sové Home revealed a straightforward tutorial on how to create a chic headboard with just a few materials (via TikTok). First, you'll need a staple gun, box cutter, marker, and spray adhesive. You will also need a few pool noodles, a wooden board, and fabric; this user advised using 3 yards for a queen-sized headboard. Once you have everything, start by highlighting the center of the pool noodle with a marker and drawing a line down the middle on both sides. Next, use your box cutter to perfectly cut down these lines before spraying the adhesive onto the wooden board.
Then, neatly stack the halved pool noodles next to each other until you've filled in the wood. Once that's done, grab your fabric and use the staple gun to attach it to one end of the wooden board's backside. Spray the adhesive directly onto the pool noodles and drape the fabric over. To create a clean and cohesive design, use a ruler to push the fabric between each noodle. Lastly, staple the other end of the fabric to the back and tightly pull each crease before also stapling.
What people are saying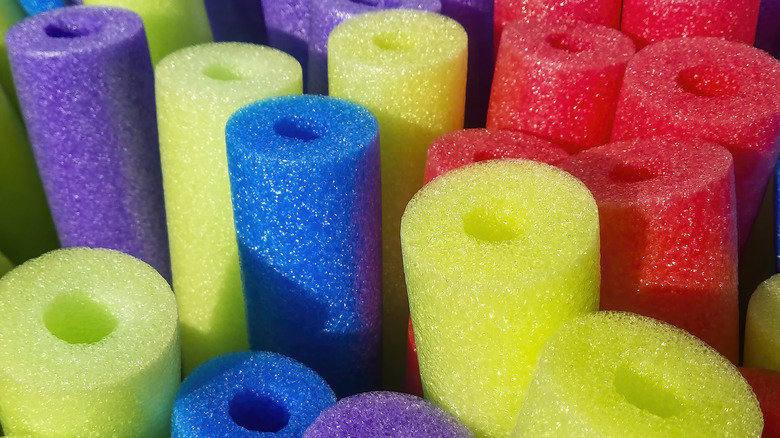 Jakeolimb/Getty Images
We believe this hack is an easy and unique way to create a beautiful headboard for your bedroom, especially with current high furniture costs. But don't just take our word for it. Several TikTok users commented, praising Sové Home for the simple tutorial (via TikTok). "This is the most straightforward and understandable TikTok tutorial I've ever seen," one user said. Others were happy to realize they could save hundreds of dollars with this hack. "I'm gonna make this because I don't want to pay $300+ for a headboard," another said.
Others claim they've already tried this tutorial and were pleased with the results. "I just want to say I just made this and it turned out so good! Thanks so much for sharing this tutorial!" Due to the popularity of this tutorial's seemingly easy steps, one user jokingly predicted the price of pool noodles is about to go sky-high.