Why We're Embracing Earthy Decor In 2023, According To An Expert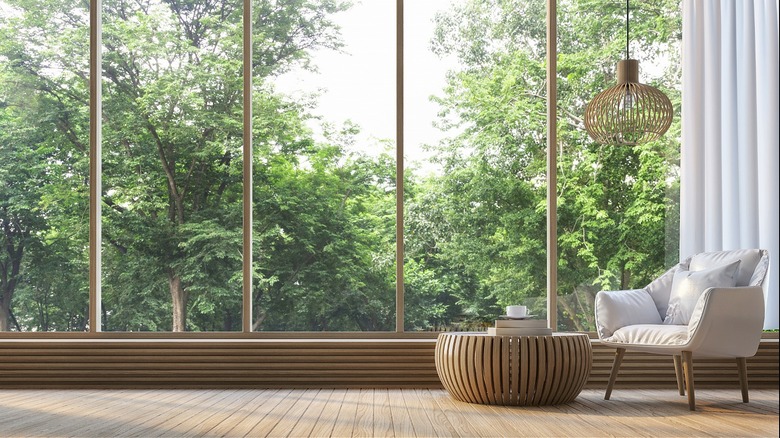 Runna10/Getty Images
Stepping outside to enjoy a breath of fresh air and experiencing the peace felt in a natural setting is always a relaxing experience. Watching leaves as they fall from the trees or water as it ripples across a lake can be very serene. It is now understood that spending time in nature is good for one's health, as the colors and textures of natural elements can create a sense of peacefulness and encourage a positive mindset.
There are various ways to carry this soothing effect indoors. One way is to incorporate some of the beautiful colors found in nature into your décor, such as the soft amber of a prairie or a rich mossy green. The use of organic colors and earthy décor is becoming popular again and filling today's homes with their unique beauty. In an exclusive interview with House Digest, Kelly Simpson, Senior Director of Design and Innovation at Budget Blinds, explores the significance of this ongoing trend.
Earth tones have a calming effect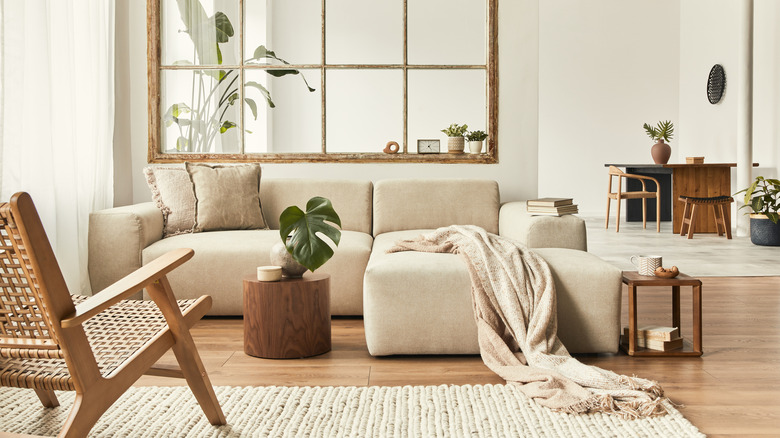 Followtheflow/Shutterstock
Kelly Simpson explains one reason that earth tones are becoming popular again is because of a subtle shift in our daily focus. "Using earthy colors such as muted tans, greens, and browns creates a sense of calm and connection with nature. With more people working from home, this is important to many who constantly feel stuck inside all day long." 
She explains that this color palette can enhance a person's life in ways that go beyond beautiful décor. People need the refreshment that results from time spent in a nature. It will revive your spirits and bring you a new perspective on your daily life. "When purposely designed, these elements create a connection with nature and impart numerous benefits to health and well-being. In fact, research suggests that it can lead to reduced stress, blood pressure levels, and heart rates, while increasing productivity, and creativity." It's easy to incorporate earthy colors and textures into your home, and you'll enjoy the tranquil quality they add to each room.
The materials are eco-friendly by nature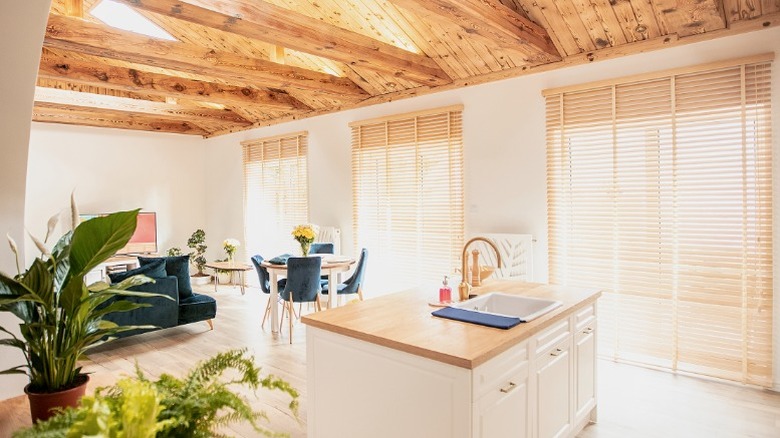 Neonshot/Getty Images
Simpson also points out the practical features of decorating with natural materials and how it's rewarding to make choices that are in harmony with the environment. "Costly climate disasters of recent years are making people more conscious of the importance of sustainability in 2023, and more and more people are looking for earth-friendly products now more than ever." She goes on to explain different examples of sustainable types of décor. "Woven woods and textured roller shades are becoming some of the most favorable window treatments around the world because they're made of eco-friendly materials that help bring natural elements into the home."
These design elements are not simply eco-friendly, but their texture brings a unique beauty to the room. "Wood and faux wood blinds and shutters also help create a modern yet rustic and cozy style for living spaces, which is highly sought after this year." The benefit of natural textures is that they always have an individual style. "Another way to attain modern rustic style is through irregular textured fabrics such as linen. Those slubby textures give off a comfortable and homely vibe."
Effortlessly add organic style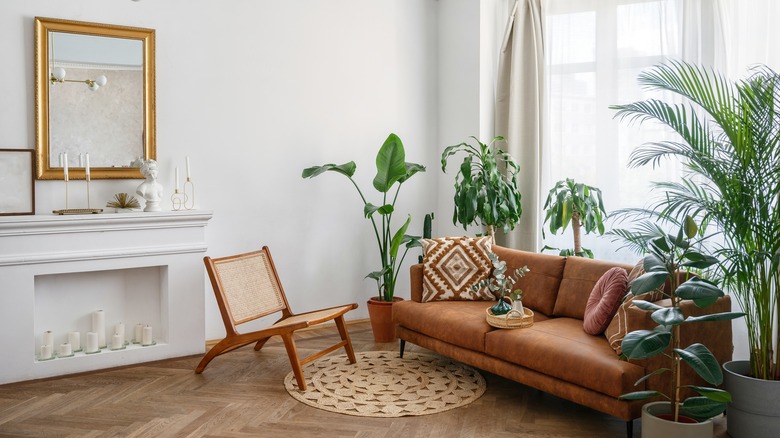 brizmaker/Shutterstock
When homes are designed with open spaces and natural light, it brings a sense of airiness and good health into each room. Simpson points out, "As we get into 2023, mental health continues to be an important focus. Spending time in nature lowers blood pressure and promotes mental wellness so why not surround yourself with nature indoors?" Earthy décor should include living greenery as well. "Decorating your home with various outdoor elements such as plants allows you to bring the benefits of nature home."
Simpson suggests several examples of how to blend these elements into your décor. "Botanical motifs such as flowers and leaves add organic style, so consider incorporating these patterns with accent touches like pillows and rugs. Think about using shades of greens that tie into plants and foliage or earth tones that pair well with outdoor landscapes." She also points out that fabrics and variety make a difference in the design. "Incorporate natural materials, soft and pleasing organic patterns, colors, and textures that induce feelings of our natural world and the calm, tranquility that biophilic design has come to represent."
Bring the inside and the outsider together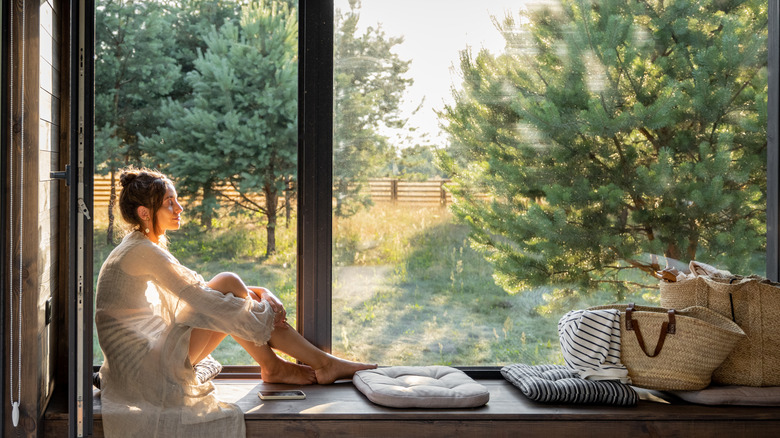 RossHelen/Shutterstock
Simpson emphasizes how beneficial it is to fill your home with the beauty of outdoor scenery. "Incorporating earthy tones through your windows with views featuring beautiful plants, a fountain with running water, or simply natural light can add to a sense of well-being." In order to enhance the beauty of the view outside, it's important to choose the right materials for your windows. "While beneficial, connecting to the outdoors can at times create a challenge with glare, solar heat gain, and energy loss. Clear window film with UV protector controls glare so you can enjoy the view while also rejecting up to 40% of the sun's heat. Adding solar shades can also block harmful UV rays and increase privacy."
She explains the particular advantages of using these materials at this time. "As economic uncertainty looms over 2023, these energy efficient solutions help lower cooling costs in warmer months. Additionally, energy efficient window treatments are environmentally-friendly, a top concern in 2023, as they can reduce the amount of greenhouse gases emitted by air conditioners." Following these worthwhile suggestions will bring the beauty and calming effects of earthy décor into your home as well.