The Earthy New Home Decor Trend You're About To See Everywhere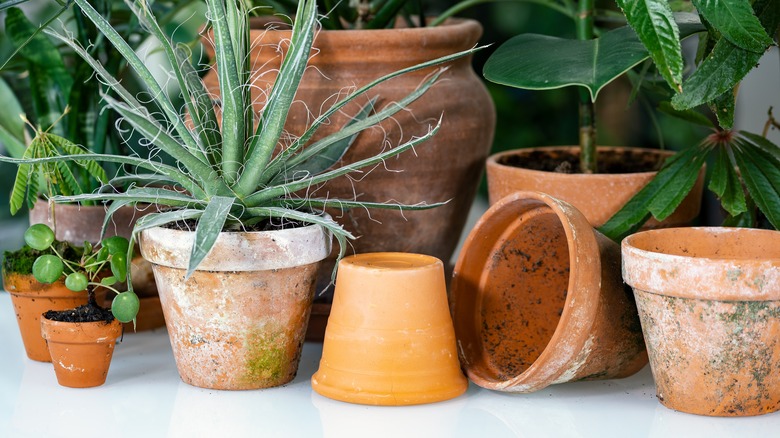 Fabrizio Guarisco/Shutterstock
The age of minimalist and monochromatic neutral colors is over, and a new color has stepped up to replace it, says Realtor. You are probably familiar with the earthy hue, as it is a popular material for both indoor and outdoor pots — that's right, the newest color trend in interior design circuits is terracotta.
The rich, rooted color falls somewhere in between orange and brown with a hint of pink. While it may be a new trend, the color and material have both been appreciated for a long time, and are firmly established in various design styles. It has been used as a material for multiple millennia, with Ellementry saying it dates back as far as 26,000 BCE in Moravia.
Terracotta is also a popular color and material in Mediterranean, Tuscan, Spanish, and Southwest design styles. It is a neutral color, but quite a warm one at that, which lends itself perfectly to the warmer palleted aesthetics. Don't write off terracotta as style-specific, though, as it is a wonderfully neutral, rich, and versatile color and material.
Feature terracotta paint
A great and easy way to incorporate the warm and earthy terracotta is by using it to paint your walls. The orange-pinkish shade looks great when used to paint a whole room, which will create a really warm, intimate feeling. When paired with other deep shades like dark blue, red, or brown, it'll really amp up the cozy, heavier tone. Alternatively, terracotta looks great as a feature wall color, like this bedroom from @katrineutseth on Instagram. Realtor recommends pairing a terracotta accent wall with other warm neutrals, like white, cream, ivory, and beige, either as paint, furnishing, or decorations.
Terracotta can be a bit of a tricky color to nail in terms of paint, though, since there's quite a large range of colors, and discrepancy over what actually counts. Decommunity says that the burnt orange paint colors from Pantone are generally safe and regarded by interior designers as authentically terracotta, specifically anything between Pantone 2429 U and 180 U.
Lay terracotta tiles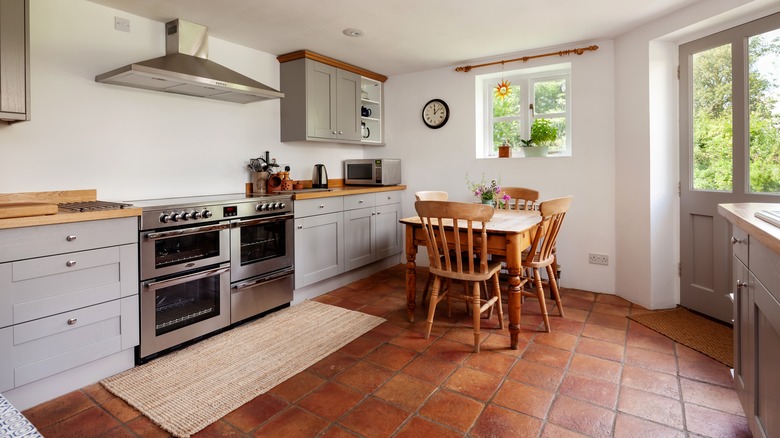 Mike Higginson/Shutterstock
Terracotta flooring has been both a popular and practical flooring for a long time. Realtor points out the material's popularity specifically in warmer climates in the United States, as well as other warmer regions of the world, as the burnt orange clay is much more cooling than carpet. It is also a very durable and hardy material, and ideal for areas of your home like bathrooms, kitchens, and living rooms, as the tiles are really easy to clean and not likely to wear down as much as wood.
Terracotta tiles are very popular in Southwest, Mediterranean, and Tuscan styles, but they are not exclusive to them. Decommunity recommends terracotta tiles paired with white walls for a minimalist approach, though the same combination could easily be made maximalist and boho with the appropriate décor. They can also be used in cottage and farmhouse style homes. Not only will they look great, but they are long lasting, with HGTV saying good quality tiles will endure forever. Plus, they aren't too expensive, costing anywhere from $3 to $7 per square foot.