What Is A Smart Garden And Should You Buy One?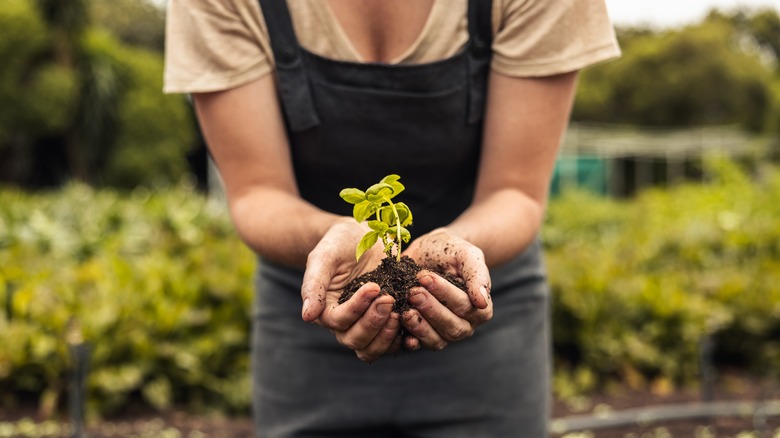 Jacob Lund/Shutterstock
Experienced gardeners typically find tending plants to be a relaxing hobby. However, for those of us who are just starting out, it can easily become an overwhelming situation. Different plants have different needs, and who wants to be the irresponsible plant parent who prevents their seedlings from growing? Gardening can also be a costly endeavor if you're repeatedly making the same mistakes, resulting in repurchasing all kinds of tools and amendments in an attempt to cultivate a thriving garden. Some have paid as much as thousands of dollars to create a large kitchen garden.
What if we told you there may be an easier and much less expensive way to start a garden at home? Technology continues to evolve in every sector of our lives, from how we drive to how we shop and cook our meals. Now, indoor smart gardens have been made readily available. There are many options to choose from at various price points, but you may still be wondering it smart garden are too good to be true. We'll let you in on all you need to know.
A convenient and simple gardening method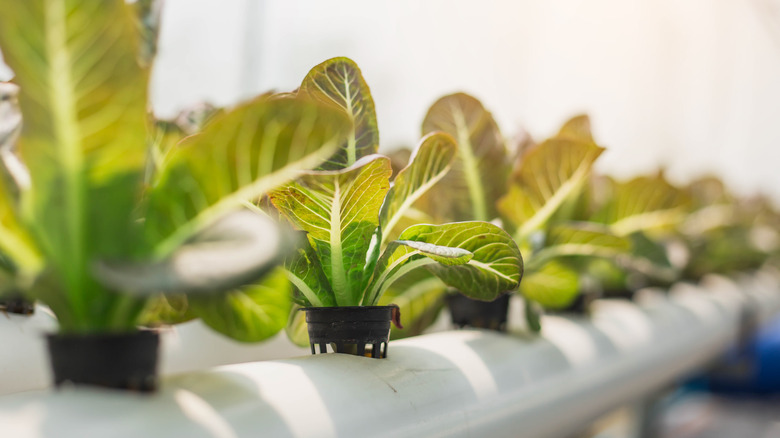 bluedog studio/Shutterstock
The main benefit of using an indoor smart garden is that it's easy to use and requires only a few steps. These products usually come with a set amount of biodegradable plant pods that get placed inside the device. Conveniently, each pod comes already filled with the nutrients needed to grow a healthy plant. There's also a water compartment; once it's been filled and is ready to go, all you'll need to do is turn on the device and it will water your plants for you and provide a healthy glow of light. 
What may be the most impressive feature of smart gardens is the wide variety of apps available to help gardeners — especially beginners — grow their plants from start to finish. Some apps offer a scheduling feature to control the brightness of the light at different times of the day; others allow you to track the growth of your plants while you're away. Smart gardens can be a great option to reduce the stress that sometimes comes from trying to maintain and grow various fruits, vegetables, herbs, and more. However, even though the units are quite innovative, the portion size grown in a smart garden tends to be on the smaller side, so don't count on one of these to feed your entire family.
Different options available
What we most appreciate about indoor smart gardens is the range of options available at different costs. If price isn't a concern, check out the Rise Garden, which starts off at $749 for a single garden. This unit offers several convenient features, such as a 9-gallon self-watering system, 30W LED full spectrum lights, a voice-controlled system, and a starter kit. If that's way over your budget, we recommend starting off with something smaller, such as The Smart Garden 3 from Click and Grow. Shown above, this smart garden is priced at about $100. It's much more compact, which could make it a less daunting option for first-time gardeners.
Due to the various products available and the seemingly easy steps it takes to use a smart garden, we believe it's worth giving a try. Although we've mentioned before that this would be a suitable device for beginners, we're sure seasoned plant lovers will enjoy having this type of setup placed somewhere within their home to supply their kitchen concoctions with even more fresh produce.