35 Wonderful Window Treatment Ideas To Brighten Every Room In Your House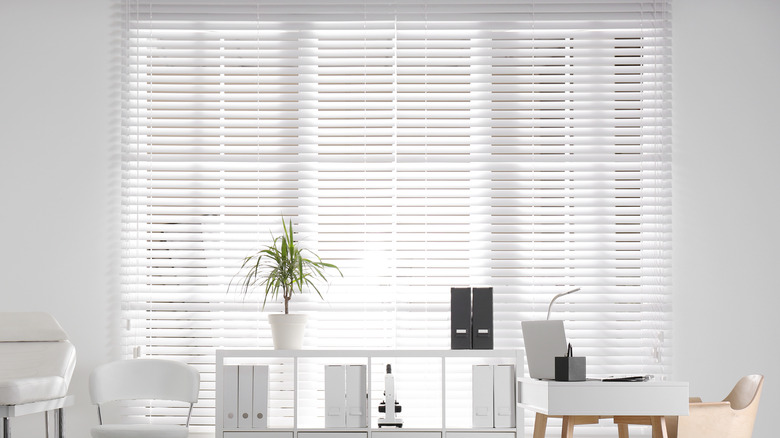 New Africa/Shutterstock
There's no better or more cost-effective way to refresh a room than with window treatments. Curtains are affordable, simple to hang, work in most rooms, and come in styles, colors, and prints that can transform a space. From vibrant options that create a stunning contrast to sheer varieties that give your room a more open and airy feel, it's never difficult to find a lovely complement to your home that matches your décor.
Personalized window treatments are also a viable option. It's exciting to create something suited to your style and space, from a simple cornice window treatment to a more complex upholstery panel that can be customized with paint, fabric, and trim. Light can be controlled, texture can be added, and your room's look can be transformed. However, if you're looking for something more substantial, consider a twist on a classic, such as roman shades. In addition to adding colors and patterns to your room, they are excellent at filtering the right amount of light while providing privacy. If you're in the mood to treat your windows, here are 35 ideas to get you started.
Simple blinds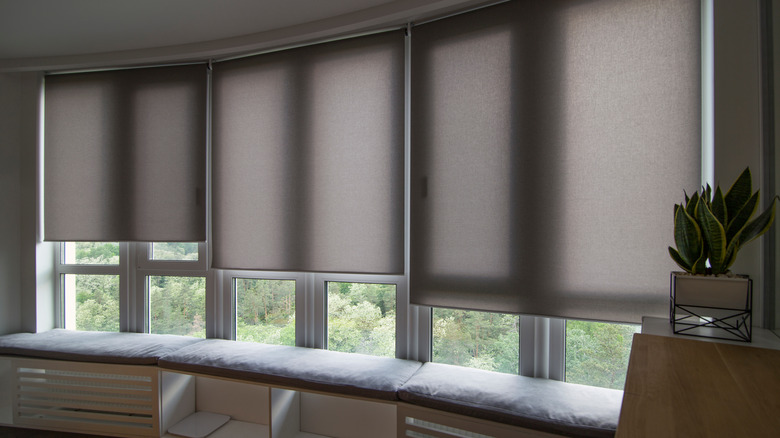 Astibuk/Shutterstock
This trio of blinds across the window seat gives plenty of options for filtering the daylight into a room. The color is neutral and will pair well with most décor. Curtains could be added for a softer look, or the window area could be kept simple for cleaner lines.
Full length curtains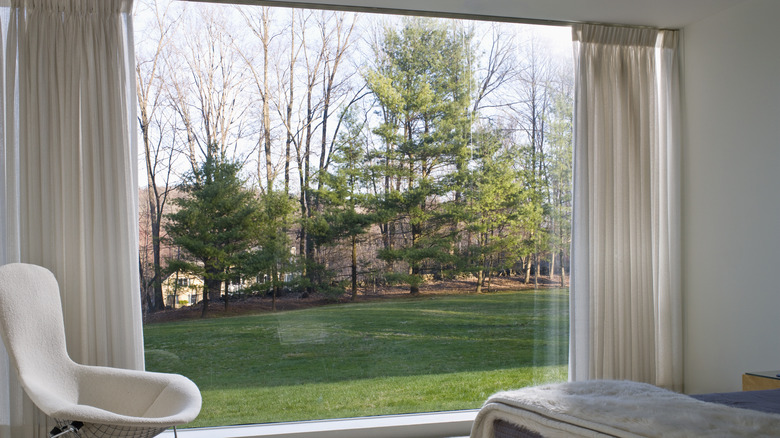 Erik Snyder/Getty Images
These light curtains are perfect for this large bedroom window and its stunning view. They are simple with no fuss and allow the beauty of nature to flow unfiltered into the space.
Blackout blinds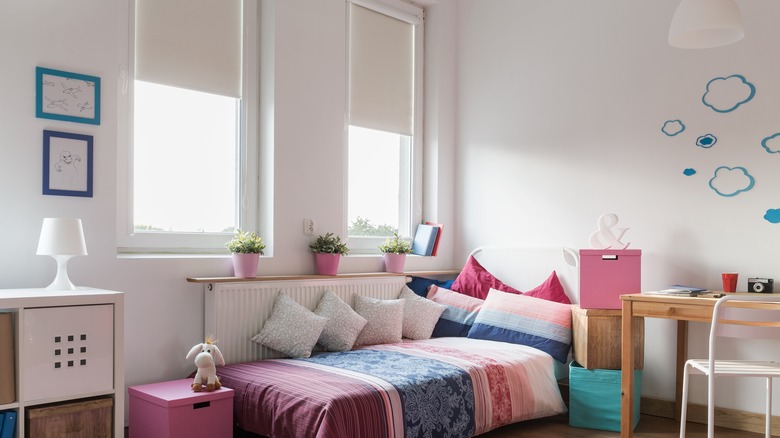 Katarzynabialasiewicz/Getty Images
Blackout blinds are a fantastic choice in a bedroom, especially a kid's room. They help keep the room as dark as possible, which aids in restful sleep — white ones like these help keep things bright and airy while blocking out unwanted light.
Bathroom beautiful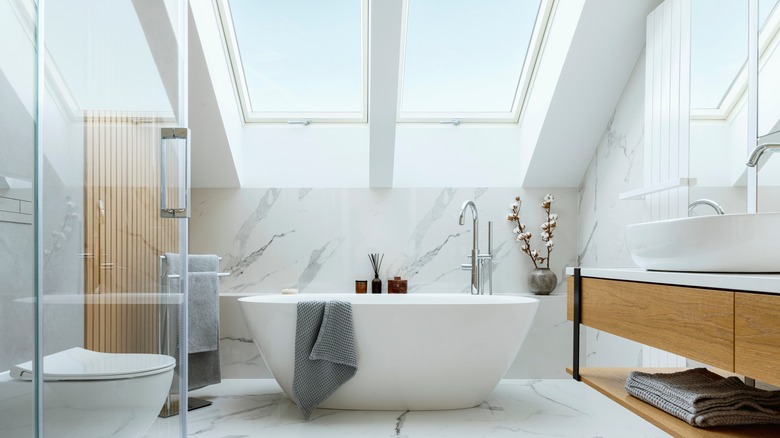 Followtheflow/Shutterstock
Sometimes there is no window treatment necessary to elevate a room. However, you can get fitted blinds for roof windows in various colors and styles. With the pitched roof windows in this example, privacy isn't an issue; you can have a bath under the stars without blinds spoiling the view.
Shutters for a cozy effect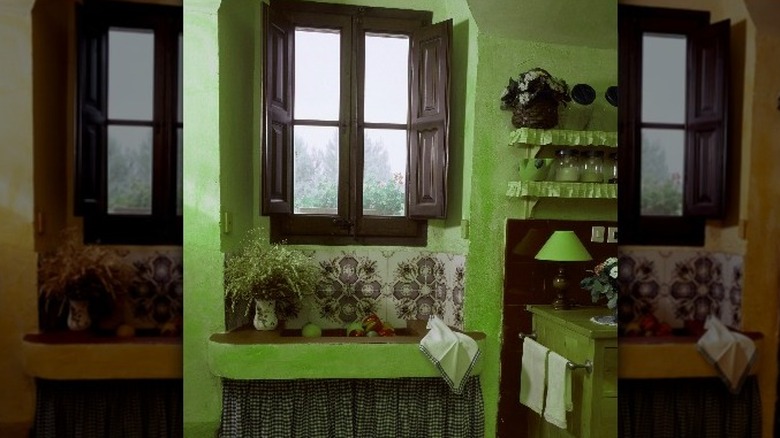 Construction Photography/avalon
Shutters can add a lovely cozy feel to any room in your house. When closed, they block out substantial light. However, when fully open, they allow the daylight to stream in. They can also be painted whatever color suits the room or left unpainted for a natural touch.
Layered day and night blinds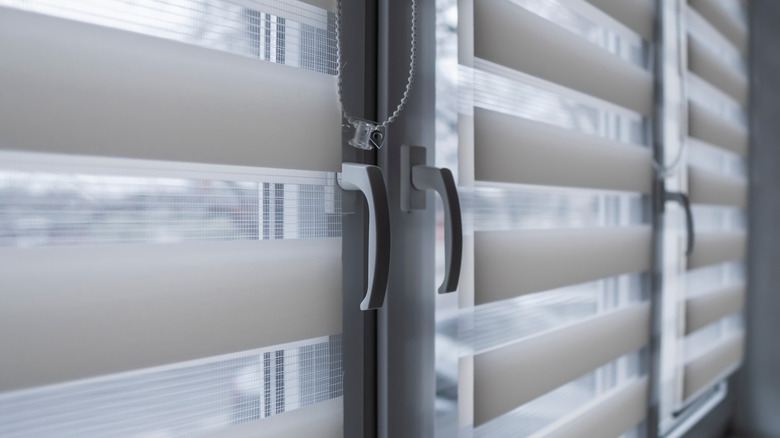 Volodymyr_Shtun/Shutterstock
These are called day and night blinds. They are layered and offer a lot of privacy while not compromising brightness. When open, they provide a good view of the outdoors; when closed, they are sheer enough to keep the room bright and airy.
Thick embroidered curtains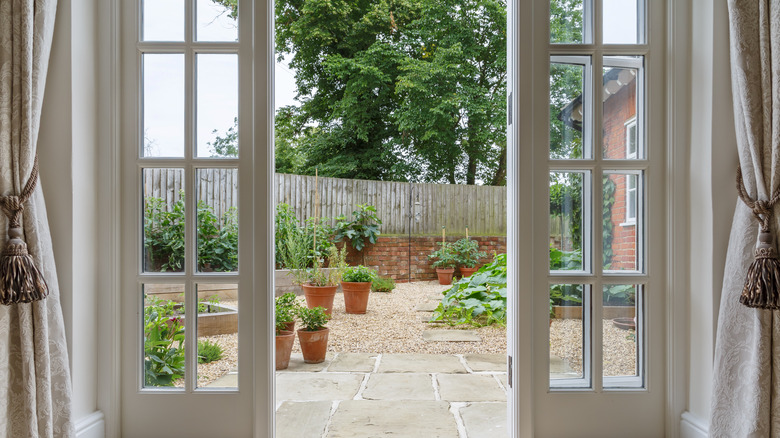 Paul Maguire/Shutterstock
French windows are large and let in lots of natural daylight. On this occasion, the owners decided to pair them with thick embroidered curtains held open with tasseled tie-backs. They will help keep the cold out on winter nights, and the textured material helps give the room a sumptuous feel.
layered effect
Pixel-Shot/Shutterstock
This window is covered with a sheer voile, allowing ample natural light to filter through to create a bright, breezy atmosphere. To either side of the window, elegant grey curtains add a touch of sophistication to the room. The voiles and curtains are floor length, making the window appear much more prominent.
Natural and functional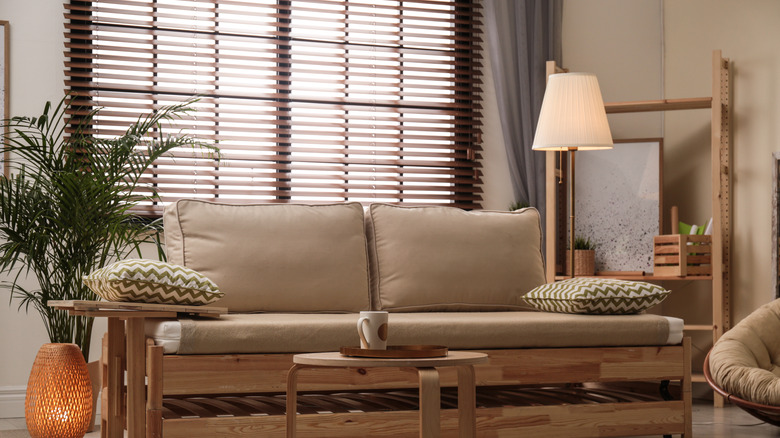 New Africa/Shutterstock
This stylish yet functional window sports slatted blinds, allowing some natural light to enter the room while providing privacy. A single pale gray curtain is tied back on one side of the window, creating a layered and textured look.
Roman blinds are always an option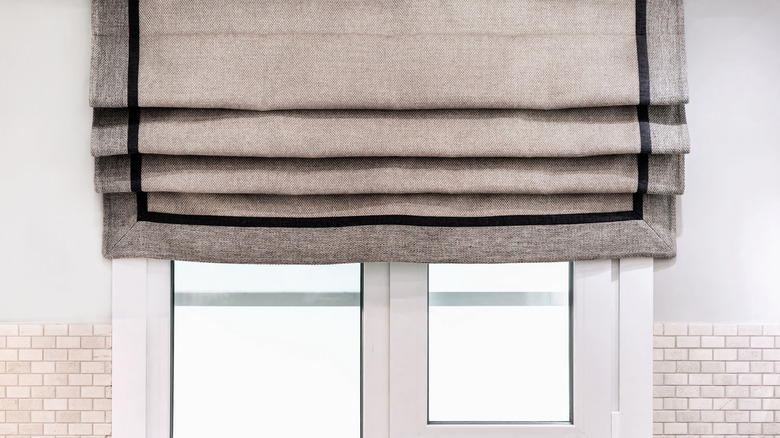 valemaxxx/Shutterstock
This taupe-colored Roman blind with graphic black trim draws the eye and adds visual interest to this window. The overall effect is a stylish and practical look that works in various rooms throughout the house.
Sumptuous and elegant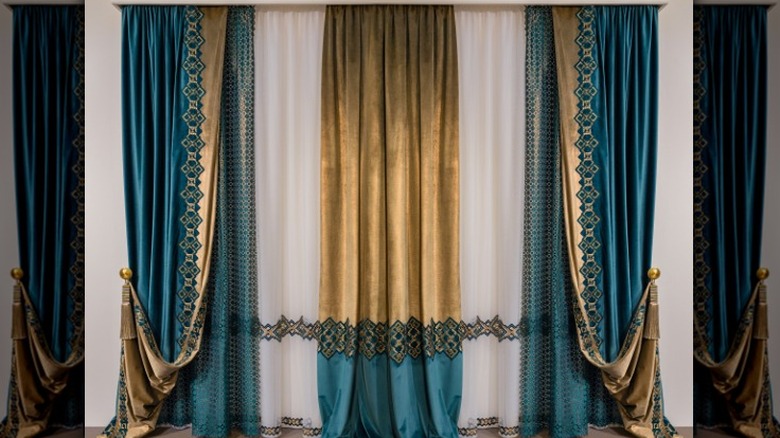 Fotiy_Svetlana/Shutterstock
Curtains like these draw the eye and create a sense of drama. The sumptuous texture of these gold and teal velvet curtains makes a bold statement while adding warmth to the room. This window treatment is a real showpiece that controls privacy and light via the semi-sheer voiles on each side.
A pop of color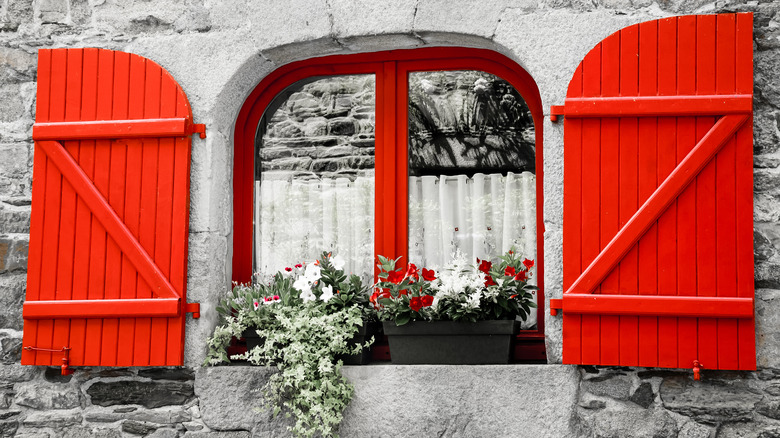 Elena Dijour/Shutterstock
This small farmhouse-style window has a net curtain hung halfway down the glass for partial privacy while adding a soft and delicate touch to the space. Bright red shutters add a modern pop of color while maintaining a traditional and timeless feel.
Plantation shutters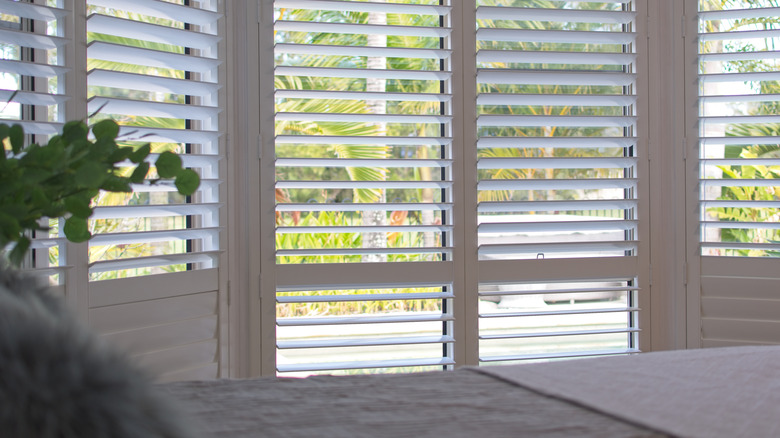 A.Flassig/Shutterstock
Adding plantation shutters to a bedroom is a beautiful way to bring a touch of elegance and style to your home décor. Matching them on the patio doors gives the space a seamless look, offering privacy, with flexibility regarding how much light you want to filter into the room.
Rustic charm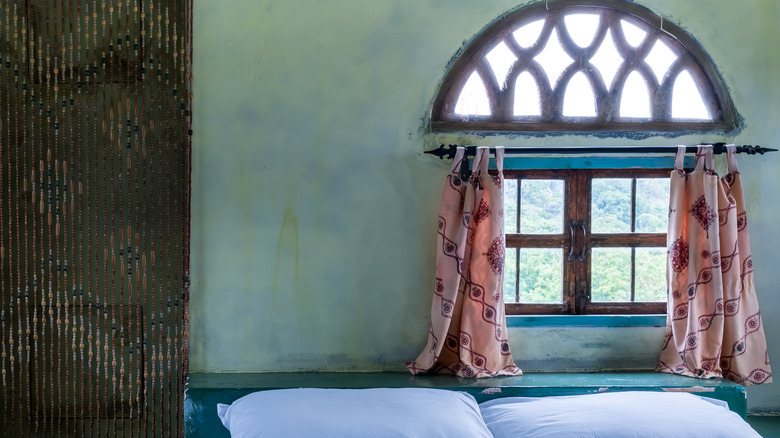 Naphat_Jorjee/Shutterstock
This small arched window provides a great focal point and is the perfect start towards making the room look charming and inviting. A pretty pink curtain halfway down the window adds a touch of femininity to the room while leaving the arch unadorned, allowing in plenty of natural light.
Beautiful beads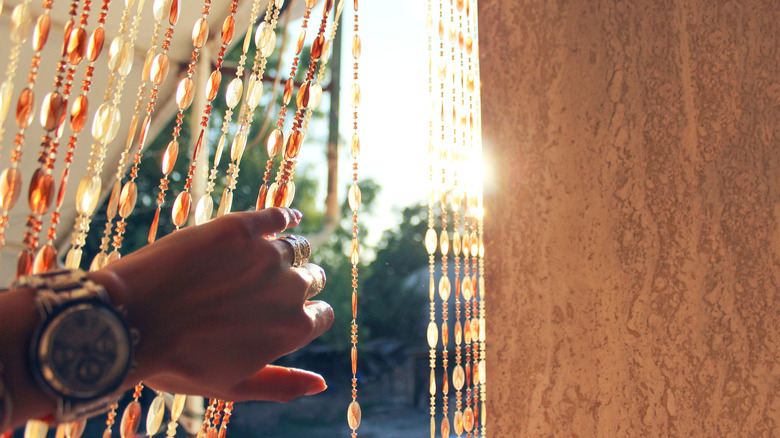 Haelen Haagen/Shutterstock
Window treatments can be simple or intricate, and beaded curtains provide a unique option. From small, delicate strings to large, eye-catching patterns, a beaded curtain adds a special touch. The sparkle of the tiny beads adds an undeniable charm and can be used to highlight the magic of any room.
Bathroom shutters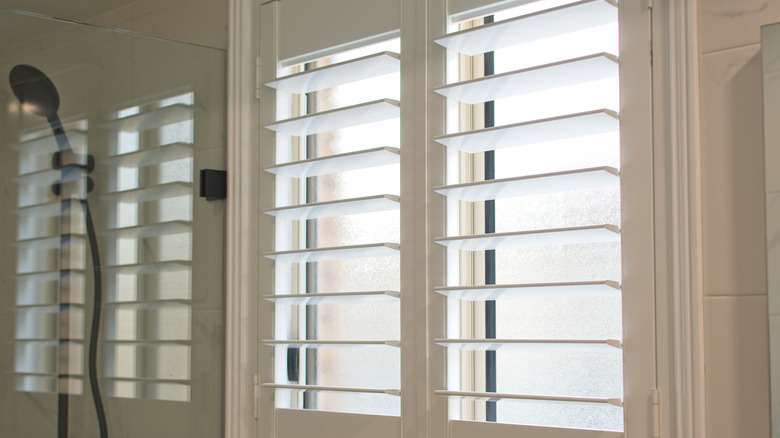 A.Flassig/Shutterstock
This bathroom features large white plantation shutters that provide privacy while allowing natural light to filter in. They add a touch of class and are easy to maintain.
Simple vertical blinds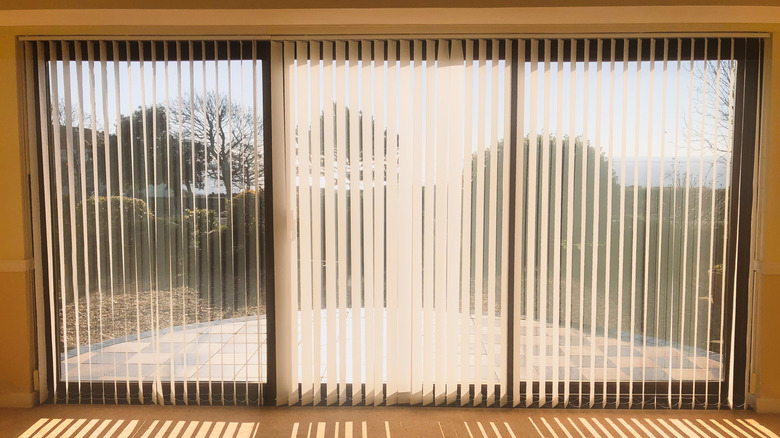 Christine Bird/Shutterstock
For those who appreciate simplicity, vertical blinds can make an excellent window treatment for large surfaces. The sleek, modern appearance of these blinds can bring an air of sophistication to any room while still providing complete privacy when necessary and versatile light control.
Geometric contrast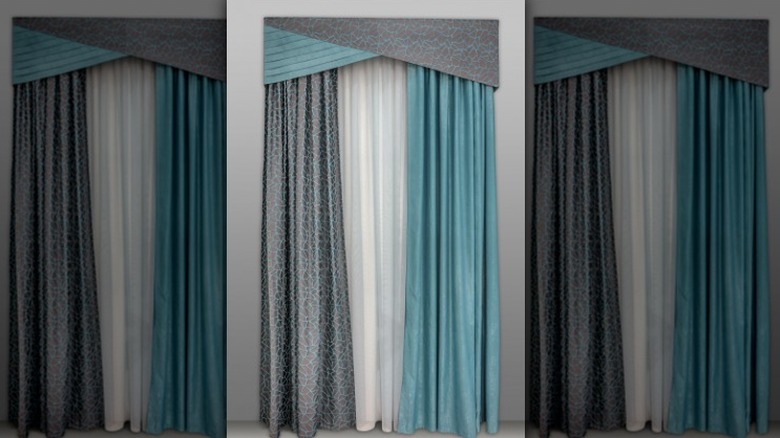 Fotiy_Svetlana/Shutterstock
In this photo, a bold, geometric gray print curtain adds visual interest on one side, while an unpatterned teal curtain balances the overall look. The combination paired with the white voile behind creates a layered and textured look, while the matching pelmet helps to make the most of this small window.
Vinyl window stickers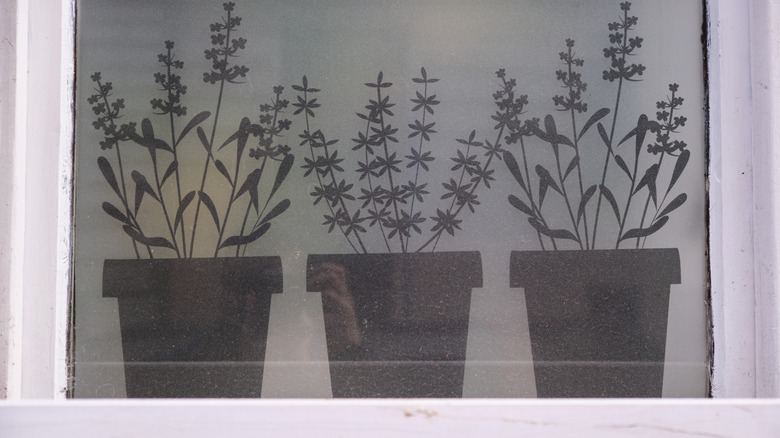 MD_style/Shutterstock
This window has an opaque vinyl sticker featuring a beautiful plant pattern. The sticker is semi-transparent, allowing sunlight to filter through while still providing privacy to the space. Vinyl stickers like this come in various designs or can be plain.
Delicate embroidery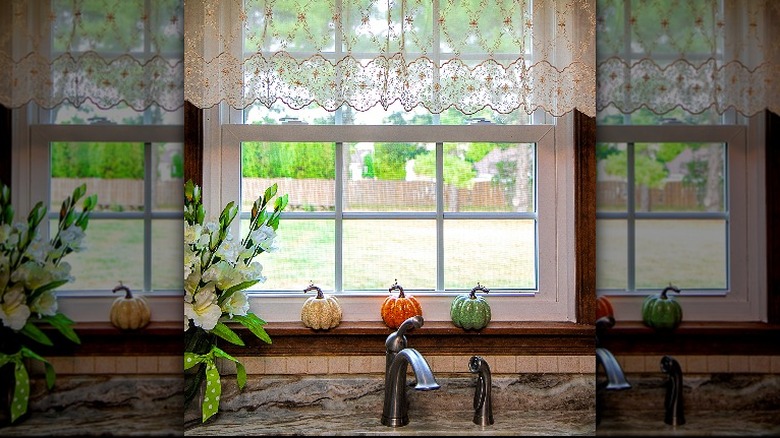 Trudy Wilkerson/Shutterstock
This kitchen is illuminated by natural light from a window that overlooks the garden. A gold embroidered sheer curtain decorates the top half, adding texture and elegance. It also allows sunshine to filter through, all while creating a feeling of privacy in a simplistic style.
Beautiful stained glass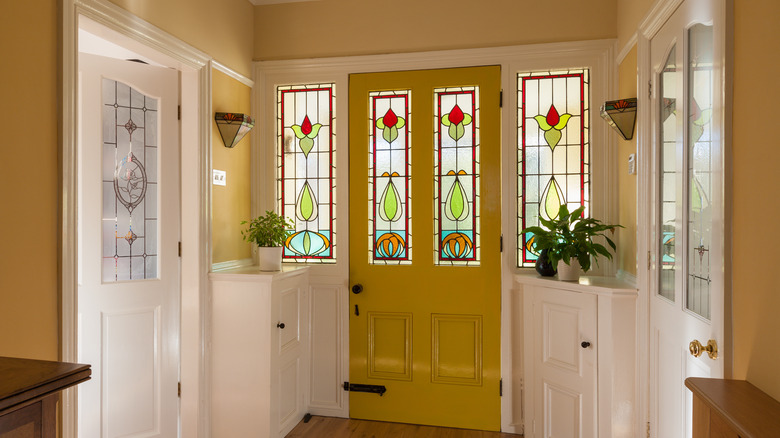 JSvideos/Shutterstock
This doorway features an elegant stained glass display that combines both privacy and style. The vibrant stained glass door, surrounded on either side with matching panels, provides a unique window treatment solution that requires no further covering.
Add a pop of color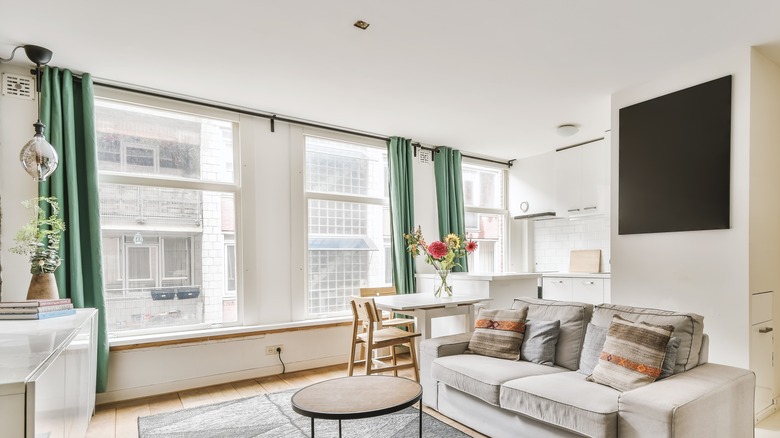 Procreators/Shutterstock
The large windows in this living space provide a perfect opportunity to add some bold, eye-catching color, and these velvet curtains offer just that. The muted green tone adds much-needed tension to the room. They drape elegantly and provide an effortless way to add some extra luxury.
Amazing view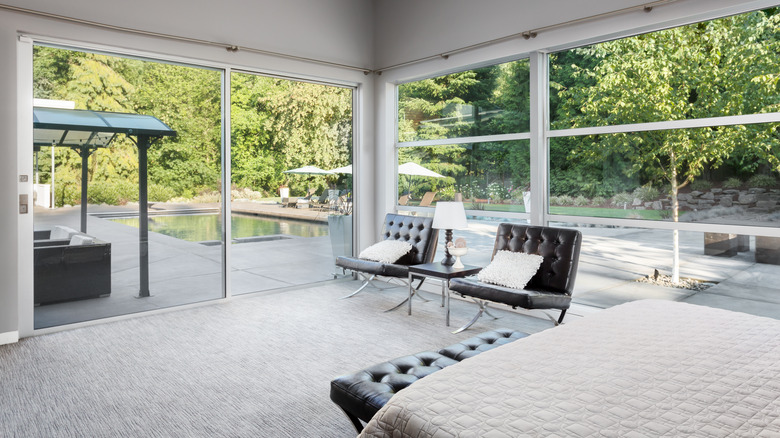 Justin_Krug/Shutterstock
These colossal bedroom windows span two walls and stretch from the floor to the ceiling. The view from the window is breathtaking and shows that sometimes no curtains or blinds are necessary as, on occasion, the best window treatment is no treatment at all.
Dreamy, soft voiles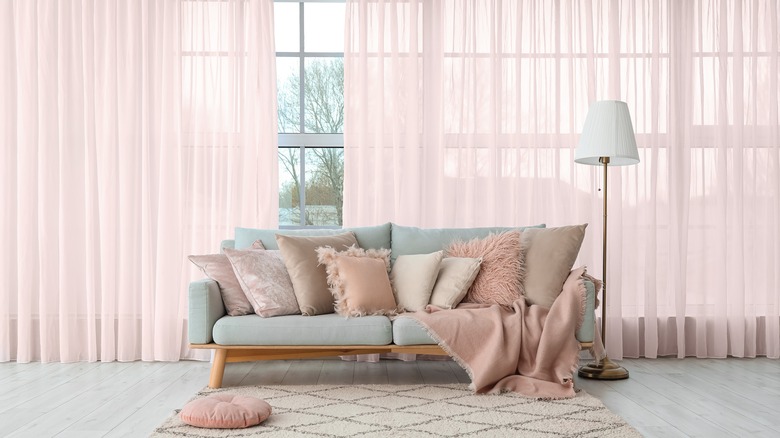 Pixel-Shot/Shutterstock
These voiles are almost transparent, draping gracefully from the top to the bottom of the window. They softly filter the natural light, creating a dreamy atmosphere and offering privacy. As the picture shows, the color can match any accent color within the room.
Shoji screen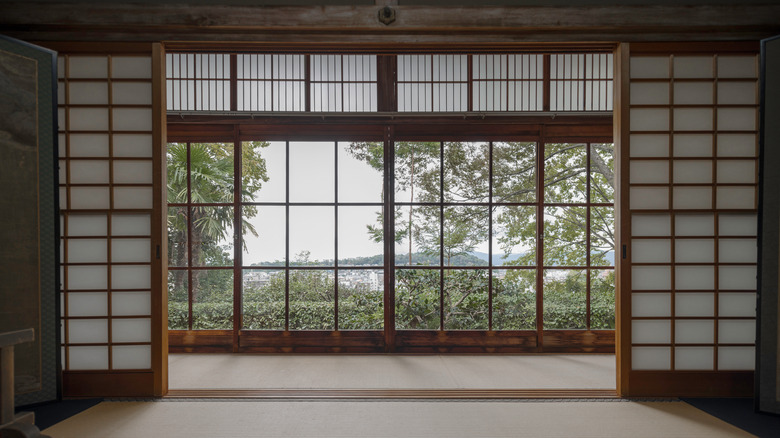 LR-PHOTO/Shutterstock
This shoji screen's design provides a sense of zen and style that can enhance any room, creating a calm atmosphere. It's an excellent window treatment choice, offering both beauty and practicality.
Bold patterns
These stunning Roman blinds combine style and functionality, bringing a bright touch of color and visual interest to any space. They allow light into the room, whether open or closed.
Floral effect
These floral blue-green blinds go beyond their functional benefits, infusing the surrounding space with serene charm. The material is thick, ensuring ample privacy and excellent light control. In contrast, the sheer voiles create a calming atmosphere and a layered appeal.
Sliding mirror
Jason Finn/Shutterstock
This bathroom window solution is as original as it is functional. The clean lines and structure make a modern statement for this room. The mirror, mounted onto a sliding track, can be slid into position in front of the window to block out light and add privacy while using the facilities.
Vibrant florals
Add a pop of color to your décor with these vibrant floral roller blinds that give off playful energy. Even in neutral-toned rooms, these blinds can be used to provide visual interest by adding color and pattern to tantalize the senses.
Dining room drapery
Create a warm and cozy vibe in your dining area with these elegant white curtains that offer style and function. The soft, lightweight fabric drapes beautifully, filtering light and adding a touch of sophistication, while the blinds can be lowered to block out unwanted glare from the sun.
Classic monochrome
Bring a touch of classic charm to your home with these stylish monochromatic checked blinds. They are suitable for filtering the light, plus, when paired with the frilled voiles, it brings feminine energy to the space.
Wooden and natural
Enhance the charm of your kitchen with these beautiful natural roller blinds, which create a rustic ambiance. Even when fully down, the light can still infuse through the blinds while maintaining a room's privacy. The classic design makes them an excellent choice for most homeowners.
Patterned roller blind
These stunning red and white geometric patterned blinds bring a sharp, playful aesthetic to this modern kitchen. The warm hue complements various décor styles, making it a versatile choice for any style and taste.
Simple, modern, clean lines
Transform your window area with these layered curtains that add elegance thanks to the tasseled tie-backs and subdued tone. Framing the natural beauty of the outdoors, these can be closed for added privacy, or if preferred, just the sheer voile can be used to obscure the view inside the house.
Soft, filtered light
These grey curtains pair well with the room, and layering them with beautiful sheer drapes allows light through without compromising style. In addition, the blinds against the window can be closed to block out the light without spoiling the look of the decorative curtains.