Bioluminescent Houseplants: The Indoor Gardening Trick That Will Light Up Your Home
Our homes are filled with a multitude of light sources, from simple ceiling lights and lamps both decorative and functional to candles, screens, and flashlights. It's natural to want to illuminate your home, both for the purpose of seeing, and adding some decorative touches. But what if your plants could be used to achieve this as well?
Glow-in-the-dark plants may sound too good to be true, or like something straight out of a sci-fi film, but one company is working to make them a reality. Light Bio is a company made up of a team of four Ph.D. scientists, each with the common goal of creating houseplants that would be luminescent in dark environments.
The Light Bio project comes from the merging of biochemistry, synthetic biology, and the study of both natural bioluminescence and manufactured luminescence, which aims to genetically modify houseplants we all know and love into mystical-looking, glowing additions to indoor garden collections.
What is bioluminescence?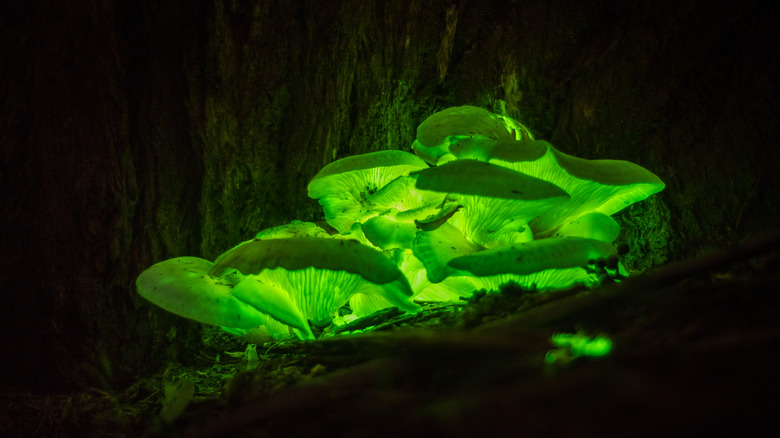 Petar B photography/Shutterstock
Bioluminescence is something that already exists in the natural world, and something you've most likely encountered multiple times in your own life. If you've ever spent a summer evening outside and seen fireflies lighting up the night sky, you've seen bioluminescence in action. This is also seen commonly in the ocean, both in the deep sea and shallower waters. Anglerfish and jellyfish are two of the more well-known examples, but bacteria, algae, worms, and even some species of sharks can all have this property.
Bioluminescence is caused by a natural chemical reaction between a molecule called luciferin and oxygen. While the light we get from the sun, or from artificial sources like light bulbs, is hot, this light is cold. National Geographic reports that only 20% or less of bioluminescent light produces heat. Species that also produce luciferase can produce light more quickly, and some even have the ability to modify the colors and the power with which they shine their light.
This isn't exclusive to fish, insects, or bacteria, though. Bioluminescence is also a phenomenon in the fungi kingdom. Glow-in-the-dark mushrooms have been documented as far back as Aristotle, who called them foxfire. A 2015 report published in Current Biology (via Science Daily) revealed that bioluminescent mushrooms actually produce light on a circadian clock, reacting to cooler night temperatures. The findings were groundbreaking, not only for mycologists but also for those researching the way bioluminescence works — and how it could be synthesized and also replicated.
The Firefly Petunia
Bioluminescence itself may be a centuries-old — if not a millennia-old — natural phenomenon. How have scientists been able to synthesize it, then? In a YouTube video with NFX, Dr. Keith Wood, the co-founder and CEO of Light Bio, as well as a leading bioluminescence scientist, explains the process.
In the video, Dr. Wood cites the study of bioluminescent fungi as the basis for the plants they've been modifying and growing. He says that the scientists at Light Bio have "tapped in" to the metabolism of both the plants they're modifying, and the fungi they're studying, to synthetically create glow-in-the-dark houseplants.
Dr. Wood also says the company plans to create multiple bioluminescent plants, as well as multiple glow colors. Light Bio has yet to officially release any purchasable plants, but they do have a waitlist for their soon-to-be-released Firefly Petunia — a petunia flower that will glow green in darkened environments.