Mistakes To Avoid When Designing Your Deck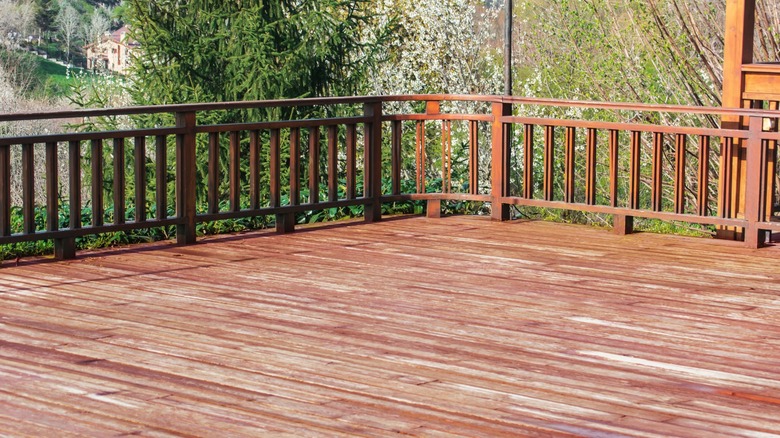 SahinDamar/Shutterstock
Building your own deck is an ambitious DIY project, and if you don't do it right, mistakes can be costly. The planning stage is crucial, and there are many things to consider. For one thing, you're going to need some help, as it's not really a one-man job. Another thing to remember is you'll likely need to obtain permits, so be sure to find out and submit the proper applications. Part of the process is going to be submitting site plans that include drawings for the construction of the deck. Unless you have experience doing a project as big as this, you should probably consider at least speaking to a professional contractor for advice.
Assuming you know what you're doing and are intending to proceed, doing research like this can prevent you from making other serious mistakes. There is a lot of information about building a deck that you absolutely need to know, but may not necessarily have thought of – yet. Therefore, here are some common mistakes to avoid when designing your deck to help you succeed.
Not laying it out correctly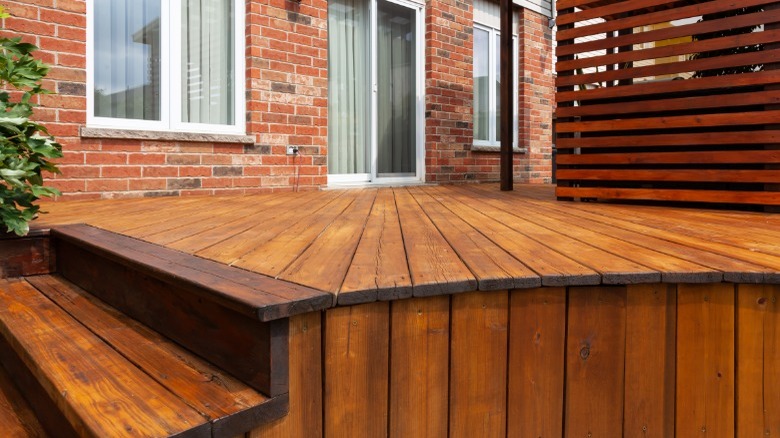 Viktorus/Shutterstock
The first mistake to avoid is not laying it out correctly from the start. It's very important that it ends up being level, square, and plumb. In order to know where to place your footings and posts, you'll need to prepare the groundwork. Since one end will likely be built out from the house, start from there and measure out to each corner of the other side, driving a stake into the ground to mark the corner.
Closely follow the measurements on your written diagram of the plans. When you have a stake driven at all four corners and you've carefully measured them out, tie string around each stake. Use string levels to adjust to the correct height of the deck on each stake. Make sure your corners are square. You now have the outline of the deck area. Space your posts no more than eight feet apart. Follow these tips to ensure there are no problems as you proceed.
Failing to prepare the ground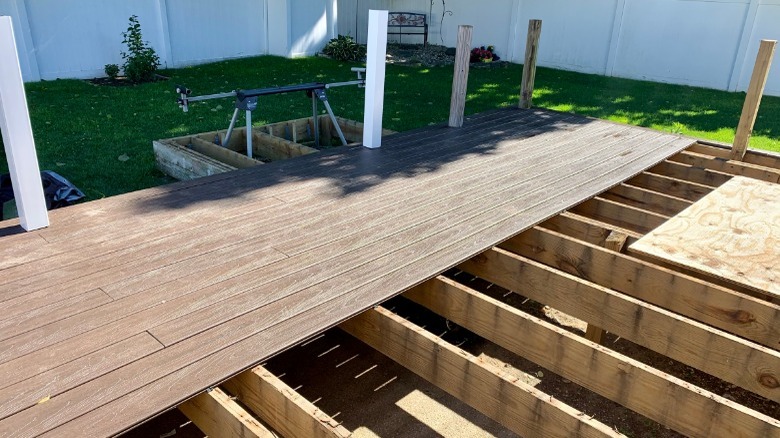 Jaclyn Vernace/Shutterstock & undefined
There's a lot that goes into this step, and if you fail to complete everything you will cause yourself a lot of unnecessary work. Before even prepping the ground, it's important to have your footings located, so you can dig the holes for them and the concrete support pillars. Contact your local utility companies so they can flag any underground utilities you'll need to watch out for. Additionally, make sure of the depth you need to dig for the piers to ensure you're meeting the code requirements for your area. After this all-important preparation, it's time to pour the concrete for the footings and posts. Doing things in this order makes the rest of the process easier. Once these steps are completed, you can begin to prepare the ground. This is important so you don't develop a haven for pests underneath your deck.
The best idea for most decks is going to include removing any weeds or sod from the area that will be under the deck. Instead of using plastic to cover the area first, try landscaping fabric. This material works great because it prevents weeds from growing through it but allows moisture to penetrate it, so it doesn't collect on the surface. Once you have the area weeded out and covered, you'll need to add about three inches of gravel over the top. This is a common mistake you definitely don't want to make. Otherwise, the ground underneath will become overgrown and provide the perfect spot for all kinds of pests and rodents.
Not choosing the right deck boards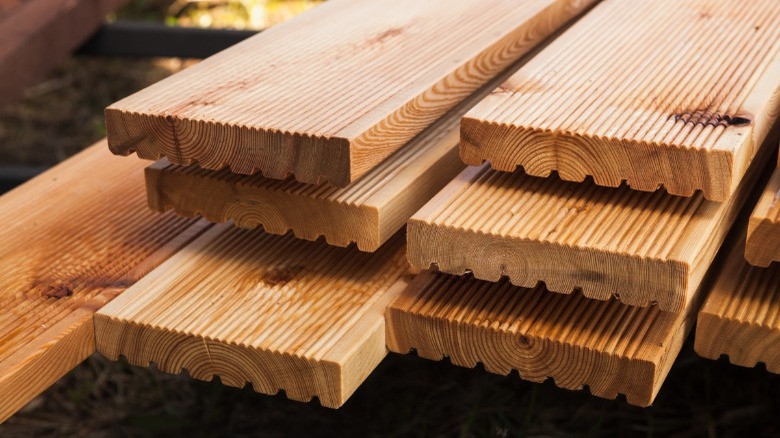 Evannovostro/Shutterstock
Before you even start building, you'll want to take care in choosing the right kind of deck boards for the job. There are several types to choose from, but depending on your budget and how you plan to use it, there are some important points to consider. If you don't choose the right kind of decking, you could end up with a deck that doesn't last very long. The wrong boards could be prone to decay, warping or twisting, cupping, or splitting. Pressure-treated wood will help keep it resistant to moisture, fungal decay, and pest infestation. The most common type of pressure-treated deck wood is yellow pine, which is relatively inexpensive but not as long-lasting as cedar or redwood, which have a natural resistance to all those same things. Composite woods and exotic hardwoods are also used often in deck building, but the choice is ultimately a personal one.
Another thing to remember is to personally inspect the lumber when purchasing. You want to avoid choosing any wood with defects, though some will have minor ones. Choosing the best quality lumber will ensure your deck has the longest lifespan possible. Also make sure it's completely dry, as otherwise, you will have to worry about shrinkage. You want to keep the width of the boards under about eight inches, or else they will have a tendency to pull away from the joists (cupping). For best results, most deck boards run about six inches in width.
Spacing deck boards incorrectly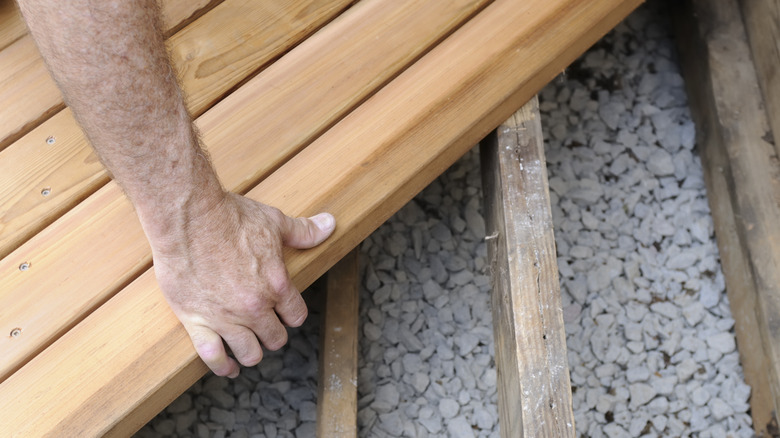 Ej-j/Getty Images
When you're designing a deck, it's important to account for a certain amount of spacing in between boards to allow for the wood to naturally expand and contract due to the elements. When you don't allow the boards enough breathing room, they can buckle and crack. This can pull fasteners loose, and all your hard work will be ruined. Additionally, water cannot drain from the deck properly, and the wood will rot and mold prematurely. To avoid this, it's important to place the boards apart with the right amount of spacing.
This is where it gets tricky. The amount of spacing you should leave between the boards largely depends on the conditions where you live and the amount of moisture in the wood you're using. On average, about a quarter of an inch is what's recommended. You can measure the amount of moisture in the wood you're using to determine whether it will shrink or expand after installation. You can do this with a moisture meter if you're unsure.
It's also important to use spacers so you get the uniform spacing needed. You can even use a pencil or a 16-penny nail. You don't need to have any space at the ends of the boards or the butt joints, just between them. Lastly, the first board next to your siding should have about a ⅛" space between it and the board. Ensuring the proper spacing will help your deck be a success.
Forgetting to seal it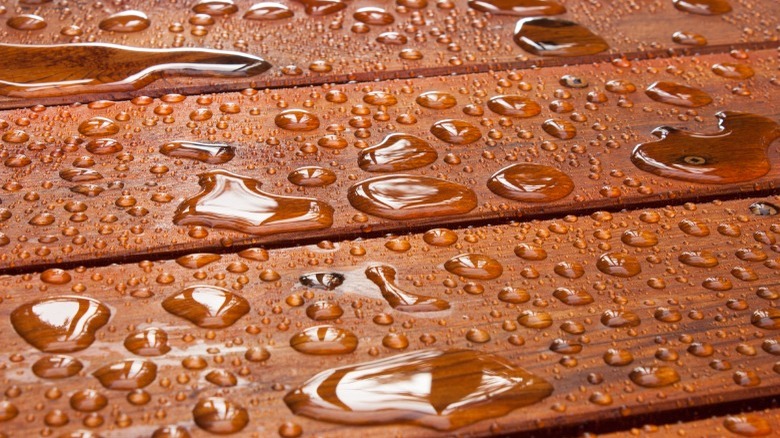 Sherwood/Shutterstock
Your deck will be exposed to the elements and should be sealed about once per year to prolong its lifespan. Even when you are using pre-treated wood, the advice is the same. Forgetting this vital step will leave your deck unprotected and vulnerable to the harmful effects of the sun, rain, and humidity. When you first lay your deck, most likely you will need to sand and seal it. A quick test of dripping a few water droplets on the surface will tell for sure. If the water beads up, you may be able to wait a little bit. If not, you can avoid this mistake easily by taking these steps.
For a new deck, you'll need to clean the deck first. You can use a product like Wolman DeckBrite Transparent Wood Cleaner, which you can find at Ace Hardware for $41.99. Afterward, apply a coat of something like Behr Premium Transparent Waterproofing Wood Finish, which can be found at Home Depot for $36.98. It's formulated to seal in just one coat and provides protection after drying for four hours. No matter which product you use, be sure to follow the instructions carefully for proper sealing.
Not choosing non-slip material
DifferR/Shutterstock
To understand why it's a mistake not to use anti-slip material like a non-skid coating, you first need to understand how slippery decks can be. Take it from someone who took a nasty fall on a slippery deck not too long ago, it's a detail you don't want to miss. Decks only need a little water or especially ice, and they're automatically a hazard. Plus, non-skid coatings help extend the life of the surface, adding a layer of durability and protecting it from erosion. But the main thing is that it improves the traction on decking.
Non-skid deck paint is one method of achieving this. You can use a product like Valspar Porch, Floor, & Patio Anti-Skid Latex Paint which can be found at Lowe's for $42.98. This will help you ensure no one endures the fate of yours truly on a slippery deck. Incidentally, if someone takes a fall on your deck, your home insurance will have to cover any resulting expenses. Don't make this common mistake.
Using the wrong hardware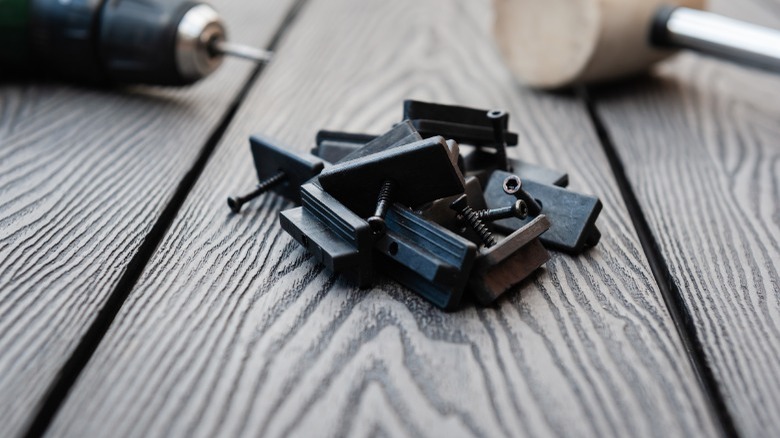 Marso/Shutterstock
Using the wrong hardware on your deck is definitely something you want to avoid. The fasteners and hardware are of utmost importance. After all, this is what holds the structure together, so you want it to be right. The safety and durability depend on the hardware and it's one area that should never be skimped on. 
One of the main things to pay attention to is the corrosiveness of the material. When metal ultimately corrodes, it affects the wood around it and weakens it. Moisture is the primary contributor to premature corrosion, so the more you have in your area, the worse it'll be for the hardware. If you have pre-treated wood, there's specially coated hardware you should look for that is made from hot-dipped galvanized steel, or if you're in a high-moisture area you might want to invest in stainless steel coated hardware, particularly for the fasteners. Polymer coatings are used for screws and joist hangers, which are another option – but make sure they're listed for code compliance. Speak to a professional with any questions about the type of hardware that will be best for your deck and conditions.
Not spacing joists correctly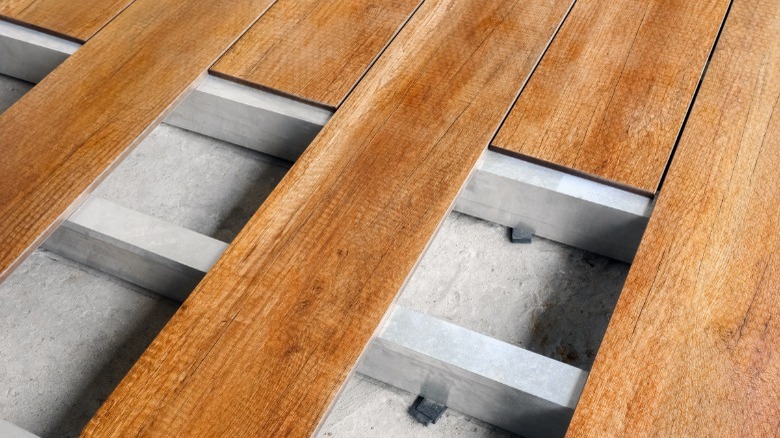 Oleksii Synelnykov/Shutterstock
Joist spacing is another vital component to your deck's foundation, so you want to get it right. This aspect of the build is going to support the entire deck, so it's critical that you don't make the mistake of spacing them wrong. The joists support the frame beneath the deck floor, and should be strategically placed in a pattern of every 16 inches from the center point of each joist out. However, this could be different according to your deck's shape and size.
Once you have the spots measured and marked for the joists, check for levelness by running a string across the top of each joist at the top of the frame. This makes it easier to see any obvious differences. Some people like to add extra protection and sturdiness by using blocking. These are blocks of wood in a zigzag pattern in between the joists. Additionally, be sure to use the right hardware according to the manufacturer's recommendations for the deck wood you're using.
Attaching ledger boards incorrectly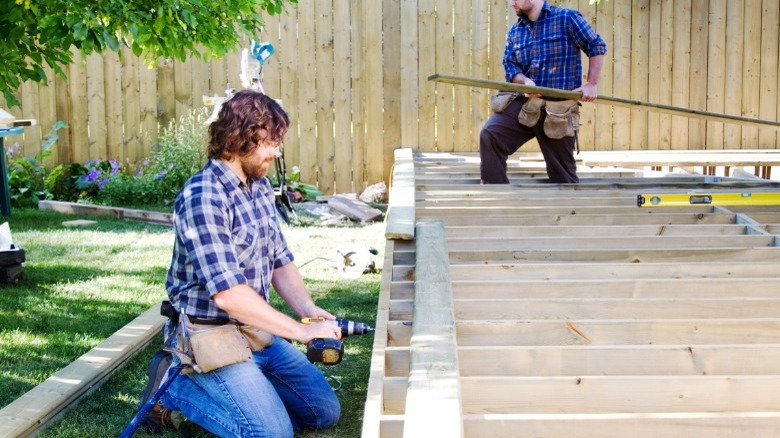 Trish233/Getty
The ledger boards are also a huge part of the deck's structure, so you don't want to attach them incorrectly. They support the joists and offer rigidity for the foundation. It's important to attach these boards to the house wall correctly, and in fact may be something to speak to a contractor or professional builder about. Windows and other considerations can be a big factor, along with the weather conditions expected in your area.
One of the things to watch is to make sure the boards are very straight and level. Make sure the boards are free from defects and that the curve of the growth rings in the grain are pointing upwards. You'll need to use 16-penny nails to attach the ledger board temporarily every 24 inches. Mark the spots for the joists. Be sure the final attachment is done with the correct fasteners – usually bolts and lag screws – and not nails. Stay in touch with your local building department to verify that you're using the proper technique and fasteners for the process. There can be a lot more to this step of the procedure than is listed here.
Not installing a handrail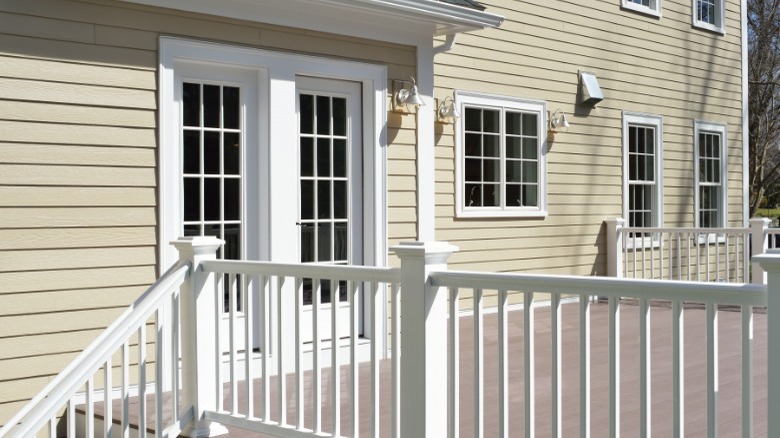 Jorge Salcedo/Shutterstock
Firstly, it's entirely possible your deck has to include a handrail due to code restrictions, so it's important to check. If the deck you're building is lower than 30 inches, you likely do not need to worry about legally having a proper handrail. However, regardless of height, opting for a handrail can be an important consideration. Since the safety of our families and friends is of utmost concern to most people, the decision shouldn't be hard to make. Additionally, it's not that expensive to add, and there are kits that make it a simple DIY.
If you are required to have a deck railing, or you choose safety as the most important issue, it's crucial to install it correctly. If someone is hurt on the deck because of faulty installation, you will be liable for any damages. One of the requirements is that the guardrails must measure at least 36 inches in height from the deck floor to the top of the rail. Your railing must be sturdy enough to hold specific weight loads at certain points, as well. Additionally, you can choose from multiple different materials for your deck railing, just be sure it can withstand the proper amount of weight force.
Underestimating the time it's going to take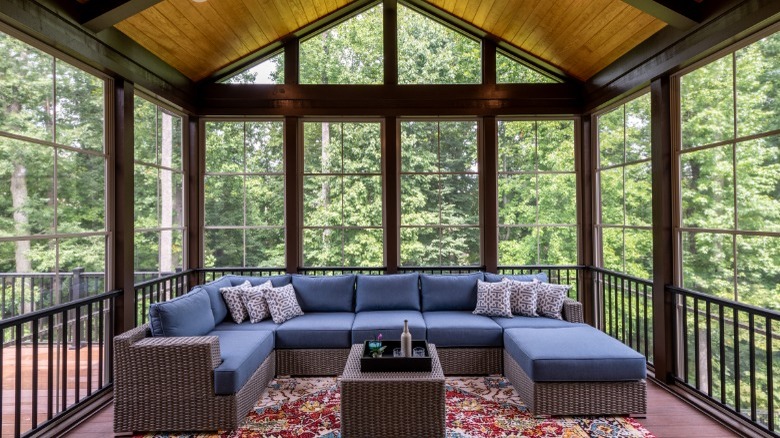 VIS Fine Art/Shutterstock
One of the most common mistakes people make is underestimating the time it will take to complete this project. You need to allow enough time for each stage of the process, from designing and planning to the actual build time. To answer how long it will take, you must first evaluate the factors that influence the timeline. Much depends on the size and complexity of the project. Another thing that can have an effect is what you plan to do on top of the deck. For instance, do you plan to have an outdoor kitchen? Will you incorporate any special features like lighting or fire pits? Will you be installing a handrail?
The project can take anywhere from three to 16 weeks, so it's important to allow yourself plenty of time. Trying to rush to achieve good results can be a big mistake, and produce a sub-par deck. It's also important to remember that in almost every state, a final inspection will need to be done after you're finished. This is another reason you need to make sure every step is followed and the deck is built durably and sturdily. If you follow every step of the process carefully and efficiently, you will end up with a deck you can be proud of!