Tips For Using Patterned Rugs To Expand The Look Of Your Small Entryway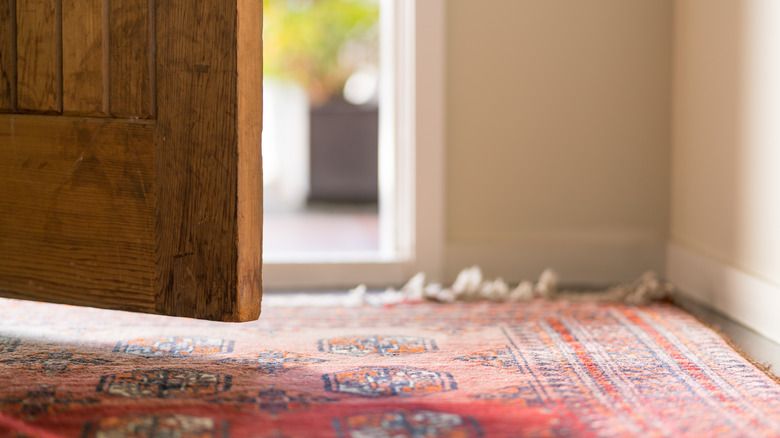 Robynroper/Getty Images
Your entryway is an opportunity to make a major statement. Of course, not every home has a grand foyer with a balcony and chandelier, but that grandiose kind of aesthetic is not the only way to create a stylish impact at the entrance to your home. Small entryways can make a big impression with the addition of a simple décor feature: the right area rug.
An area rug can help protect the underlying floors and catch dirt carried in on your shoes. Yet, beyond their functional side, area rugs also act as a great way to infuse color and pattern into a space, and provide an opportunity to play with perspective and visual interest. Most of us have already heard the advice that using light colors can make small spaces look larger. That still remains true, but the right patterns can also do wonders for expanding the space. Using a patterned rug, for instance, can give the appearance of extensive floor space.
Add length with stripes
Stripes are a go-to pattern if you're looking to create the illusion of space in any direction. "Stripes add visual interest to the floor," notes Jon Flannigan, product manager at Kersaint Cobb, in an interview with Homes and Gardens. "For those tight on space, it is worth remembering that linear stripes can help to enlarge the appearance of a room. This is especially effective in hallways as the stripe draws the eye along the design and thus appears to elongate the area."
In other words, the linear nature of stripes tricks the eye into thinking the space is longer or wider than it actually is. Consider an area rug with stripes in contrasting colors to make the pattern a focal point. Multi-colored stripes can add a youthful pop and a unique appeal. In general, thinner stripes are classic and formal, while thick stripes offer a more modern feel. Mixing the stripe thickness within one rug's pattern can also be a way of elevating interest. As for the orientation of the stripes, try to have them lie perpendicular to and along the longest wall to highlight the length.
Don't be afraid to go bold
If stripes aren't at the top of your list of perfect patterns for your space, you've got other options. "It might seem counterintuitive to fill a small space with a lot of busy patterns," notes designer Allison Jones in an interview with My Domaine. "But I find that by doing so, you can... make a small space feel more luxurious. Patterns often feel more special than solid colors in a small space." You may initially expect a bold pattern to overwhelm the space, but the opposite is actually true. Large-scale prints work to make the room feel bigger visually because they allow your eyes to dance. It's not the same as adding three dimensional items like furniture that can easily overcrowd the space. For area rugs, consider polka dots, florals, or geometric prints with bright colors and large repeats.
Decorating with patterns without making the space become busy can be tricky and intimidating. Jones first suggests choosing patterns you love that aren't too trendy. You'll enjoy this type of a design for years to come and won't feel the pressure to replace it because it's not "in" anymore. Patterns are also a great way to create a focal point, which you can then balance out with solids throughout the room. So, if you have a rug that's a bold print in a small entryway, paint the walls a single, coordinating color.