Reasons You Should Reconsider A Raised Bed Garden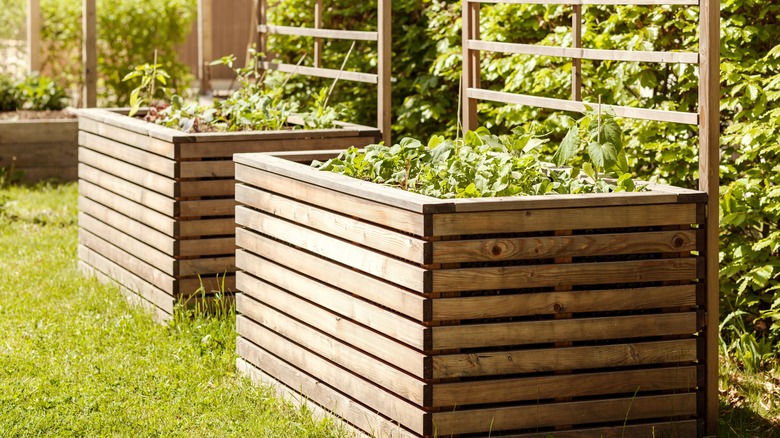 Mariana Serdynska/Shutterstock
As spring rolls around, raised bed garden options appear on websites and in stores. Some are made of wood, while others are constructed of durable metal. Some come with built-in trellises and watering systems. Many modern styles of raised beds are like works of art, and there's nothing wrong with that.
There are many reasons to use raised beds. Some patio-friendly options are tall enough that you can stand while tending to your veggies or flowers, but if you want to grow much more than herbs and lettuce, you will need to be sure to get dwarf varieties of plants specifically developed for small spaces. Larger options for lawn use are great if you want to grow more food, but they usually come with a hefty price tag. On the other hand, inexpensive raised beds can sometimes be found at discount stores, but they are usually made of flimsy plastic that does not last long — not exactly a bargain. With all this in mind, the question you should ask yourself is, "What is the purpose of this garden?" If you are growing a garden to save money on your food, you might want to reconsider raised beds.
Cost of materials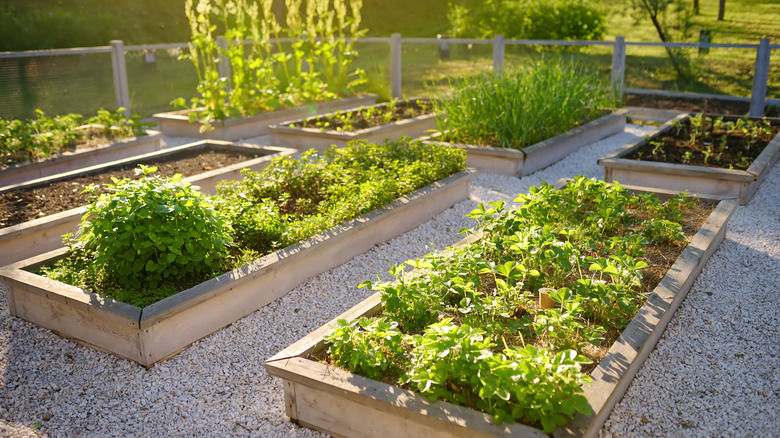 Maria Sbytova/Shutterstock
Suppose you are considering installing raised bed gardens because you are ready to begin a new hobby and have the budget for all the materials. In that case, there is certainly nothing wrong with spending the money to get exactly what you want. Gardening is a wonderful hobby with many health benefits — plus, you get tomatoes. But, on the other hand, if saving money on your food is the goal, it can take a long time to recoup the cost of installing raised beds.
If you buy good quality, pre-made bed frames of wood or metal, you can expect to spend between $25 and $100 per square foot of garden space. For your first year, that's about the cost to grow one pepper plant. Then, on top of the materials for the frame, you'll have to fill it with good-quality soil and amendments. Prices vary greatly depending on the resources available near you, but you can expect to add spend at least $100 per 2-foot by 6-foot bed to get a quality soil mix. Of course, the money you save on fresh produce will add up over time, and your savings will compound each year you continue using the beds, decreasing the overall cost.
Alternatives to raised bed gardens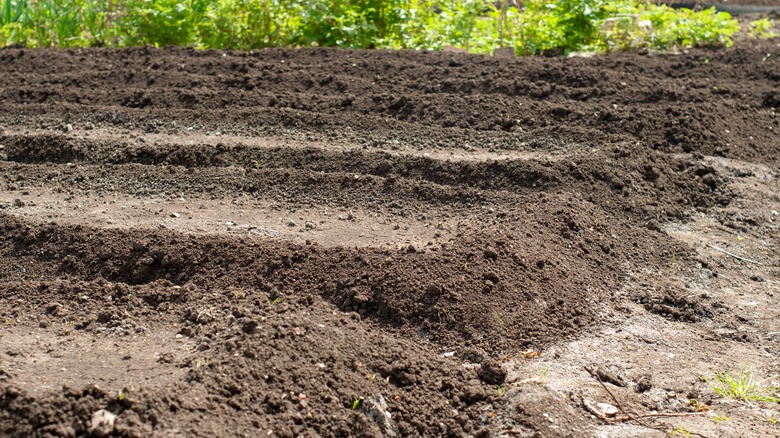 AnkaFed/Shutterstock
Naturally, the least expensive way to grow your own food is with an in-ground garden. Tillers are inexpensive to rent, and most people can get free or inexpensive soil tests from the local extension service. You may need to add some soil amendments or compost, but it will cost far less than filling a raised bed. However, while this is the most budget-friendly option, it may not work for everyone. If you live in an area with extremely rocky or sandy soil, ensuring your existing soil is garden-ready may be more hassle than it's worth. Those with mobility issues and time constraints may also find in-ground gardens prohibitive.
If you are handy with tools, you can build DIY garden boxes with wood, or you may even find someone selling cinder blocks or other materials with which you can get creative to make your own raised bed. A growing number of cities are composting and mulching materials, offering these products free or cheap to residents. Again, your local extension service should be able to tell you if these services are available in your area. You can also create your container garden with inexpensive or free 5-gallon buckets or find a local farmer with empty mineral tubs left over from feeding cattle. You can add some drainage holes and soil to make this an environmentally friendly way to upcycle something that might otherwise end up in a landfill.