HGTV's Down Home Fab Recommends Relocating Your Bathroom In One Specific Instance
The new HGTV show "Down Home Fab" has conjured quite a bit of controversy on the internet. Some are loving host Chelsea DeBoer's farmhouse glam style, but others have had some negative things to say. One of her most daring bathroom renovations featured loud black tiles and removed the door altogether, leaving the shower open to the primary bedroom. On her Instagram post about the project, commenters were livid. One person said, "There is too much going on in this bathroom. Not a fan."
Another possibly controversial change DeBoer made to a different home was relocating the powder room to another place on the main level. What makes this move disputable is mainly the outrageous costs that can be involved with a change like this. While a regular remodel of a bathroom typically costs around $15,000, moving a bathroom to a new area can increase the cost to between $20,000 and $50,000, as you'll need to add plumbing, get the right permits, and purchase fixtures like the shower, tub, vanity, and toilet. However, DeBoer gets around some of these high costs in a clever way that makes the relocation worth it.
Inconvenient placement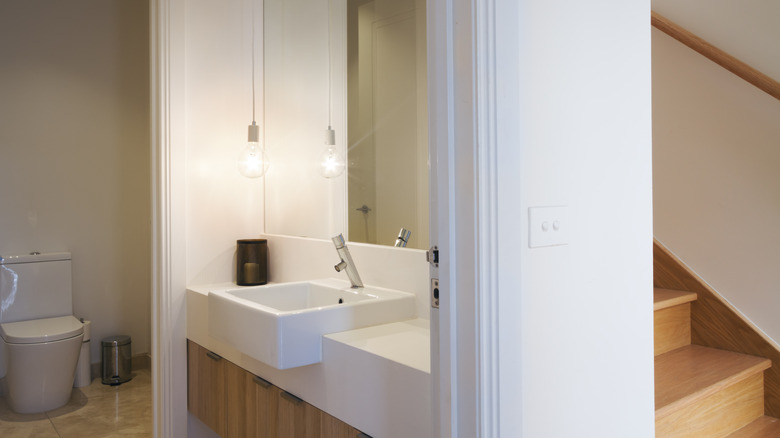 Jodiejohnson/Getty Images
In one remodel, Chelsea and her husband, Cole DeBoer, decide to relocate the powder room only after the homeowner points out the unfortunate location. The owner says, "Part of our bathroom issue is that it's here in the middle of the room, where everybody's hanging out," per Realtor.com. The problem with this is that it doesn't give the person using the bathroom much privacy, and it can also cause odors in areas where they shouldn't be, like the kitchen.
If this is the case in your home, you may want to move your bathroom away from the main living area, perhaps down a hallway or behind a separating wall. To save money, the DeBoers decide to move it into the previous laundry room since it already has the plumbing hooked up. While they'll still need to use some of the homeowner's budget for things like fixtures and flooring, having the plumbing already installed will save them some big bucks. They then relocate the laundry room to the second level, since that's where the bedrooms are, and change the old powder room into a kitchen pantry.