Why It's Important To Find The Perfect Paint Finish For Your Front Door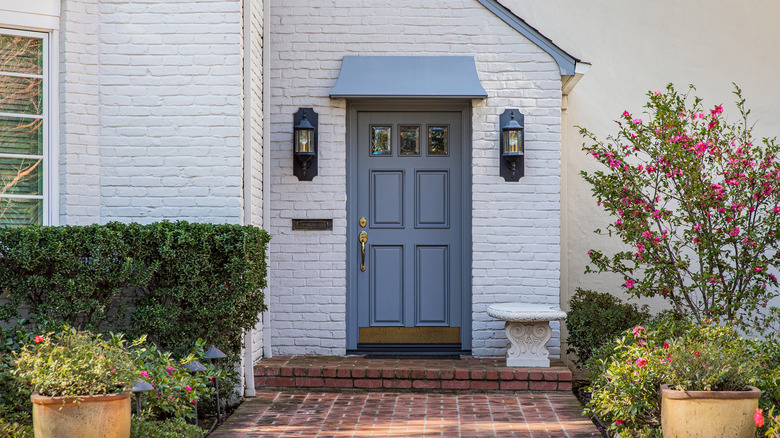 David Papazian/Shutterstock
If you're looking for an easy and cost-efficient way to up your home's curb appeal, painting your front door might be the best solution. In fact, homes may see an increase of up to $6,000 in resale value just by painting the front door an appealing color. An eye-catching front door can bring together a house's exterior aesthetic, either by serving as an accent color or by complimenting other features of the home's front yard. Whether you want to touch up a previous paint job, or completely update the outside of your house, it is vital that you choose the correct products because not all paints are suitable for front doors.
Paint cans have labels for a reason — to prevent certain formulas from being used in unsuitable environments. Just as you wouldn't use indoor paint on a patio or porch, paints with certain finishes shouldn't be used in certain areas inside or outside of your home. So, what finishes work best for front doors, and why does it matter? Here's why it's crucial to find the perfect finish before painting your front door.
Defends and accents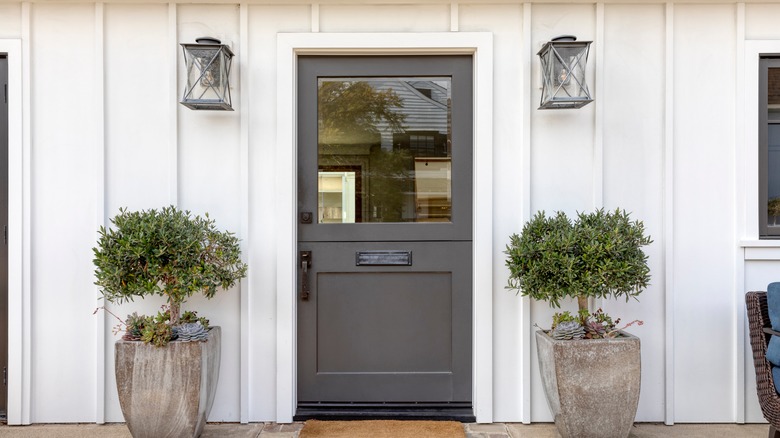 David Papazian/Shutterstock
Front doors succumb to a lot of wear and tear as they are exposed to natural elements at all times, especially for homes that are facing the wind, precipitation, and sunshine. The right paint finish will not only protect your door from fading over time — keeping your door's fresh coat of paint looking like new longer than other paint finishes — but it also protects the door from bumps and scratches caused by residents of the home.
A high gloss paint finish will also make your front door shine in the sunlight, which could provide an eye-catching contrast to other areas of your yard or porch such as front steps, greenery, and outdoor furniture pieces. It's important to consider the amount of natural light your front door receives before selecting a paint formula. Doors that see more direct sunlight require a more hard-wearing paint since they are more susceptible to fading.
What is the best finish for doors?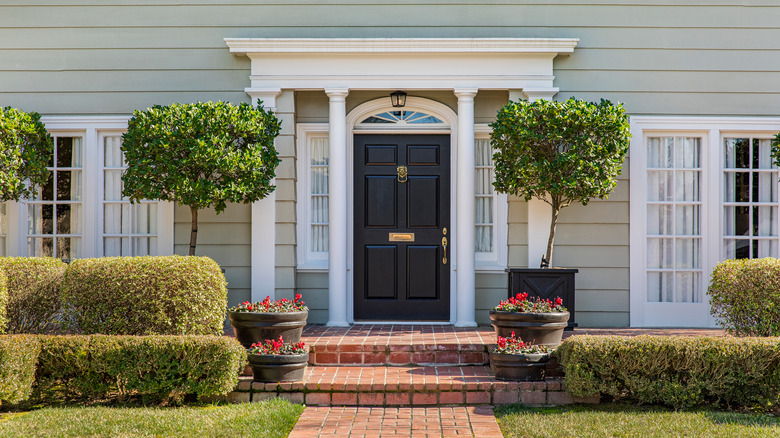 David Papazian/Shutterstock
A satin or semi-gloss finish is the best for doors both inside and outside the home. Glossy finishes offer the best protection against damage and deterioration, while semi-gloss paint is easy to clean, given the paint dries in a way that allows accumulated dirt and grime to wipe off with little effort required. Exterior semi-gloss paint comes in two varieties: oil-based and latex. Both of these formulas would fare well when applied to your front door, though they differ when it comes to the levels of protection they provide. Latex paints will protect your door from weather-related damage to an extent, while oil-based paints provide much longer-lasting protection.
Moreover, semi-gloss paint doesn't appear as reflective when applied outside. Instead, the paint will draw just enough attention to the door to make it stand out as an accented feature of your home. Semi-gloss paint also highlights a door's built-in architectural characteristics, whether they be raised panels, engravings, or patterns within exposed glass. Ultimately, the benefits that come with using semi-gloss paint outweigh the personal preferences for flatter options. Though, if you aren't fond of the appearance of semi-gloss paints, paints with an eggshell finish can make for an efficient alternative.