The Easiest Way To Boost Your Home's Curb Appeal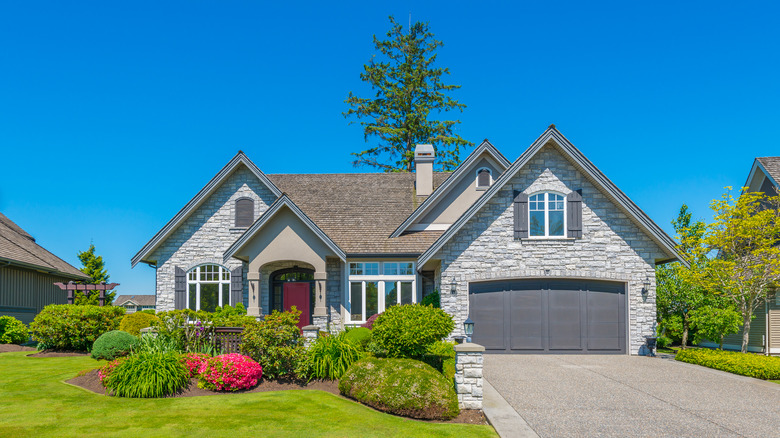 romakoma/Shutterstock
Let's talk about curb appeal. If you're selling your home, boosting your home's curb appeal is crucial. In the minds of potential buyers, a home with a lack of curb appeal doesn't seem as valuable as one with an inviting view from the street, Baird&Warner explains. Remember, potential buyers create a first impression of your home the minute they lay eyes on it, Fortune Builders states. If they aren't sold on the exterior of your home, chances are they won't be interested in taking a look at the interior.
Your home's curb appeal significantly affects how willing buyers are to put in an offer, which is why it's important to take care of it before you even list your home. There are several ways to improve your home's curb appeal, but if you're in a time crunch and your open house or showing is quickly approaching, don't panic. Here are two easy ways to boost the curb appeal of your home.
Paint your front door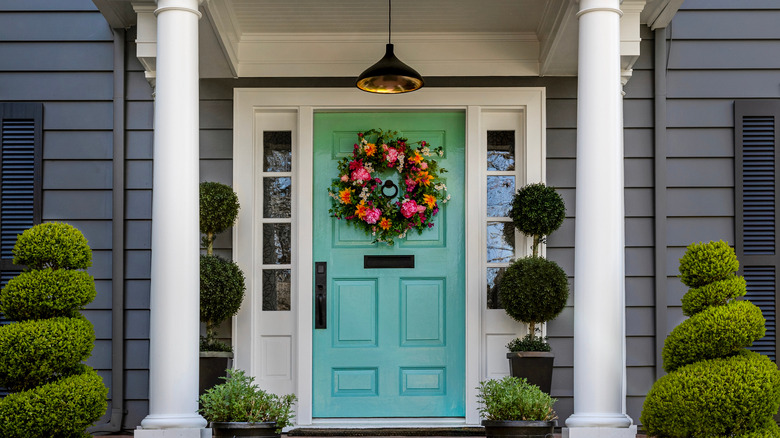 David Papazian/Shutterstock
Increasing your home's curb appeal is as simple as painting the front door. While your lawn and shutters play a role in enhancing your curb appeal, the front door is the focal point of your home, which is why choosing the right paint color is key to making a great first impression. In fact, PJ Fitzpatrick says the color of your front door says a lot about how you are as a person and what the potential buyer can expect from the rest of your home.
Home Advisor suggests bright colors for your front door, such as turquoise or bright yellow. These colors are attention-grabbing and will make your home much more memorable than a home with a traditional white or brown door. That being said, black front doors are known to have the best resale value, so if bright yellow isn't your thing, you have a muted option.
Add some greenery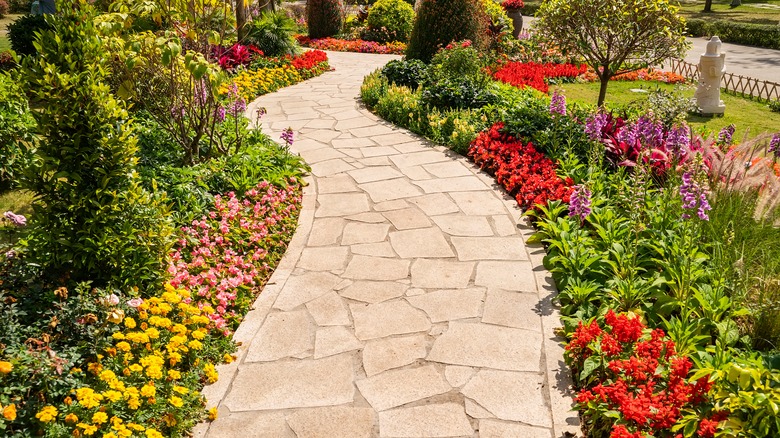 asharkyu/Shutterstock
To really sell potential buyers on your home's curb appeal, try planting flowers, trees, or shrubbery in your front yard. You can even add flower boxes to your front windows as well. According to HGTV, attractive landscaping can increase the merit of your home by at least 10%. It's common for homeowners to overlook proper landscaping while selling their home because they are primarily focused on its interior; however, adding a couple of boxwood bushes or planting a small Japanese maple will make your home seem more inviting, attracting more people looking to purchase a home.
If your home has a dark exterior, Homelight recommends planting dark purple flowers to soften its appearance. Yellow flowers complement homes of cooler shades, like blue and gray. Plant red flowers in front of your white home for a romantic touch. Finally, white flowers complement any exterior (being that your home isn't already white or a similar shade).