HGTV's Nate Berkus And Jeremiah Brent Talk Crafting Meaningful Interiors - Exclusive Interview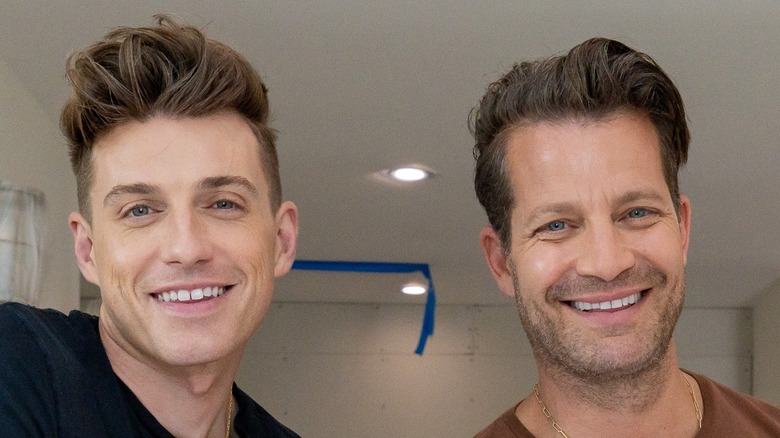 HGTV
For those with money to spend on a drastic renovation and expensive décor, outfitting one's home in the latest style may seem like an alluring option. However, renowned interior designers Nate Berkus and Jeremiah Brent will be the first to tell you that meaning is unlikely to ever arrive at your door with a price tag attached. Since they have created a name for themselves through their keen ability to elevate a space's design by way of thoughtful curation while showcasing the sentimental and sublime, one can simply gaze upon their vast porfolio of heartfelt interior transformations and know that their expertise is well worth learning from.
In this exclusive interview with House Digest, the married dads of two and stars of HGTV's "The Nate and Jeremiah Home Project" discuss Season 2 of their hit show and provide priceless advice for homeowners whose houses don't quite feel like home anymore. From crafting elegant kids' rooms to working out creative differences while redesigning their own space, the likable pair offer not only valuable insight into their creative process but expert advice on how to sort keepsakes from clutter in order to revamp your home.
Nate and Jeremiah talk Home Project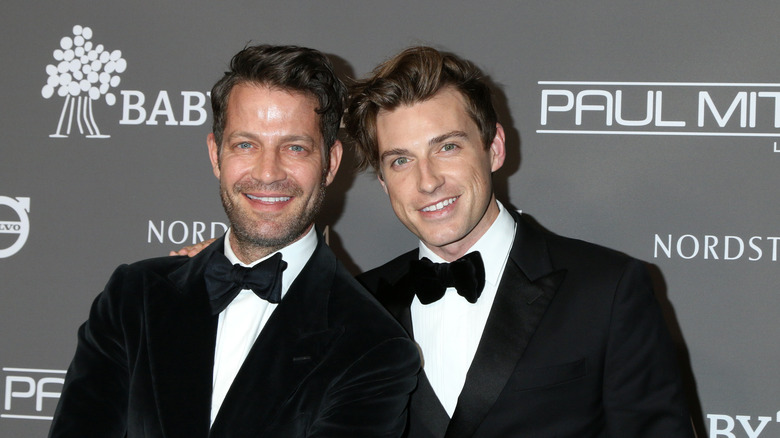 Kathy Hutchins/Shutterstock
"The Nate and Jeremiah Home Project" attracted 13.4 million viewers in its 1st season. What do you credit to the show's success?
Jeremiah Brent: Oh my gosh. Every time I hear that number, another bead of sweat goes down my forehead. What I hope has [resonated with people] is the fact that the show is built on connection. It's a design show about love. Nate and I both show love through design, and every time we walk into someone's home and they open up not only their house to us but their hearts to us, and they share their stories and they're vulnerable, we put people to work. I hope that's what people love about this show. It's not necessarily about how quick you can do it but how personal you can make it.
Nate Berkus: That's an important distinction. I think the one reason the show has stuck with people — or if they try an episode, they'll watch all eight — is that the show isn't about how fast you can do something or how inexpensively. We didn't want to make a show about that. We wanted to make a show about how you can carefully and thoughtfully assemble a home that reflects you. I think the audience sees themselves in that process.
Given the success of "Tidying Up with Marie Kondo," parallels between "The Nate and Jeremiah Home Project" and the aforementioned show are bound to come up. How does your approach to helping families sort keepsakes from clutter differ or improve upon the KonMari Method?
Jeremiah: We believe in two things: If it's not absolutely beautiful or absolutely functional, you don't need it. That sounds really simple, but in execution, it's really complicated. Your home should be the physical representation of not only your past but your present, and you have to leave room for your future. Otherwise, you're left in a house 10 years later that looks nothing like you, and you've got fake flowers collecting dust, and you're like, "What happened?"
Nate: To add to that, what happens to all of us, because we live in such a time of consumption, is we start collecting and buying all these things for our home, and we're mixing in things of lesser quality. We're mixing in things that we don't really care about with things that really do have meaning. When you stop being able to have your eye travel around a space and land on something that evokes a memory, [something that] reminds you of where you've been or who you are or where you aspire to go, then you have too many things. We try to edit down to the most meaningful things, and that's a good rule of thumb for people to do in their own spaces.
Meaningful home design
Followtheflow/Shutterstock
Nate, you're quoted as saying, "I could live in a studio apartment, and as long as I was surrounded by things that matter to me, I would feel like I was at home." Other than your loving family, what are some must-haves for you to feel at home?
Nate: Books, some of the paintings and photographs in the space, certain pieces of furniture that I've had for many years, or things that I've collected over the years. I've lived in 200 square feet; I've lived in 400 square feet, but I've always done my best to make it feel like a nest.
The only way you can do that is by being a ruthless editor of what you let in the door, but also making sure that the things that you do allow in — whether it's a coffee mug that you love just because it's beautiful or a framed photo of a time in your life or someone in your life that really matters — are the [things] that we all can learn from.
Decorating a home with a partner is hard enough, but one can imagine another element is added when both parties are renowned interior designers. How did you both achieve such a stunning effect and overcome stylistic differences when designing your Fifth Avenue home?
Jeremiah: We have one rule in the house when it comes to design, and that's, if somebody absolutely does not like something, we don't argue. If there is a hard "no" and I really feel against something, it's not up for conversation, and vice versa.
Again, [it] seems really simple, but in actual practice, it's really complicated. I think the big mistake that [couples] make when you come together is you hold on to who you were instead of discovering and figuring out who you are now with a person that you're in a relationship with. That's something that we practice continually, and our spaces reflect that evolution.
The two of you have made some high-profile moves in the past, including your move back to your gorgeous Fifth Avenue abode. Do you have any advice to help homeowners decide what to bring or leave behind when setting down roots in a new home?
Nate: Moving is super stressful and really time-consuming, but if you are ruthless, it's an opportunity to start over. As Jer just said, build a home, assemble a home, assemble spaces that reflect who you are and where you are in life now. 
A mistake people make is they feel obliged to do the same thing over and over. And that's fine if that is what makes you comfortable and what makes you happiest at home, but moving is an amazing opportunity to try furniture in different spaces, even if you're using all of the same things, to recover certain things or add new lampshades or reframe artwork that's well-loved. We've always viewed moving as an opportunity to take whatever we've learned from the previous space and apply that while remaining open to the architecture of the new.
Tricks of the trade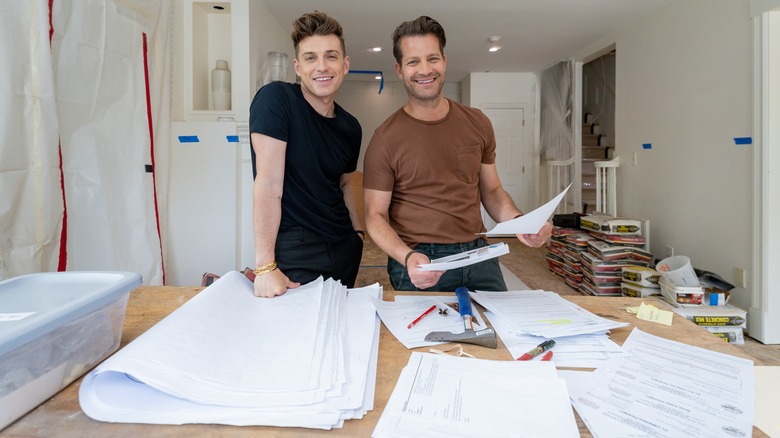 HGTV
In the first episode of your show's new season, viewers get a taste of things that can go wrong during a renovation. How might homeowners prevent themselves from going over budget when unforeseen circumstances prove to be a challenge during their project?
Jeremiah: The most important part of renovation that people don't give enough credit to is organization and getting organized with your budget. We always set aside a contingency budget, which is at least 15%, which sounds like a lot of money, but as we all know now after years and years of renovation television — I hope it's no surprise — there are always surprises. Mak[e] sure that you tee yourself up for success with what you're doing. Don't swing a hammer until you have a plan, until you know exactly what you're going to spend your money on. That organization goes a long way.
Jeremiah, your design work is known for gracing interiors with understated elegance and ample texture. What are cost-effective ways homeowners can employ a similar effect in their homes?
Jeremiah: The great thing about design now is you can live beautifully and not spend a ton of money. It's what fashion went through 10 years ago. You can walk into these big-box stores and curate a life that's beautiful, layered, and multidimensional. For me, the power of neutrals and texture is the versatility [with] how things age, and I like that a space never feels trapped in one moment or time. Invest in great classics, a great, beautiful sofa with clean arms and a great textured pattern, and then have fun with the pieces around it.
Designing a kids' room
How did the two of you balance your heightened aesthetic sensibilities with functional design when crafting rooms for Poppy and Oskar in your various homes? Did you have to compromise your vision at any point to make the spaces more child-friendly?
Jeremiah: No, which is not a popular response. One of the most important things about our children and our household is that they have to participate in maintaining it and the respect that it means to be a part of the household. We both work very hard to have what we have, and the house [is] for everybody to participate in. The kids don't jump on furniture. The kids understand that they clean up. Oskar sets the table; Poppy clears the table. They participate in taking care of the home and maintaining it. Because of that, there's a different level of respect for the space. 
[In] their rooms, they have complete freedom to tell their story and to communicate what they want, and they do. Poppy made us move her entire room around the other day because she didn't like it, and she was right. Is it how I would've set it up? No, but it made her happy, and it makes sense. So freedom is really important, and it's fun to watch who they are through their space.
Nate: There are a couple of practical concessions that we did make. For instance, the rug downstairs that's in their play area — would we have done a synthetic rug if it weren't for children? Probably not. It probably would've been wool. But we chose a patterned rug that was synthetic because it's super easy to clean. Oskar's bed in his room is upholstered in a military canvas, which is almost impossible for a kid to destroy.
Jeremiah: Soft edges are a really important thing with children.
Nate: Yeah, and also incorporating vintage things. This sounds a little bit crazy, but the price of new furniture is so expensive now. Oskar's changing table was an antique dresser. Now it doesn't have a changing tabletop because he is not in diapers, but the dresser still works for him, and someday he could have that in his apartment. We didn't really invest in baby furniture or kids' furniture, except for little play tables and art tables and stuff. A lot of what's in their room will stand the test of time. You buy it once, and over time, that's a much smarter way to go about furnishing something.
This interview has been edited for clarity.
You can catch Nate Berkus and Jeremiah Brent on Season 2 of "The Nate and Jeremiah Home Project" on Wednesday nights on HGTV or streaming now on discovery+.