Signs You Have A Good Electrician, According To An Expert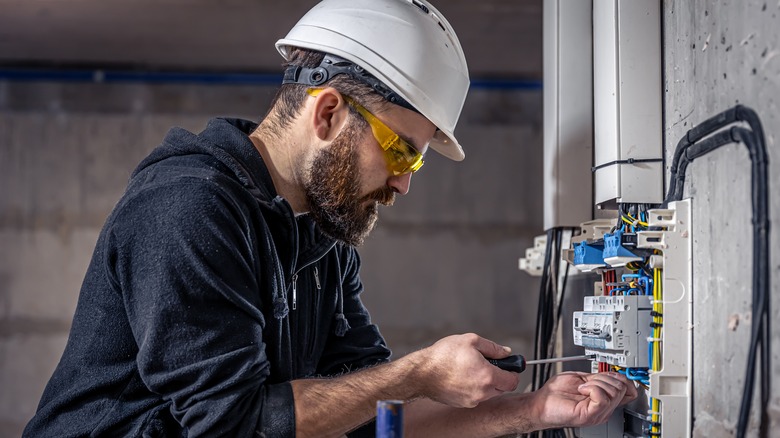 PV productions/Shutterstock
Thanks to the availability of resources and tutorials online, there aren't many home projects that you couldn't figure out if you wanted to. However, there is one area where you always want to bring in the experts — and that's if you're having any issues with your home's electrical system.
With most DIY projects, if you get things wrong, you're just risking an aesthetically unappealing mess. If you do things incorrectly in the electrical realm, however, you may be risking your health and creating a serious safety hazard in your home. If there are any big or puzzling issues with the electricity in your home, the best move is to call an electrician. "Electricians provide electrical services, including repairs, electrical safety and maintenance, appliance installations, electrical panel upgrades, outlet installations, grounding, and indoor/outdoor lighting," explains Dan Mock, VP of Operations of Mister Sparky. "To ensure the electrical work done in your home or place of business is of quality and done so correctly, it is recommended that the electrician hired is licensed, insured, and highly trained."
But, how are you supposed to select an electrician from the likely many options available in your area? In an exclusive interview with House Digest, Mock shared some of the tell-tale signs that you're dealing with a seasoned pro.
They listen before they speak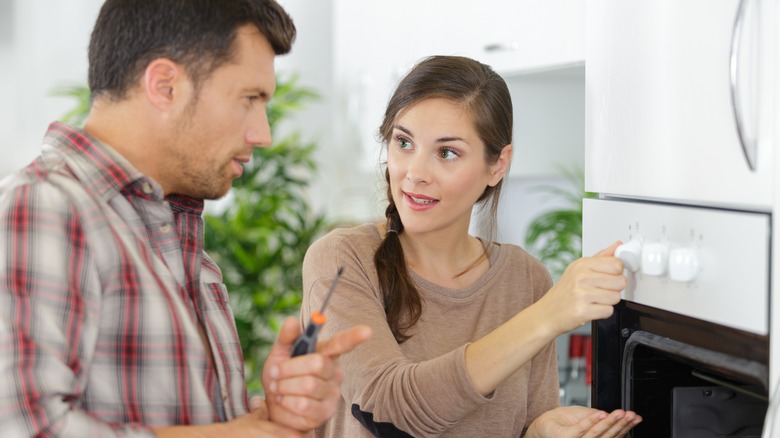 ALPA PROD/Shutterstock
There's a good chance you don't know all the right terminology to discuss the electrical issues causing trouble in your home, and you may not even know where to start with solutions. However, you definitely don't want an electrician who just takes charge and does what they think is best without any explanation or consultation. They may be the expert on all things electrical, but you're the expert on your home and the issues you've been noticing. "To ensure they are adequately approaching the electrical issues you are facing, it is necessary for your electrician to listen to what you have to say to reassure you that they will get the job done right," notes Mock.
The electrician will likely still need to assess some of the potentially affected areas in your house before sharing their recommendations and plan of action with you. "As they're gathering information about your electrical problem, they're making note of it. They go the extra mile to listen to you and answer your questions. This demonstrates that your electrician values your time and schedule," adds Mock. Ultimately, the key is that they keep the line of communication open.
They have their contact information prominently displayed on their website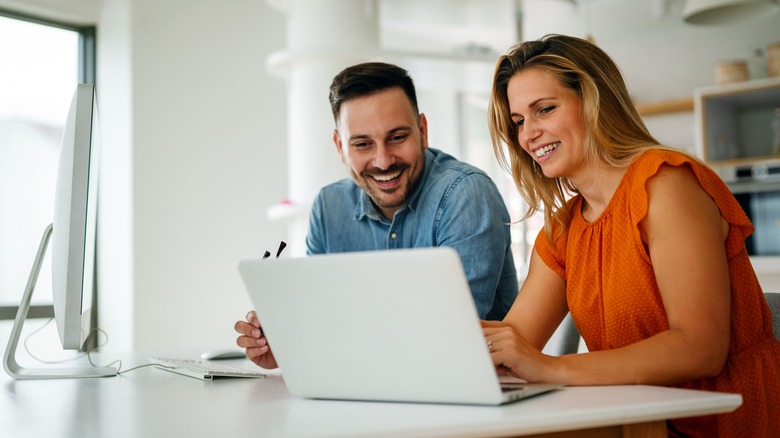 NDAB Creativity/Shutterstock
While the internet makes it easy to find skilled professionals, there's a downside. Just about anyone can create a website and set themselves up as an expert, which is why it's useful to examine an electrician's web presence before making the call. "A well-organized website is often an accurate representation of a well-managed company that cares about the customer experience, prioritizing making the customer's lives easier and less stressful from the very first step of the process," suggests Mock. If their web presence doesn't look professional, that could be a warning sign.
Make sure their website verifies the electrician in question has the proper certifications, licensing, and insurance, and check that it's easy to find contact information. "Searching high and low for the electrical company's phone number shouldn't be an additional hurdle when you have electrical issues in your home. Contacting your electrician should be one of the easiest steps of the process," outlines Mock. "With one or two clicks on the website's landing page, you should be able to grab your phone and start dialing. If not, this could be an indicator that the rest of your experience with the company might not run as smoothly as you hope." This also gives you peace of mind if there's an issue with the work — an easily contacted company should have a system in place to correct issues arising from their own error.
They provide emergency services
BearFotos/Shutterstock
There are certain situations where you may plan to have an electrician come in, such as if you're wiring in new light fixtures or installing new outlets. However, Mock warns that "you usually do not have control of when you will run into electrical problems. They could occur at the most inconvenient times." Meaning you won't be able to book your electrician's services in advance.
Electricians do still have schedules and other clients, so even the best electrician can't be available immediately, every single time you have an issue. However, you do want to ensure that your electrician responds in a timely manner to any service requests, and has some type of system for dealing with emergencies that need fixing ASAP. "Having peace of mind that you have access to your electrician both day and night is an asset to knowing you have a good electrician," says Mock. "It is important for you to feel comfortable calling your electrician during your time of need so they can take care of your problem before it worsens." If you have the type of problem that could cause a serious safety issue, they should be able to accommodate your service request quickly and give you advice on what to do until then.
They are professional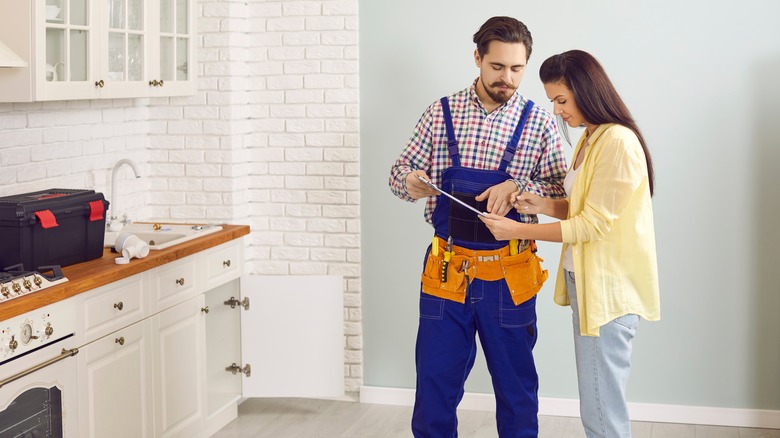 Studio Romantic/Shutterstock
With any service professional who comes to your home, whether an electrician, a plumber, or a cleaner, the result is the most important metric to consider. If they didn't adequately fix the issue you were having, they simply didn't do their job. However, the way they complete their work matters as well. A sign of a good electrician is that "they are professional from the moment you make your initial inquiry and long after they've completed the job," explains Mock. "The best electricians treat you like a valued customer whose business they want to earn. They're quick to answer your call and provide you details about their availability."
The last thing you need is for the electrician to make you feel as though you're a burden and impossible to accommodate, therefore communication is absolutely critical throughout the entire process. Mock explains that ideally, they should "plan to arrive at your home with arrangements that best fit your schedule and make you feel assured by the tone in their voice and the amount of time they give you to speak and answer questions. They should explain the solution to your situation, and offer you options for the repair you need." In addition, once the job has been completed, they should "follow up after their services to ensure they've appropriately handled your electrical problems," notes Mock.
They have positive reviews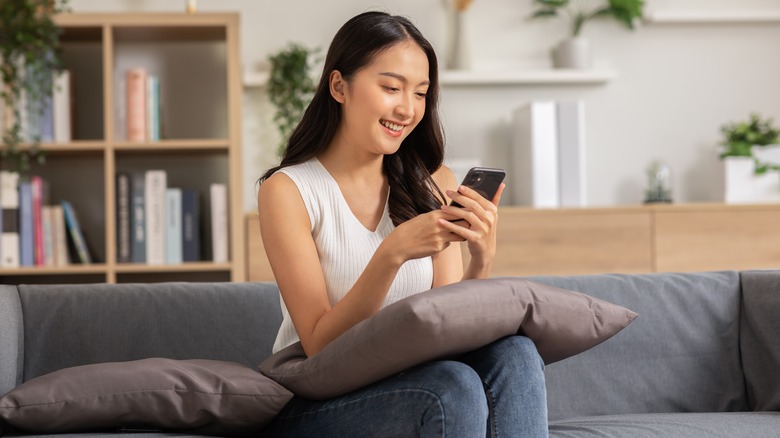 220 Selfmade studio/Shutterstock
Before you just call the first company number you see, though, take a little bit of extra time to assess what others are saying about that particular company or electrician. A good way to start is by seeing if anyone you trust has a go-to electrician whose work they know is stellar. "Ask your family, friends, neighbors, and co-workers who they use for electrical repairs," advises Mock. "When others are satisfied with the work of an electrician and have great things to say, you can be confident that you'll feel the same after your own experience."
In addition to that, check their online presence for whatever feedback you're able to find. If they're a well-established company that has been operating for a while, you should be able to find plenty of insight. "After reading reviews and testimonials, you should have a clear understanding of the quality of work they do and their value of the customer experience. Your electrician should take pride in a job well done and create long-term customers through the high-quality work they do," explains Mock. With that in mind, pay particular attention to positive reviews that indicate a customer has used a company's services multiple times — that's typically the sign of a satisfied client.