Insider Predicts Sharp Resurgence In The Home Improvement Market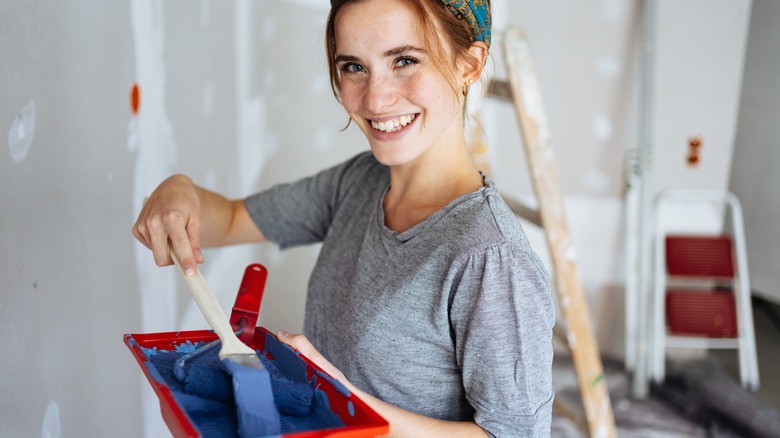 stockfour/Shutterstock
During the first half of 2020 and months in quarantine, you may have picked up a few new hobbies or projects. From baking sourdough bread to building puzzles and posting TikTok videos, it seems like everyone was eager for ways to have fun and improve their surroundings. According to a survey by Porch, if you're like 76% of homeowners, you may have even fired up some power tools and tackled a few home improvement projects during the first few months of quarantine. As Eric Finnigan, vice president of research & demographics at John Burns Real Estate Consulting, told Yahoo News, "The amount of time people are spending in their home is a direct relationship to how much they're willing to spend on the home." 
Now things have slowly returned to a new normal, and at-home quarantine feels like a fever dream of the past. You may be left wondering, what happened to the DIY home improvement spree that started during the pandemic? And what could inspire homeowners to dive back into the projects they started? Here's why people might soon be picking up their hammers and paintbrushes again. 
Home improvement fell to the back burner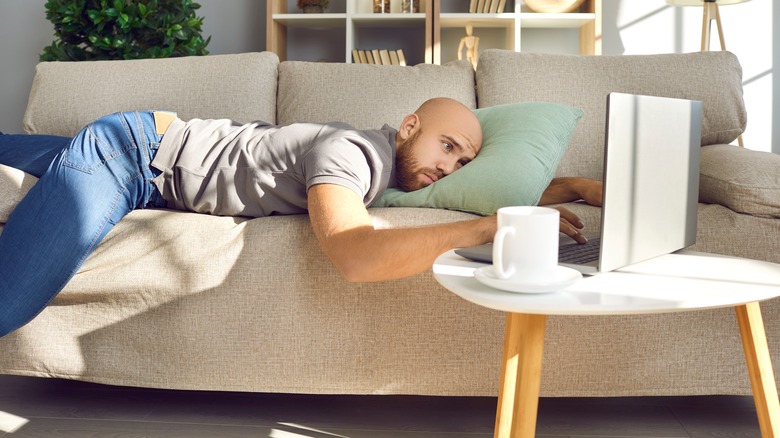 Studio Romantic/Shutterstock
Between 2020 and 2021, the number of people hoping to remodel their kitchen or bathroom shot up dramatically but has since declined back to near pre-pandemic levels. After announcing a 6% hit to their shares in February, Home Depot speculated that consumers are feeling the effects of inflation, despite the average wage continuing to rise in 2023. In addition to spending less time in their homes, people are spending more money on essentials like food, gasoline, and rent. This inevitably leaves them with tighter budgets and less "fun money" to invest in their homes.
Home improvement projects seem to have tapered off strongly in recent months, strongly fueled by inflation but also the mass return to in-person work. Most people are now spending less time in their homes, and therefore less brain-power on home improvement. When they were able to work from home, employees may have found some spare time during the workday to focus on little projects, but these days they're feeling worn out after being in the office all day.
All signs point to a resurgence soon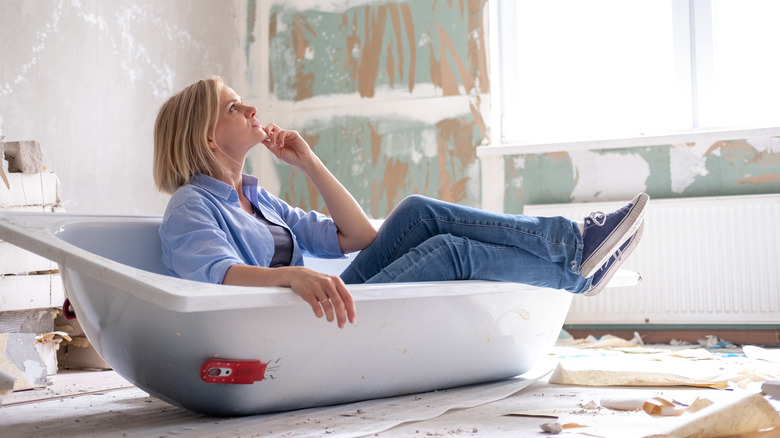 Natali Kuzina/Shutterstock
As the saying goes, time waits for no one. Although consumers are holding tightly to their budgets right now, their homes will continue to age beneath their feet, eventually needing repairs and renovations. The ideal remodeling age for a home is about 20-40 years old. By that time, its built-in architectural style has certainly faded with the trends, and the home is likely in need of some deeper repairs to the roof, plumbing, and HVAC system or kitchens and bathrooms. It's predicted that about 24 million homes in America will be entering this age range soon if they aren't there already. Whether they'd like to or not, there's an influx of homeowners who will likely have to invest a little more into their property in the coming years, Eric Finnigan told Yahoo News.  
But the future isn't at all bleak for homeowners. With mortgage rates being as high as they are, people who have lived in their homes for years continue to be dealt a good hand. Most money-savvy homeowners are reluctant to move right now, so they won't jump ship when something goes awry with the house. With homeowner equity at the highest it's ever been, the majority of homeowners will have the money and resources they need to invest in their homes, especially if they're just looking for a trendy facelift.