The Best Time Of Year To Buy A Mattress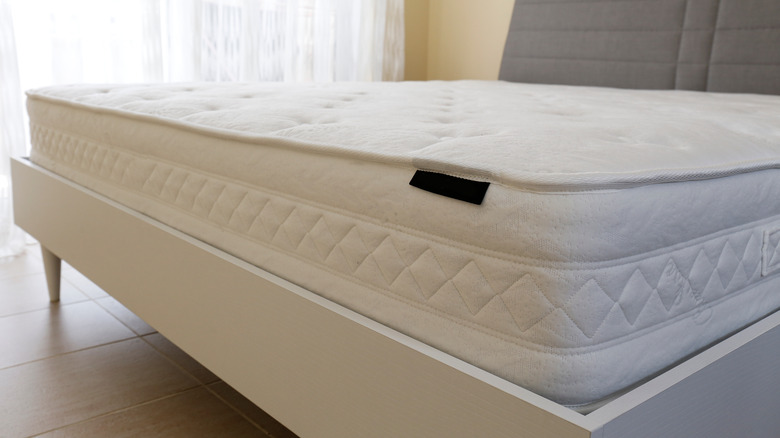 evrymmnt/Shutterstock
Does it seem like there are certain times of the year when you're constantly inundated with signs for blowout sales, overstocked products, and items that have been "priced to sell"? Then suddenly, seemingly overnight, they vanish. If you're in the market for a new mattress, you might wonder if there's a time of year when they can be bought at a discount. After all, upgrading this bedroom mainstay can prove to be a significant investment in both cost and its impact on your health. Let's face it, you're likely to spend at least one-third of your life in a horizontal, eyes shut, and possibly drooling position; it's okay to splurge, but don't get ripped off!
Choosing a mattress is tough, so familiarity can often breed contentment. Sometimes it even seems like the older your current one is, the more comfortable you are with it. It's also hard to force yourself to change, even if your bed needs a significant upgrade. Of course, the fact that there's no shortage of mattress varieties doesn't help — that is, until you find the one of your dreams at a price you can't refuse. Thankfully, if you time your purchase just right, you can be sure that you'll be able to score a high-quality mattress for a discounted price.
When is mattress season?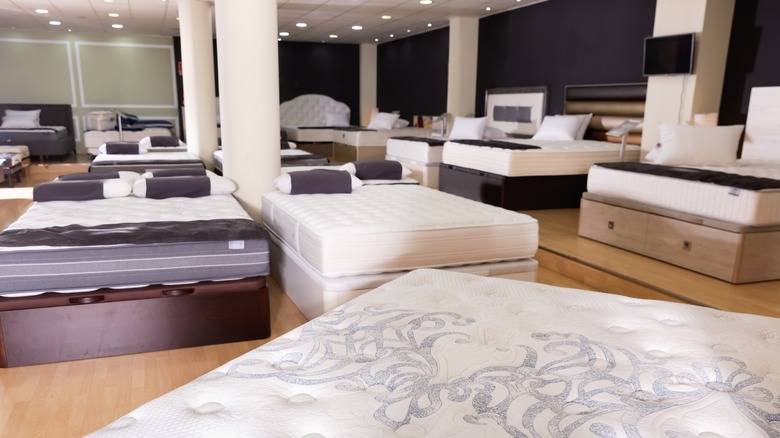 BearFotos/Shutterstock
While it's not a nationally designated timeframe, the best "season" for making a mattress purchase will be late winter through early spring, and holiday weekends, as noted by Nerd Wallet. This seasonal span coincides with the annual President's Day and Memorial Day sales schedule. Additionally, Sleep Advisor states that the best month out of this block for new mattress acquisition is May because retailers begin to haul in new inventory around June and are trying to clear out last year's models.
That being said, there is a mattress off-season that you may want to avoid. As you might already know, mattresses can get downright pricey, costing upwards of $1,500 or more. So when you're looking to upgrade your sleep, just be sure to avoid making a purchase when there are no sales. That being said, if you desperately need a new mattress, you can check around for manufacturer discounts or even coupons specific to the store you're looking to buy from. You can also check out clearance stores for old overstock inventory.
It really boils down to you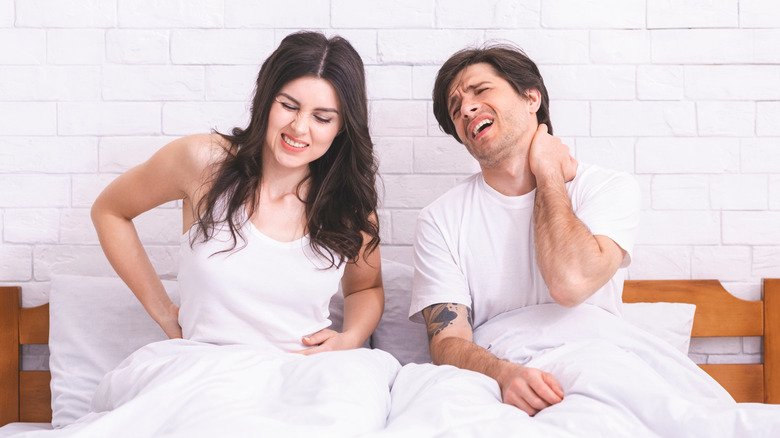 Prostock-studio/Shutterstock
While a mattress can have a lifespan of around 10 years, the best time to purchase a new bed cushion is when your sleep quality begins to suffer. You can figure this out in two different ways. First, if you do a physical inspection and notice any lumps or bumps, sagging in the middle, or noisy springs, it might be time to browse online for your next mattress. Next, when you wake up in the morning, do a body scan and mentally note how rested you feel. Do you have any aches, pains, or joint stiffness (that's new)? Are you wheezing, sneezing, or have your allergies started to kick up even though it's not the dreaded hay fever season? If you answered "yes" to any of those questions, you might need a new mattress.
If you can hack it, wait for the next big holiday sale. But remember to do your research before you begin to shop. The last thing you want is to make a major mistake and have to return your new mattress.