Adding A 'Phone Shelf' To Your Bathroom Layout Can Make Your Space More Functional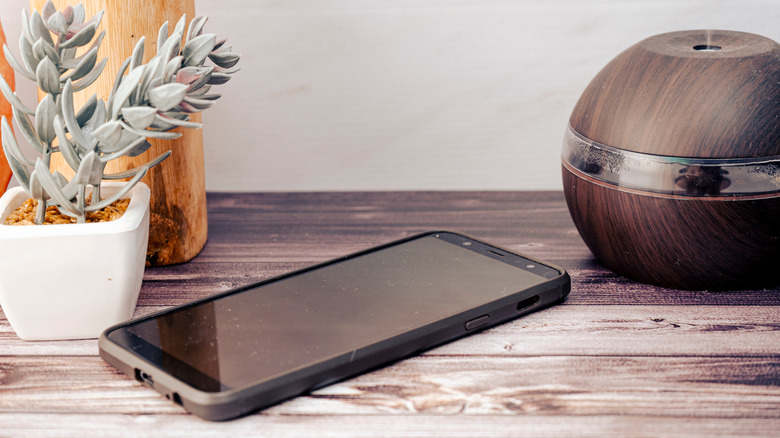 HC FOTOSTUDIO/Shutterstock
We may receive a commission on purchases made from links.
We've all been there — you're in the bathroom, mindlessly scrolling on your cell phone, and realize there's no safe place to set your phone down. The vanity is too far away, the back of the toilet has a shelf on it or is hard to reach, and the floor is dirty. This isn't exclusive to the toilet — if you've ever tried washing your hands in a bathroom with a tiny sink without pockets, you know the struggle of awkwardly cleaning one hand at a time or tucking it under your arm. And if it's this annoying for you, imagine how your guests feel.
You don't have to resign yourself to this fate. Instead, consider looking into a phone shelf. That's right, a small shelf dedicated specifically to storing your phone or other small items like keys, glasses, etc. You may have seen this in public restrooms, as they're much more convenient than holding your phone the entire time you're in the bathroom. No matter how much or how little space you have in your bathroom, you can easily fit on a phone shelf.
Types of phone shelves
There are plenty of options for phone shelves, including adhesive wall mounts, installed brackets, and toilet paper holders. To keep yourself from getting overwhelmed, assess what is most convenient. Do you need a spot to rest your phone near the toilet? If so, where would be more suitable — a nearby outlet, the toilet paper stand, or on the wall? Or maybe you need a place to rest your phone near the sink. Also, factor in the installation: Can you put holes in the wall for a shelf, or should you opt for a renter-friendly option?
If you have a nearby outlet that would double as a convenient phone shelf, consider an outlet cover shelf, like this one on Amazon from WALI, for $10. This replaces your usual outlet cover, allowing the outlets to remain completely functional. The shelf can hold up to 20 pounds, including your phone and a waterproof speaker. You could also replace your wall-mounted toilet paper holder with one that has a phone shelf on top, like this one from Noonext on Amazon, for $18. Or, if you prefer a freestanding toilet paper stand, opt for one with a shelf on top, like this one from Cisily on Amazon for $20. Finally, you could install a small shelf or choose an adhesive wall bracket or pocket, such as Areajd's two-pack adhesive holder, for $9 on Amazon.