100 Day Dream Home: Do Contestants Get To Keep The Furniture?
Every now and then, it's important to stop and appreciate life's simple pleasures, like rain lilies in spring, a fresh cup of coffee, or a binge-worthy new HGTV series. One could even argue that there's nothing better than a cozy night in with a bowl of chips and a new "100 Day Dream Home" episode. In this hit series, husband and wife duo Brian and Mika Kleinschmidt help new homeowners' dreams come true from the ground up. In a brief one-hour episode, the crew can turn a lucky family's simple living concept into a dream home in 100 days or less.   
But the big reveal at the end may leave some viewers with more questions than answers. After all, how does all that luxurious furniture and décor magically appear in the new home? And what happens to all those beautiful pieces when shows like "100 Day Dream Home" are done filming? You might be surprised to discover the truth behind all these fabulously furnished HGTV shows. 
Furniture not included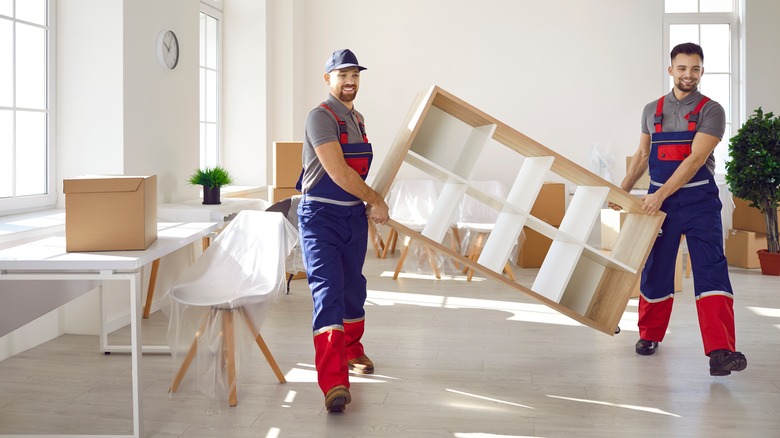 Studio Romantic/Shutterstock
Betsy Ayala, the senior vice president of production & development for HGTV, explains, "Most if not all of our flipping shows are staged," meaning the furniture does not stay in the home after filming. Much like real estate agents stage a home for viewing, HGTV does the same for homes before shooting the final scenes. Viewers who watch closely may even notice some of the same furniture pieces used in episodes of "100 Day Dream Home" or other shows like "Fixer Upper," and "Love It or List It." Furniture staging is done to make the big reveal more dramatic, but homeowners generally don't get to keep all the lovely furnishings. 
However, homeowners can buy furniture used in staging if they can't part with the pieces. If you're interested in picking up the pieces, HGTV sources furniture for similar shows from retailers like Pottery Barn, Serena and Lily, and Wayfair. If the homeowners aren't interested in investing in the staged furniture, the pieces will be removed, and their original furniture reset. In the case of "100 Day Dream Home," it's not likely that HGTV helps the homeowners move furniture into the new build, so that's another cost the family has to foot themselves.
The reality of reality TV shows
Martin Barraud/Getty Images
In addition to the furniture being staged, there are some other surprising secrets viewers might not expect. Contrary to what the shows make it seem like, homeowners pay for their renovations or building projects, not HGTV. Overall, homeowners don't get much from participating in HGTV shows, except for a newly built home and some short-lived television fame. But participating in an HGTV show is a fun opportunity to record your home's transformation or commemorate building your dream home. 
On the positive side, show participants get to keep their old furniture stored offsite during filming and brought back in before the crew leaves. This makes more sense in the end, considering that the film crew doesn't know which pieces could be sentimental, most used, or expensive for the family. If you're one of the homeowners on an HGTV, you can at least be grateful that you're not a crew member forced to swap bulky furniture around multiple times.