HGTV's Home Town Shares Innovative Ways To Make Your Life Easier With A Pet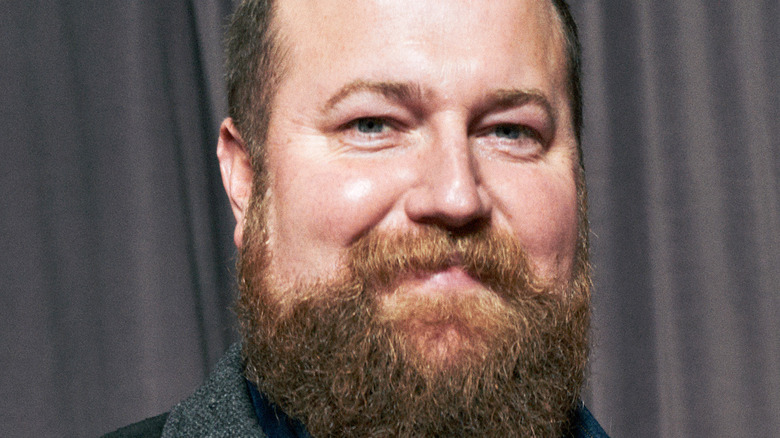 John Shearer/Getty Images
Stars of HGTV's "Home Town" Erin and Ben Napier know that pets are more than just animals: they're family. They experienced the impact pets make on our lives firsthand when their beloved dog, Baker, passed away in 2021. After their loss, their daughter, Helen, heartbreakingly expressed that she wanted another "animal friend" at home, per an Instagram post. This encouraged the family to add a new member last year, a Great Pyrenees, who quickly became Helen's best friend. The family displays their love for animals by selling dog toys and accessories on their website, Laurel Mercantile.
Because they adore their pets so much, the Napiers take great care when renovating homes to make the space not only ideal for the homeowner but also for their furry friends. In the episode "What's Good for the Goose" on season 7 of "Home Town," the Napiers add two key elements that make the space perfectly suited to both the owner Marissa and her dog Daisy.
Dutch doors are more aesthetic than dog gates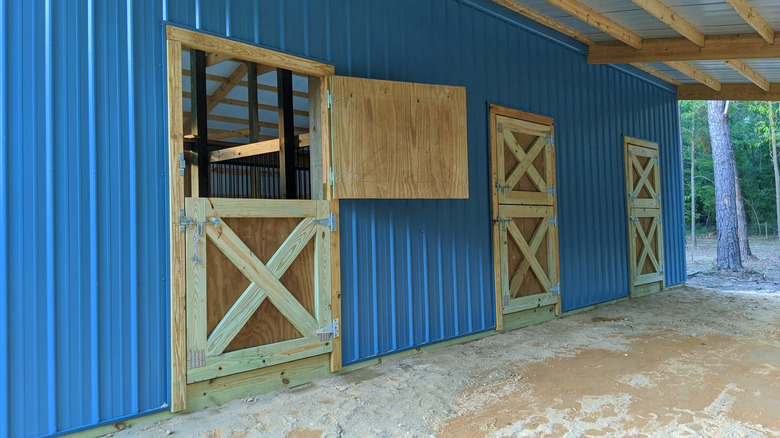 3queens_aJack/Shutterstock
If you have a dog in the home, you probably use plastic or wooden gates to keep them from going into certain rooms or up the staircase. However, these can be inconvenient and may not look as aesthetic as you desire. At the same time, some may not want to add something more permanent, like a full door between rooms, as this could cause their dog to feel separated from the family and may make them bark to be let out. 
To replace the need for a gate, Erin and Ben Napier decide to install a Dutch door, one that's divided horizontally to allow only the top to be opened while the bottom stays closed. These are commonly seen on horse stables and would cost around $700 to $1,000 to add inside a home. This feature keeps Marissa's dog Daisy inside her designated mudroom during the work day but also allows her to look over the bottom half of the door so she doesn't feel left out, per Realtor.com.
Built-ins can hide pet accessories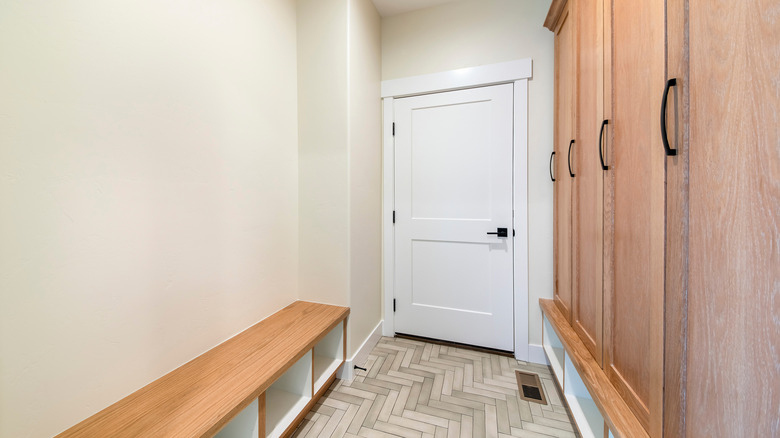 Jason Finn/Shutterstock
Besides gates, something else most homeowners are forced to display at all times is food and water bowls, as well as the containers that store their pet's food. However, these things can also take away from the aesthetics of a home and make it feel cluttered or messy.
To get around this issue, Erin and Ben Napier add custom built-ins with closed doors to Daisy's mudroom, inside which Marissa can store the large containers of dog food. They also include food and water bowls that slide in and out from the side of the built-ins. This allows Marissa to keep all of Daisy's accessories in one room but hidden from sight so they don't take away from the design. In the episode, Erin says, "Everybody loves a custom secret compartment, don't they? [Marissa's] going to show it off to everybody that walks in that room. She's going to be like, 'Look at this!'" (via Realtor.com). And this is exactly what happens, as Marissa loves the custom look and uncluttered design.