The Furniture Color You Should Avoid When Decorating Small Spaces Unless There's Ample Light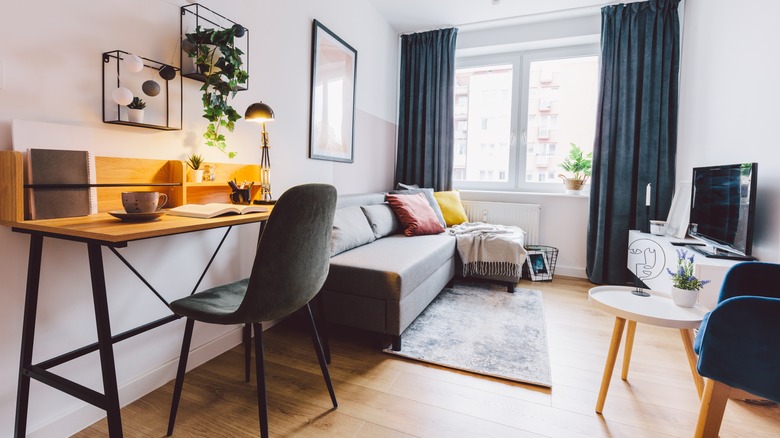 Photocreo Michal Bednarek/Shutterstock
If you're feeling cramped within your living or sitting room, you may need to lighten up the color of your furniture. While shadowy gray and black furnishings often appear sleek and sophisticated, the obscurity of the pieces may not promote a sense of openness typically required for small spaces. Interior designer Tali Roth says, "Many people tend to lean toward heavy, bulky, and dark furniture pieces." (via My Domaine) Whether your furniture is made of leather, wood, or upholstered fabric, many opaque shades can consume the room with their unwieldy vibe, making the overall space feel confined. From loveseats and armchairs to wrangler couches and sectionals, deep shades of blue, green, purple, and brown might be some colors to avoid.
How can you make a snug space feel less constricted? While brown and other dark-toned furniture may sit better in large, spacious areas, you can enliven an already overcrowded room with the use of natural light. Additionally, if you don't want to replace your rich furniture pieces, you might consider alternative options. Roth adds, "When it comes to small apartment living, we need to go for lighter fabrics and finishes that will lift the space." (via My Domaine) This could include airy curtains, lightly-colored walls, and other lightweight décor. By contrasting them with other light-toned furnishings, you might also make your obscure pieces more distinctive rather than overbearing.
Elevate your small space with an abundance of light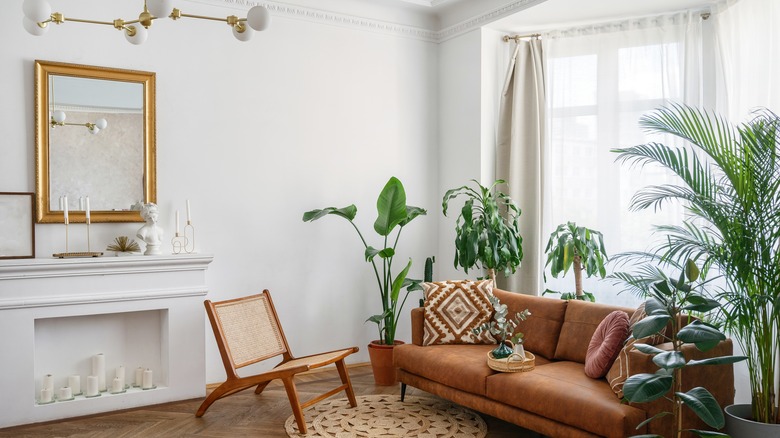 brizmaker/Shutterstock
Without altering too much, take advantage of what your existing windows have to offer. Whether bare or slightly shielded, allow the windows to be somewhat exposed within your tightened living space as often as possible. You might incorporate sheer curtain panels to allow the natural light to enhance your darkened furniture and the overall space. White is ideal, although you could opt for well-lit neutrals like beige, gray, or taupe, including light blue, silver, or gold. Keep things bright with fabrics like chiffon, cotton, lace, and linen. Here pictured is a white, see-through sheen dressed delicately enough to radiate sunlight throughout the corner living area.
If you don't have many windows, limit the amount of artificial lighting emanating from lamps and chandeliers, especially those extravagant in size. Additionally, you could decorate with mirrors to capture more light. For added balance, position two identical styles on or resting against the walls, or place one large mirror over a fireplace mantle, as pictured above. However many mirrors you choose, the reflective pieces will encourage expansion amidst a limited, deepened layout.
Incorporate light-reflecting colors and finishes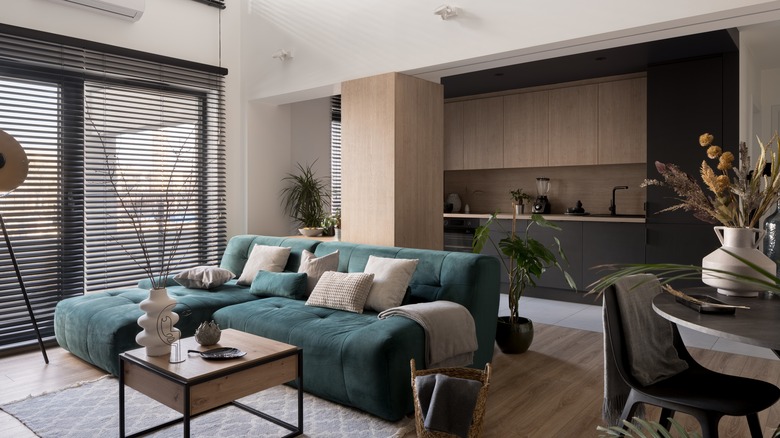 Dariusz Jarzabek/Shutterstock
If you decide to hold on to those large brown or blue pieces of furniture, developing contrast is essential in establishing a lighter essence within your restricted area. Include light-toned accent tables made of beech, pine, or oak to prevent your room from resembling a mysterious cave. This type of arrangement will promote better flow and function along with a livelier, welcoming setting. On the other hand, showcasing a sizeable yet vibrant sofa among lighter chairs will also deflect from a dim motif. You could also implement cream or other lightly tinted pillows and throws to decorate your furniture, which may suit a boho, coastal, or Scandinavian design.
Additionally, brighten up the walls with a light-reflective color palette while finding harmony. Choose white or off-white paint shades for a fresh and modern look, or bring in some calm, pastel colors like faint aqua, mint green, pale yellow, and rose gold pink. These soft hues will give a brilliant opposition against decadent wooden pieces and large comfy couches. Selecting the type of paint should also be a priority. A matte (or flat) finish will echo the level of light while deterring unwanted glares that are often exuded from satin, semi-gloss, or high-gloss finishes.