Studio Vs. Efficiency Apartments: What's The Difference?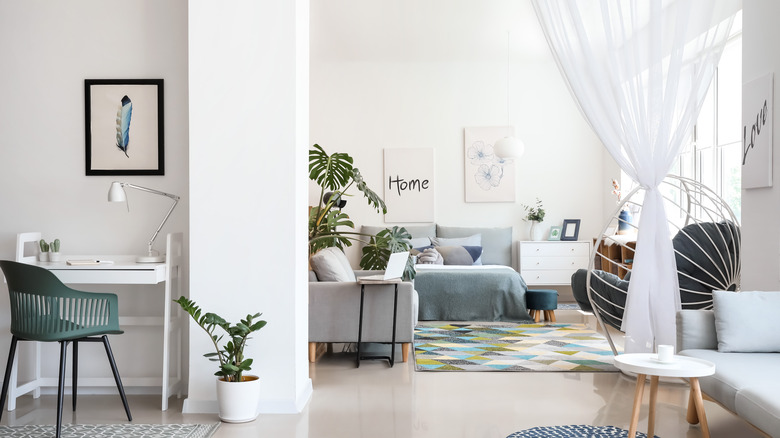 Pixel-Shot/Shutterstock
Studio and efficiency apartments are the perfect options for small-space living. Often greatly in demand in more crowded and popular urban areas, they can also be found in various locales for those looking for more budget-friendly renting alternatives or a crash pad that's not a hotel or Airbnb. Both studios and efficiencies share a number of similar qualities, including multi-use space living, no formal bedroom, and more compact sizing than their one-bedroom counterparts. They are also often part of larger communities that offer amenities like laundry rooms, fitness centers, and public areas, which provide their residents with a little more breathing room. 
While sometimes the two terms are used interchangeably to describe any unit that does not have separate sleeping quarters, there are, in fact, key differences in what distinguishes a true efficiency apartment from a studio. This comes down not only to size, which can vary, but also to layout, appliances, and use of spaces that are unique to each type of residence. The benefits of both include rent savings, smaller areas for cleaning and upkeep, as well as the sustainability boost of small-space living.
Efficiency apartments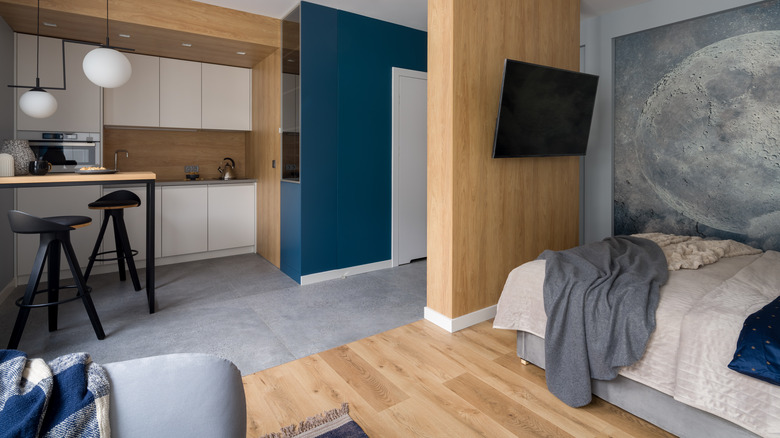 Dariusz Jarzabek/Shutterstock
Efficiency apartments are usually smaller units, ranging around 300-500 square feet, depending on location. They are also typically laid out as a single room, though they will often have an attached bathroom or large closet. In older and more crowded urban areas, there may be a shared bathroom on each floor. The multi-purpose space of the efficiency will include a kitchenette, usually at one end of the apartment, often sporting smaller, more compact appliances like refrigerators or ovens, as well as limited counter and storage space. 
While space is at a premium, efficiency apartments can easily accommodate multi-functional furniture like daybeds and futons, as well as tables, desks, and other kinds of storage units that serve double-duty and make small-space living amenable. Efficiency apartments are often clustered around downtown areas and business centers, drawing residents for their closeness to workplaces and nightlife. While efficiency units in non-urban areas offer a budget-friendly alternative, smaller efficiency units in places like Manhattan can be much higher priced and are greatly in demand.
Studio apartments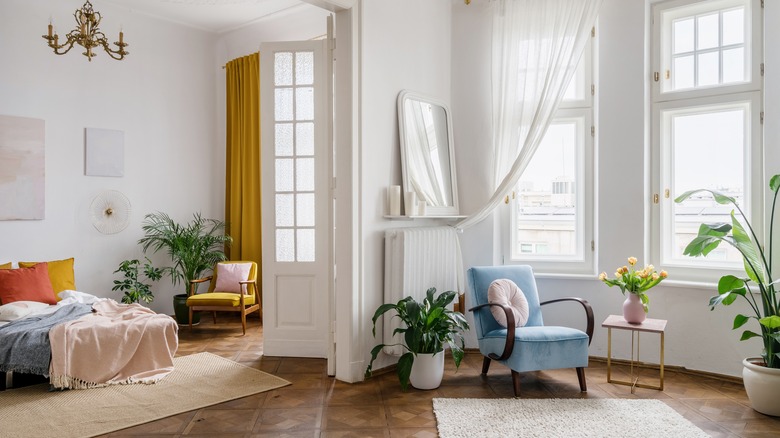 brizmaker/Shutterstock
Like efficiency apartments, studio apartments typically lack a separate, completely walled sleeping space, though the size of studios can be much larger. Studio apartments are defined by their lack of an attached, separate bedroom, but still may offer a distinct sleeping area in the form of an alcove, loft, or other designated spot. Studios sometimes include a smaller kitchenette, but many also feature larger kitchens with full-size appliances and occasional dining nooks. They also may include large walk-in closets for storage. 
Studios, because they have fewer rooms, are a great alternative to one-bedrooms, particularly in urban areas, where many boast similar square footage at a lower price tag simply because they lack the designated sleeping area. Their larger footprint also means that you can easily use room dividers, dual-use furniture, and other means to make living easier and create a definition between zones. Like their smaller sibling, studios offer similar benefits of affordability, maintenance, and more sustainability than a larger space.