Want Your Small Room To Look Bigger? Try Color-Matching Your Walls And Baseboards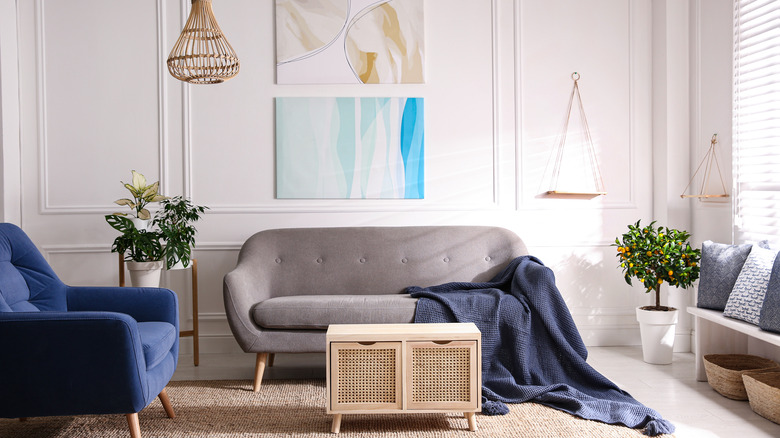 New Africa/Shutterstock
Small rooms don't always have to feel claustrophobic and restricted. In fact, there are a plethora of design tactics available to make a compact space feel large and open. For example, mirrors are often used to reflect natural light and make a home feel brighter and bigger. Other ways include incorporating smaller furniture, avoiding heavy drapery, creating an open pathway, and more. However, the right paint may be your biggest room enlarging ally.
Typically, those who want to make a space feel open will simply slather a light hue onto their walls and ceiling. However, many don't realize that using the same color to paint their baseboards will amplify the effect. Not only does this tactic work wonders with bright colors, but it's also an excellent option for those hoping to use darker shades. We'll explain exactly how this works and how experts believe you can incorporate this technique in your home.
How the technique works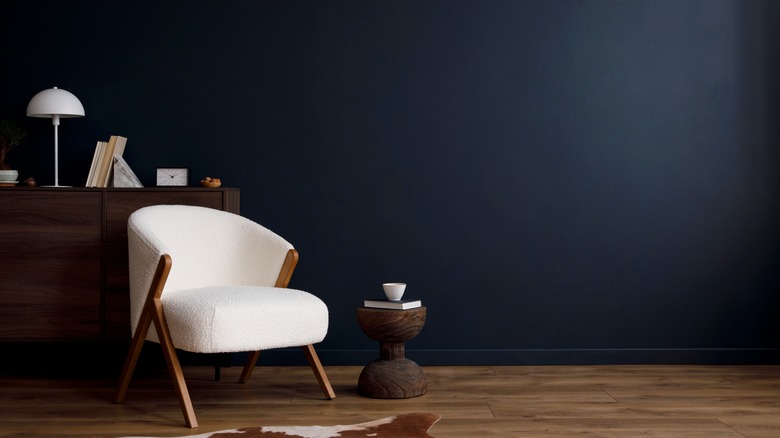 Followtheflow/Shutterstock
When you paint your walls and baseboards the same color, you eliminate the separation between them. As a result, a balanced design is created, leading the viewer's gaze up to the ceiling and down to the floor without interruptions. "The fewer visual breaks in a space, the larger it seems," Diana Almeida, co-founder at AI interior design service CoolAIid explained to Homes & Gardens. "It tricks the eye because the point where things end isn't as obvious."
Almedia explains that painting the trim, ceiling, and all of the doors in the space can help emphasize this illusionary design tactic. This is also a great option for those who want to create a seamless background that helps emphasize focal points in a room, such as a window, fireplace, or elegant furniture. The space you'll likely see this design most often is either in a bedroom or living room, which can elicit a cozy ambiance.
Choosing a color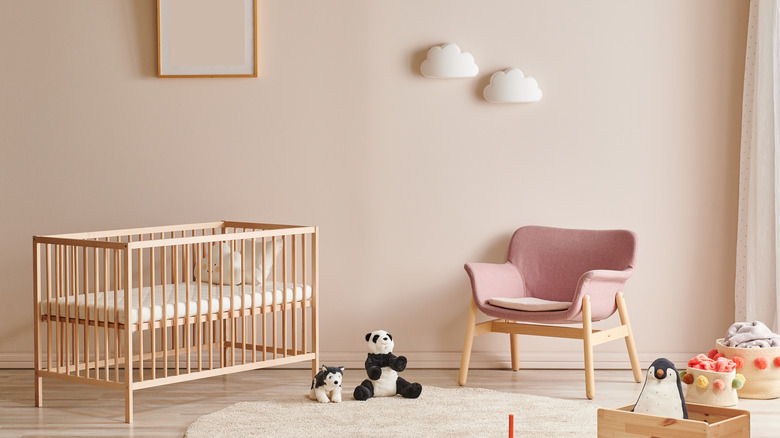 united photo studio/Shutterstock
As we said before, most light or dark shades will work to accomplish this wall and baseboard painting technique. If you crave a modern and elegant home, using a dark color is possible as long as you have ample artificial and natural lighting in the space — so a room without windows is likely not the best option. However, if you hope to create a more traditional, clean look, white is probably better suited for your home.
Naturally, the color you choose should be determined based on your unique design aesthetic, the overall color scheme of your residence, your flooring, and the style of your furniture. Those itching to achieve an eclectic design may be happy with entirely pink walls, whereas minimalists will likely stick with neutral tones, such as taupe, gray, and off-white. The goal is to achieve a complementary and harmonious design that makes your space feel larger and enhances its best features.