The House Paint Color Tarek And Heather Rae El Moussa Embraced For A Dramatic Look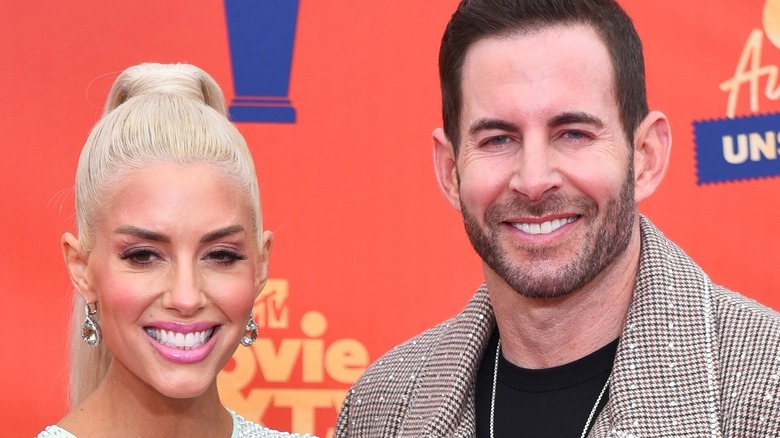 Michael Mattes/Shutterstock
Those who own a brick house may feel like there are only two options for what to do to the exterior. You can either stick with the natural look or paint it white. However, if you want a dramatic appearance, neither of these choices will give you what you desire. So what should you do?
According to Tarek El Moussa, painting your bricks another, more unexpected color is the way to go. You may know El Moussa from one of his many HGTV shows, including "Flip or Flop," "Flipping 101 with Tarek El Moussa," and his most recent endeavor, "The Flipping El Moussas." After reading off the names of these shows, it's safe to say that this designer has quite a bit of experience with flipping fixer uppers, which was his goal when he first purchased a home in Newport Beach, California with his wife, Heather Rae. However, the couple soon decided to keep it instead and transformed the brick home into a modern abode; here's how they added drama to the exterior.
Covering the white brick with black paint
Instead of keeping the brick white, the El Moussa's decided to cover it with the Sherwin-Williams paint shade Tricorn Black. This bold color really makes the house stand out, especially since it sits on the beach, where light colors are typically the norm. "We love a darker, more dramatic look," Heather Rae El Moussa told HGTV, which is what led them to choose this show stopping hue. Their entire exterior, including both the actual home and the brick wall surrounding the property, is painted this inky color.
However, if you find that an all-black exterior is a bit too daring for you, you could paint most of the exterior white but accent with black elements, which will still add a modern touch to your property. In Season 1, Episode 8 of "Flipping 101 with Tarek El Moussa," he paints a house white but adds drama with a black garage door and columns, per Realtor.com. This concept is subtler than painting the whole home a dark shade, but it still makes a huge impact.