What Is Millwork And How Can It Add A Decorative Touch To Your Home?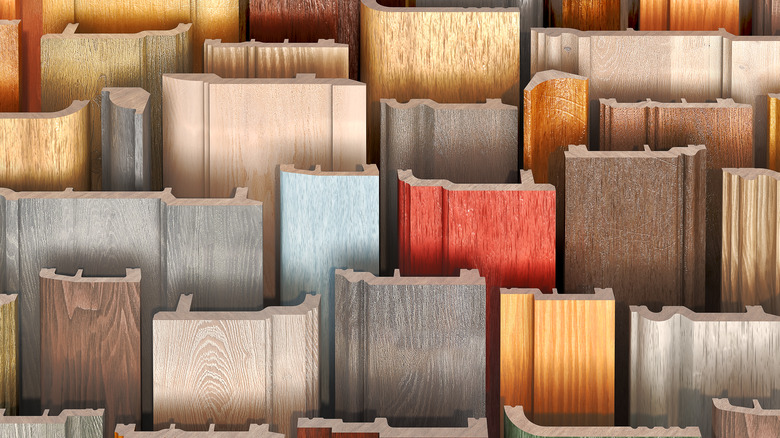 Urfinguss/Getty Images
Millwork is the generic name of an interior's permanent or built-in decorative addition. Sometimes it's crown molding, paneling, or trim, and wainscoting is an effect achieved with millwork. Often, millwork is custom-made, but more pre-made trims and moldings are becoming available not only through local and online lumberyards but also from big box stores. The idea is to embellish an otherwise plain wall or ceiling, especially where two surfaces meet and around doors and windows.
It's no surprise that millwork was the output of workshops and factories from the earliest years of the Industrial Revolution. As the middle class became a thing, people building homes wanted unique and luxurious touches for their formal rooms. Fast forward a couple of centuries, and we haven't let go of the idea of decorating walls and interior seams to make our home warmer and more polished.
Originally, millwork would have been made from wood, usually pine, but today it comes in a wider variety of composites such as polyurethanes, synthetics, and bamboo. Both materials have pros and cons — wood is more permanent but costly, and composites or plastics are inexpensive but less durable. These days there's something available for most budgets, so pick and choose according to your finances and the look you want.
Enhance and customize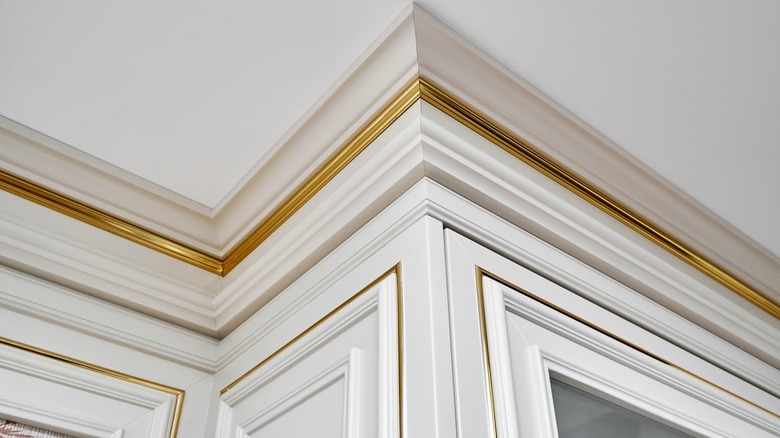 timltv/Shutterstock
Millwork, whether plain or ornate, defines the interior of your home. By drawing the eye to the line or design, it can break up a dull wall, extend the length of a small room, or lower an out-of-sight ceiling. Trim, casing, coves, and more customize a space, adding beauty and depth to a room, as well as increasing resale value. Rooms without any decorative touches look drab and utilitarian, and adding one element to a room can make it look more custom-built and luxurious.
We've offered beautiful problem-solving solutions to interiors by listing types of millwork to consider for your home. But frames, baseboards, and the rest come with their own set of rules. The first one is to use the right millwork in your home. Designers advise starting with the style of your home and working from there. For example, if you have a Colonial, stick to classic molding and baseboards since sleek, minimalist door frames with no curves or elevations will look flat and out of place. Likewise, a simple Craftsman-style cottage should use plain, almost rustic baseboards or frames since the house will look ridiculous with Victorian-style trimmings, which are elaborate.
Style and balance, proportion, and the overall aesthetic are super important. Do a lot of research or talk with a designer or a carpenter before purchasing the wrong style or size of millwork for your house.
Millwork throughout the house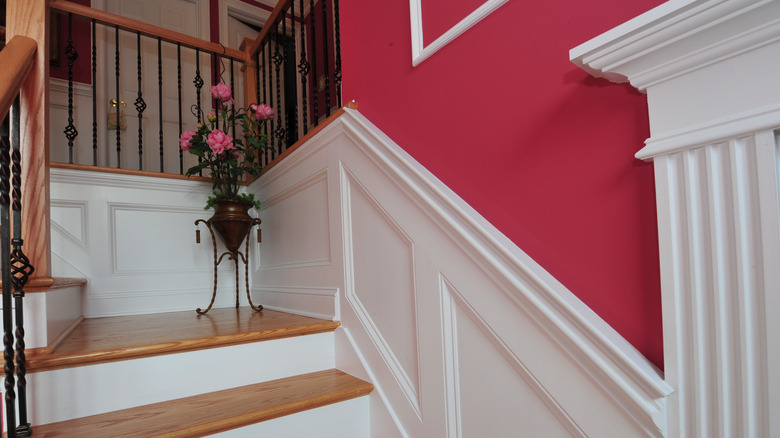 victory.dv/Shutterstock
Marling Lumber describes where we can decorate a room with millwork, from crown molding to toe kicks and the corbels and medallions. Before you get overwhelmed with the options, think room by room. Do your decorative options have to match? No, but consider coordinating the adjacent rooms through style and color if your house has an open floor plan.
You can also opt for an accent wall in a living space, dining room, or great room. If you love tone-on-tone, for example, wake up the space with a picture railing on one wall and show off your favorite artwork, breaking up the area while adding character. If you place chair railings on dining room walls, no law says you have to add them to all four walls. Use the railing on one or two walls, then use contrasting paint or wallpaper to make the interior pop.
Another option is to use paint to augment further an accent wall with trim, bead board, or molding. There are many possibilities, and be sure to look at various ideas for wall accents, wallpaper, and millwork to enliven your living space.