Are Mirrored Walls From The '70s Making A Sophisticated Comeback In 2023?
The 70s are making a comeback in more ways than one when it comes to home interiors, and many of these trends are catching people by surprise (in a good way). Mirrored walls were a big part of the 1970s aesthetic, with abodes boasting this design throughout the decade... and even beyond. However, this trend can't be solely accredited to the era of disco and rock n' roll. Parisian designs have long used mirrors to boost their chic dwellings and create a decadent space for people to spend time and admire their surroundings. Mirrors also act as a room expander, making an area appear larger and more open.
With the ever-changing and reemerging aesthetics in home interiors, it is expected to revisit some trends that homeowners considered antiquated. Vintage has a way of coming back, and once certain ideas become popular again, it is only a matter of time before everyone wants to indulge. But are mirrored walls as coveted as they once were when shag carpeting was also considered the peak of interior design? You might be shocked (and thrilled) to know the answer.
Mirror walls are back, baby
During the 1970s, many homes boasted mirrored walls and ceilings that fit in with their wood paneling and orange hues. When people think of that era now, some of the trends might cause them to shudder, but a lot of the styles that were big back then have been recycled and applied in a more chic way. Where mirrored walls might have been considered tacky by today's standards, now designers are encouraging them, albeit with newfound sophistication.
The key to making this aesthetic work is to opt for large format panels that provide clean lines and open up a room. Grids also help modernize this trend, creating dimension within the glass to break it up and add a sense of architectural appeal. Grids provide a visual anchor which can tie elements together, so having mirrors that are broken up by a grid overlay is a good way to embrace a reflective wall. Mirrors have long been used in houses to help brighten and open up certain rooms, and walls covered in reflective surfaces can certainly offer both of these benefits, but they don't have to be in the form of one (or several) uncut panels. Being creative brings the Parisian or vintage vibe into play while still opening up a room or space.
Sophisticated, chic, or a little groovy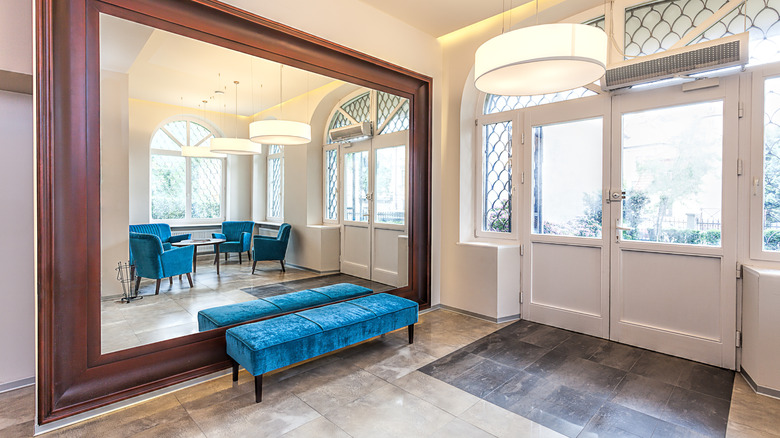 Katarzynabialasiewicz/Getty Images
For those who think less is more, the mirrors will only serve to create an expansive stretch within a given room and can even help make ceilings that sit quite low appear taller. There are some tips and tricks to making sure your mirrored walls don't go from chic stylish to scary, especially because too much of a good thing can become a detriment to your home. Different cuts or shapes can help provide a glamorous backdrop or feature wall without becoming too ostentatious.
Large format panels are an easy way to nail this trend, but they aren't your only option. If you want a more playful or dimensional wall, you can look for glass pieces that are shaped into patterns or geometrical cuts. Not only do these bring mirrored walls into the current century, but patterned overlays also give texture, which is a great compliment to the smooth finish of the glass itself. You can also go with a vintage finish to produce a Parisian air, like those found in mercury glass walls. These go well with everything from a farmhouse chic aesthetic to plazacore styles. This trend is certainly coming back in a big way, but there are many different paths to take when it comes to incorporating it into your home.