KitchenAid Names Hibiscus Pink Its Color Of 2023 - Here's How To Incorporate It In Your Kitchen Decor
Every year, KitchenAid comes out with a color of the year, something that represents the current trends in every category, from fashion to interior design. "Colors are so emotional — [we ask,] what kinds of colors will people want to fulfill an emotional need they're having at the time[?]" Jessica McConnell, director of Whirlpool Color, Finish, and Material Design, told KitchenAid.
For 2022, the color of the year was a purple beetroot shade, and in 2021, it was an orange honey tone. This year, the color is much brighter, a fuschia hibiscus pink shade inspired by the bright, tropical flower. This tone was selected for a number of reasons, including that maximalism and creativity are on the rise. Brittni Pertijs, Lead Color, Material, and Finish Designer at KitchenAid, says, "Hibiscus embodies the energy-boosting hues we are seeing in art, design and pop culture right now ... For us, Hibiscus empowers the inner maker to explore." It's meant to make a vivid statement, captivate the viewer, and bring new energy to life.
How to showcase hibiscus in the kitchen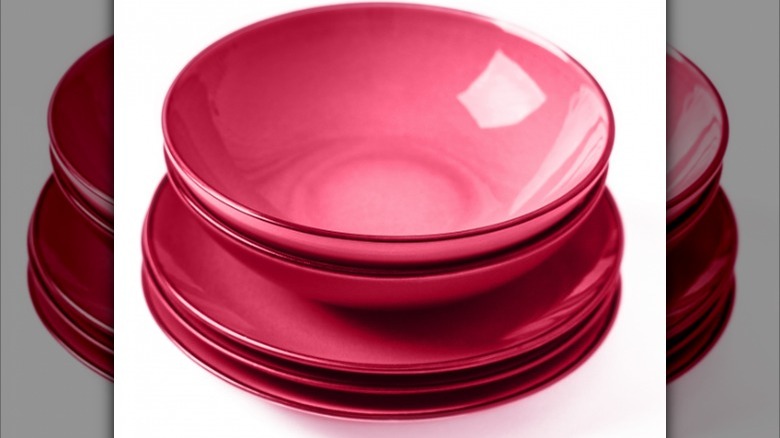 Yuliia Zaitseva/Getty Images
You can purchase two appliances from KitchenAid that showcase this color: Their blender, $299.99, and stand mixer, $499.99. Displaying one or both of these on your kitchen counter is sure to make a statement. You can also create more cohesion by adding other elements in the same tone, such as fuschia dishes. 
Because this color is so bright, perhaps you're wondering how to design the rest of your kitchen. If so, Brittni Pertijs says you have two main options: Either maximalist or minimalist (via KitchenAid). "Hibiscus can be styled in so many ways. We love pairing Hibiscus with a neutral kitchen to add a pop of color. Or, we love a maximalist pink and green combination! Don't be afraid to pair Hibiscus with various textures as well." You could also pair this color with other jewel tones like sapphire blue or emerald green, which would add an elegant feel to your space. Gold is another bold accent that would definitely complement this rich tone.
How customers feel about hibiscus
If you're not yet sold on this bright color, perhaps you'd like to hear what real customers think. The blender has a perfect five-star rating, and one person said, "My kitchen is all white and this blender gives it such a pretty pop of color!" Another commented, "This blender has all the KitchenAid quality in the 2023 color of the year Hibiscus which makes a very bold attractive statement on my countertop."
When it comes to the stand mixer, this product has a 4.9-star rating. One comment reads, "The beautiful pop of color is just what I needed in my kitchen to make me want to use it again and again." Another consumer said, "I would describe the hibiscus color as bright pink reddish. It's very pretty and fun." However, keep in mind that the finish is matte, not glossy. According to one reviewer, "It looks pretty, but I think the glossy finish on my mom's makes it easier to clean than this one."