The Skoolie Is A Trendy Tiny Home Option That Rivals RVs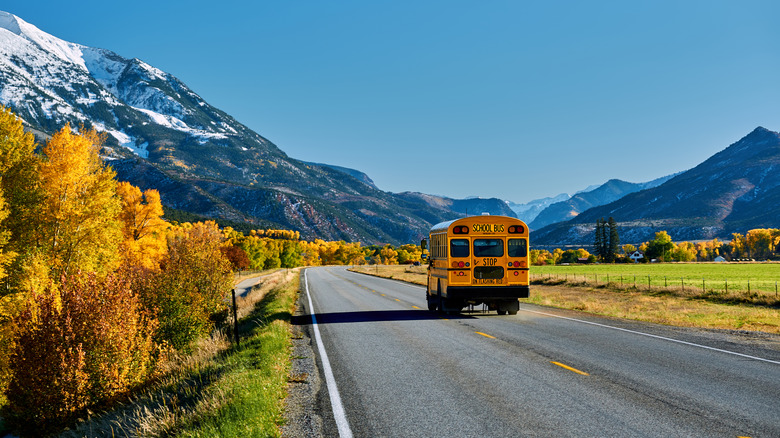 haveseen/Shutterstock
Affectionately named "skoolies," school bus home conversions are just one of the many living options available for people who desire a nomadic lifestyle. Like a perfect cross between a large van and a tiny home, skoolies offer ample square footage and customization while maintaining their breezy mobility, but for decades skoolies have lived in the shadow of their popular older cousin, recreational vehicles, or RVs. Since their introduction in 1915, RVs, also known as motorhomes, have dominated the "life on wheels" game, making it easy for anyone to purchase and drive off with a brand-new mini-home.
In the bitter faceoff between skoolies and RVs, each side makes some valid arguments, but for those on the outside, it can be hard to weigh the pros and cons of either vehicle. What's the biggest difference between skoolies and RVs? Which nomadic home option deserves to be called the king of the road? If you're considering a life on the road, here's what you need to know about skoolies and how they compare to traditional RVs.
Weighing some pros and cons
The major difference that comes into play is that skoolie's can support a customized floor plan. A class A RV generally offers about 297 square feet, while a full-length skoolie can have 300 square feet or more. While you might be working with comparable raw square footage, a thoughtfully designed skoolie can fit much more than a standard RV and can be adapted to suit the owner's changing lifestyle over time. Skoolie interiors are often much higher quality than RVs, which are fitted with cheap materials and not intended for constant daily use. Skoolie engines are also tough yet relatively easy to maintain and repair. While RVs aren't crash-tested, school buses are built to survive crashes, protect passengers, and transport dozens of kids daily for years. 
Of course, the tradeoff for their quality and safety is that skoolies cost more in terms of diesel fuel and gas mileage. A standard school bus gets about 7 miles per gallon, and that's without any additional flooring, ceiling, or furniture. Many RV parks allow skoolies, but some require vehicles to be less than 10 years old or ban conversion campers altogether. In addition to travel costs and lodging challenges, skoolies require a high labor investment to outfit them with plumbing, electricity, and the comforts of modern life. 
The consensus on conversions
In general, an RV may be a better choice for people who already own a home or just hope to travel a few times per year. But when it comes to full-time nomadic living, we're crowning the skoolie the king of the road. If you're willing to put in the time and money to build a customized school bus conversion, you'll find that every detail brings you a return on that investment.
Ready to get your skoolie life on a roll? Check classified ads for pre-converted or gutted school buses and get in touch with your local community — you'll probably meet some seasoned skoolie friends this way too! If you'd rather build your skoolie house from scratch, frequently check public government auctions for retired school buses and get ready to put in a good chunk of change or a lot of elbow grease. A standard, liveable skoolie will typically cost between $15,000 and $35,000 and will take between six months and two years to complete. Of course, pre-built skoolies are also an option, but if you hire a conversion company to do the labor and opt for all the high-end, off-grid accouterments, the total cost can easily rack up to $100,000 or more.