Peony Tulips Are The Viral Spring Decor Trend You Can Find At Trader Joe's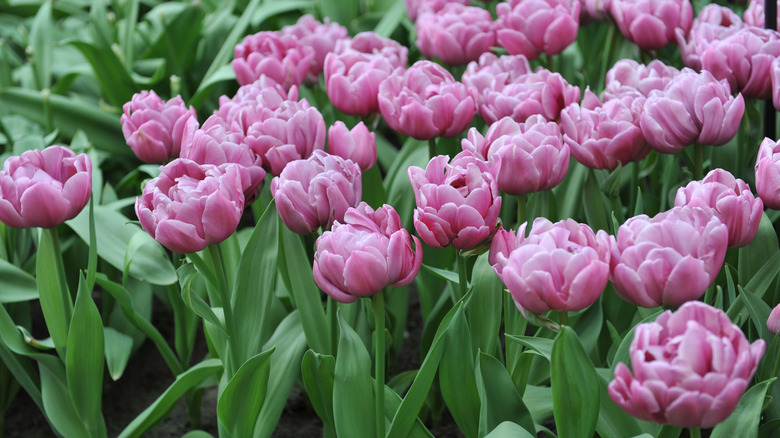 Sergey V Kalyakin/Shutterstock
With the official start of spring right around the corner, flowers are beginning to sprout, and many people are bringing those blooms inside their homes. Vases of colorful bouquets take center stage. But as anyone who buys fresh flowers knows, keeping bouquets of flowers can be quite expensive.
Peonies are a popular option for decking out the indoors. They're usually available to purchase between April and July, so purchasing the flowers outside of this time frame can cost you a pretty penny. The flowers can often range from $3 to $9 per stem. Their beauty and exclusivity are often what makes peonies the most sought-after.
But shoppers at Trader Joe's have found a way to get the look of peonies for less. Peony tulips are going viral on TikTok for their pretty, fluffy, peony-like appearance. According to the Trader Joe's website, the peony tulips were grown by a vendor exclusively for the grocery store chain. They're available for a limited time, and since they've gone viral, you might want to jump on the deal soon.
They're actually double tulips
While the name may suggest that these are some kind of hybrid, "peony tulips" are actually just double tulips. The tulips most people are familiar with have a single layer of petals. As the name says, double tulips have additional layers that give the flowers a fluffy, peony-esque look. This variety also blooms in the spring and looks great on its own or within a bouquet with other flowers. They come in a variety of colors, including red, orange, yellow, pink, and purple, and can also be variegated, meaning they have streaks of a second color along the petals. With plenty of options, you can fit these flowers into any interior design style and color scheme. 
TikTok user Lindsay Brown shows off a vase of orange and yellow double tulips in a video, captioning it, "These flowers were less than $10 at Trader Joe's and I am one happy girl." In another video on her account, she shows how the bouquet looks like standard tulips right after purchase but opens for a fluffy reveal once put in the vase.
User @astoldbymichelle racked up over 150,000 likes on her video of Trader Joe's peonies. She showcases the multicolored blooms in a neutral shell vase for a bright, clean, and aesthetically pleasing addition to her home.
Caring for double tulips
Standard tulips are delicate, lasting on average about five days after being placed in a vase of water. However, double tulips tend to last longer, as much as two weeks as the flower fully opens. But there are some tips you can use to make the blooms last, so you can enjoy their beauty even longer.
Before putting the flowers in a vase, cut about a half inch off the end of the stems. The quick snip helps open up the stem and allows the flowers to get more water and stay fresh. You should also remove the lower leaf, which will often sit below the waterline. Leave in the water can make the water dirty and increase bacterial growth, which can speed up wilting.
The vase you use for tulips also matters. Opt for taller vases with a narrow opening to prevent the stems from bending. A narrow top will keep the tulips straight and tall. Once you have everything set up, place the flowers in cold water, which helps trigger the tulips to open. You'll also want to refill the vase with clean cold water every few days. Place the vase in a space where the flowers won't be subjected to either hot or cold drafts, away from windows, heaters, air conditioners, or stoves. You'll also want to place the flowers in indirect sunlight to prevent bending at the stem.