20 Smart Box Shelf Ideas That Will Upgrade Your Room's Organization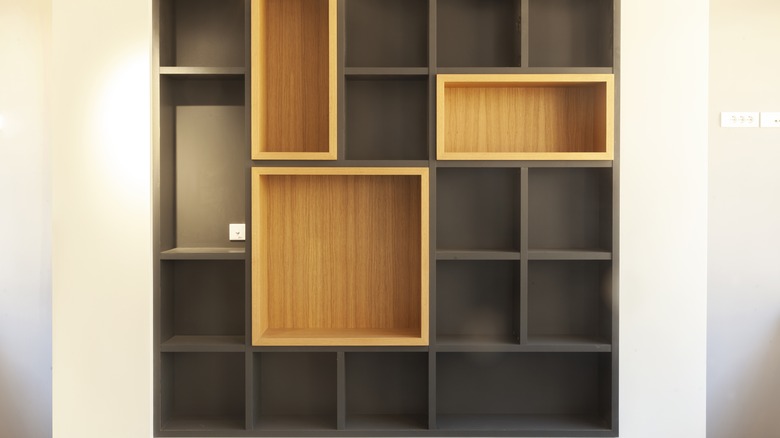 DJ Srki/Shutterstock
Box shelves have become a simple and stylish way to store items in any room. Just as the name describes, boxes — typically made of wood — are mounted onto the walls to create an effortless yet functional design. The main benefit of utilizing this style is that there are a plethora of ways to arrange them to suit your needs. For example, some people choose not to install them on the wall and instead build a shelving arrangement from the ground up. Others dedicate a large wall for their shelving, creating ample storage opportunities for rooms that lack a large walk-in closet.
This storage method is also relatively affordable and can save you a few hundred dollars compared to other storage systems. So, if you're convinced that box shelves are the perfect fit for your home, you're in luck. We've found 20 innovative ideas that will be a valuable addition to any home.
1. Distressed crates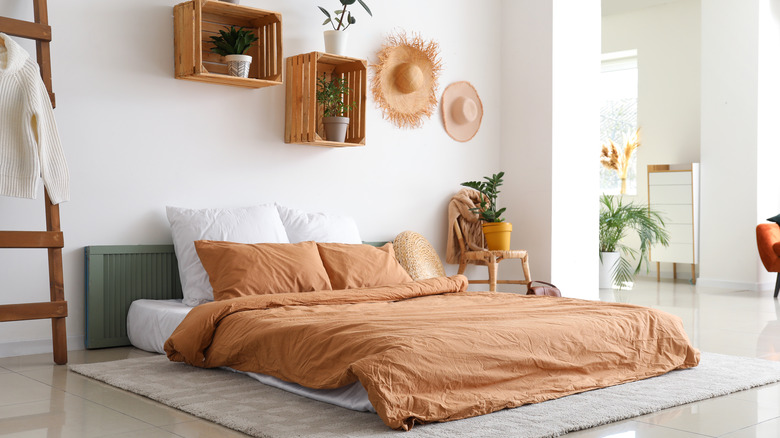 Pixel-Shot/Shutterstock
To achieve a relaxed bohemian design, this homeowner mounted distressed crates above the bed to create a unique location for their plants. So, instead of having them scattered on the ground or taking up space on a table, they're found beautifully sitting along the wall.
2. Toy storage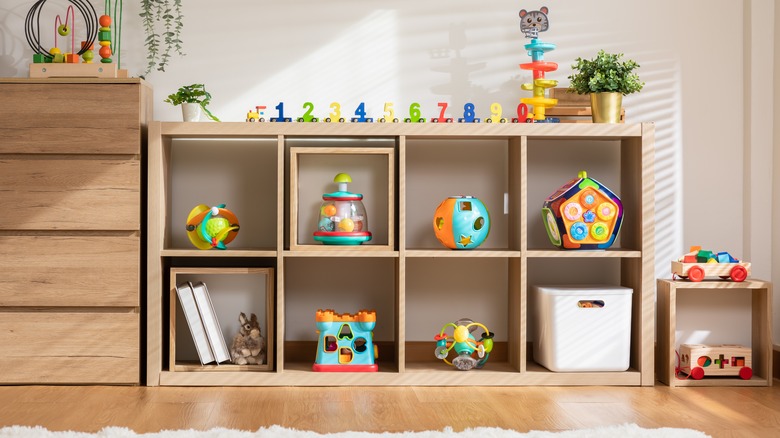 220 Selfmade studio/Shutterstock
Box shelves are also a great storage method to implement in a child's bedroom or playroom. Their toys can effortlessly be placed inside and are also easily accessible when needed.
3. Corner box shelves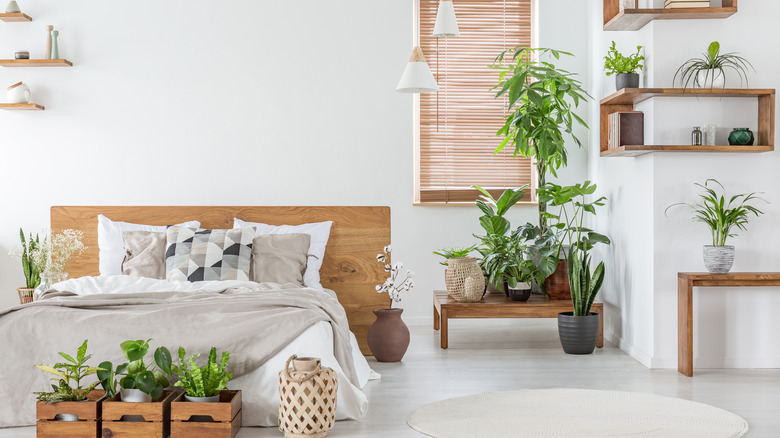 Ground Picture/Shutterstock
This is a prime example of how versatile the box shelf storage method is. Here, they've constructed their shelves to wrap around the corner of a wall to not only better utilize the space but to create an impactful design.
4. Laundry room essential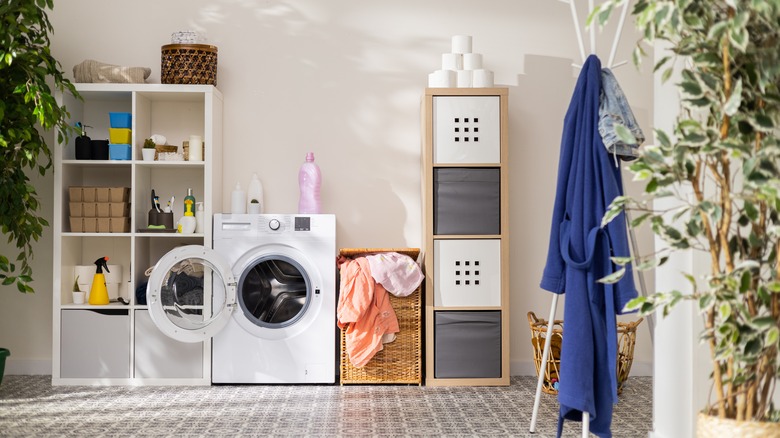 Trzykropy/Shutterstock
Box shelves can also be used in a laundry room to hold detergents and other cleaning supplies. And, if you prefer to keep your products hidden — especially if there are children in the house — you can simply place a bin in each box to maintain a cleaner look.
5. Complementary shelves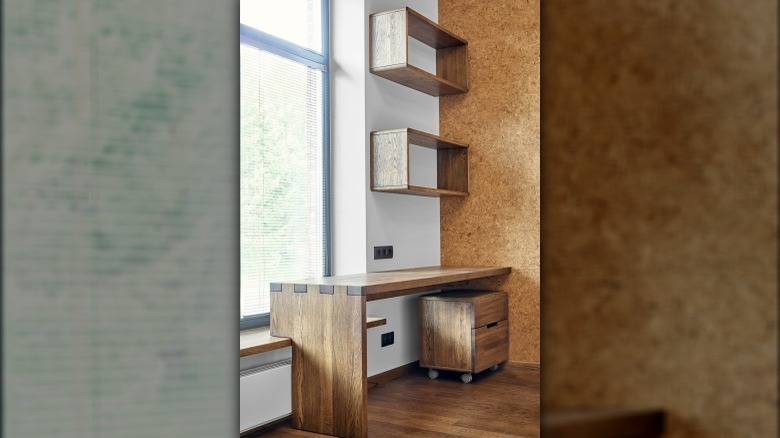 timltv/Shutterstock
To create a cohesive design, sometimes it's necessary to incorporate different décor pieces with similar finishes. Here, the homeowner built a desk and box shelves using the same type of wood, creating a warm and rustic space. The shelves can easily be used to hold picture frames or books.
6. Fun shapes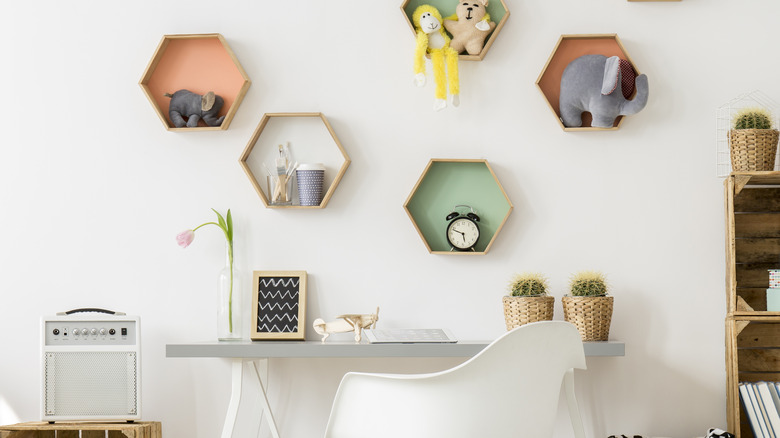 Ground Picture/Shutterstock
If you're hoping to create a more playful environment, there are box shelves that come in different shapes, such as the hexagons shown here. Use complementary background colors for a fun decorative touch.
7. A small bathroom hero
If you have a small bathroom with little space on the ground for storage, installing box shelves may be what saves the day. Here, the shelves are used to store toilet paper and towels. Painting them black is also a great option for those who desire a modern space.
8. LED lights
To give your box shelves a stylish boost, you can install LED lighting along the inner corners to help highlight your favorite pieces of décor. The effect creates shadows that add drama to your wall.
9. Scandinavian kitchen shelves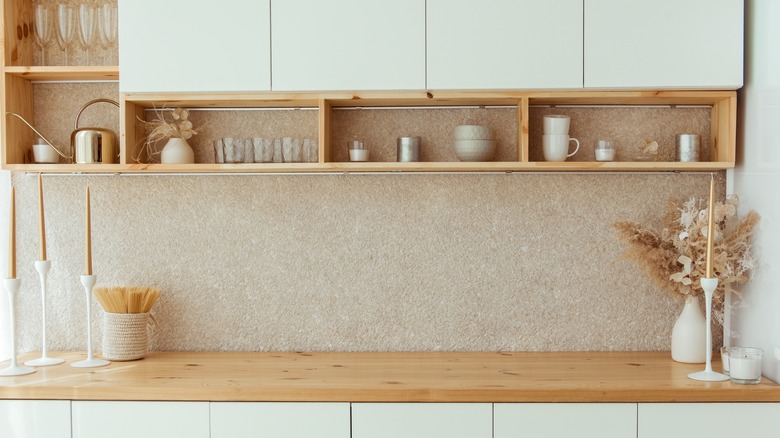 Iren_Geo/Shutterstock
Those who adore the Scandinavian kitchen trend should consider installing box shelves above their countertop as a minimalistic option to tastefully store dishware and utensils. Here, instead of opting for a painted finish, the homeowner elects to let the wood's natural beauty shine through.
10. A must-have closet organizer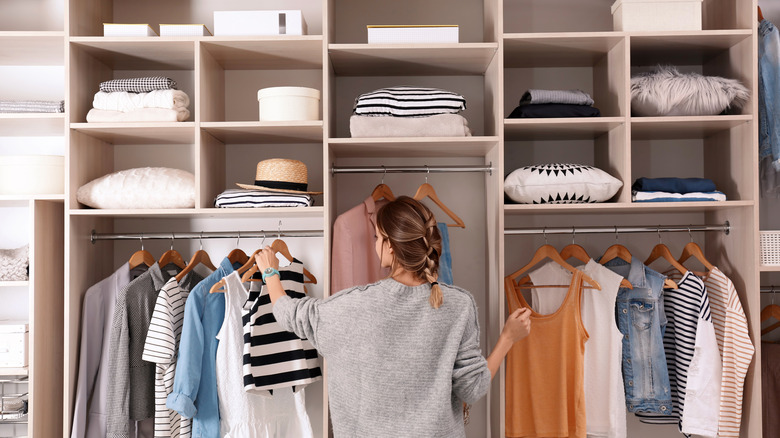 New Africa/Shutterstock
The example here shows how closet organization can be made easy with the help of box shelves. The light wood creates a bright and open space, and each box is used to store a specific item that's easy to grab when needed.
11. Tetris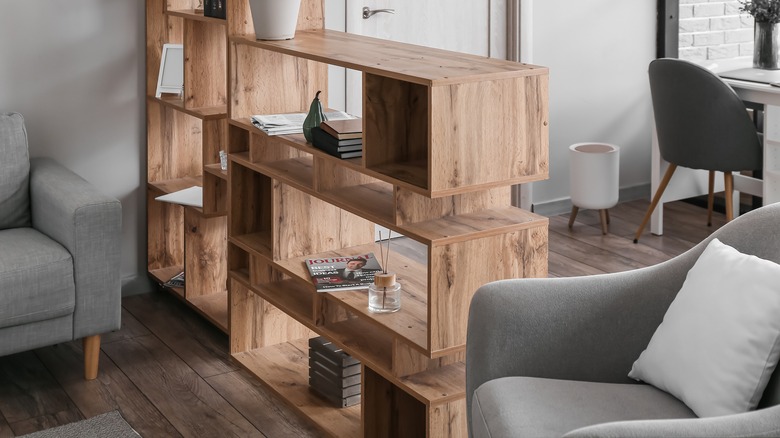 Pixel-Shot/Shutterstock
This arrangement of box shelves reminds us of the classic video game "Tetris". The combination of different-sized boxes stacked against each other creates an interesting and beautiful design; we also like how they've used it to divide the room between the living area and the workspace.
12. Lattice pattern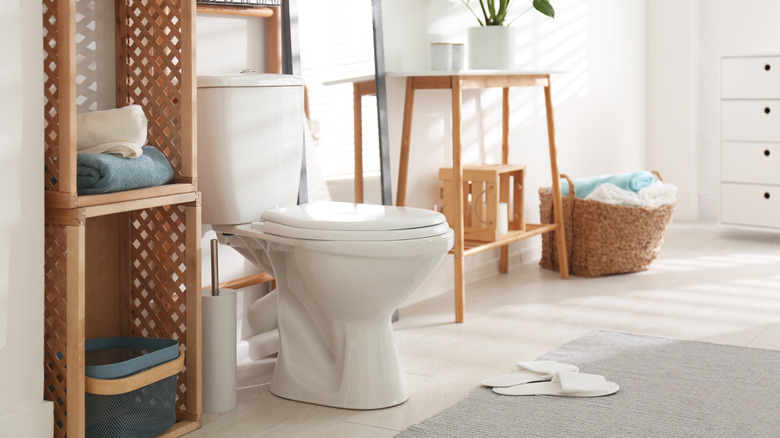 New Africa/Shutterstock
The box shelves in this bathroom introduce a variety of design characteristics, such as warmth and texture, with a lattice pattern that makes the overall look more interesting and open. This design also illustrates how simple it is to stack two boxes together to create compartments for different items.
13. Contemporary console
Pixel-Shot/Shutterstock
By incorporating box shelves designed with light wood and a thick grain pattern, these homeowners created a stunning contemporary space. They also strategically display their décor to construct a balanced and harmonious visual.
14. The perfect linen closet
Kostikova Natalia/Shutterstock
What we see here is a super organized linen closet made possible through the use of box shelves. Here, everything is visually neat and stable, and the use of white maintains a light and airy design.
15. Innovative television stand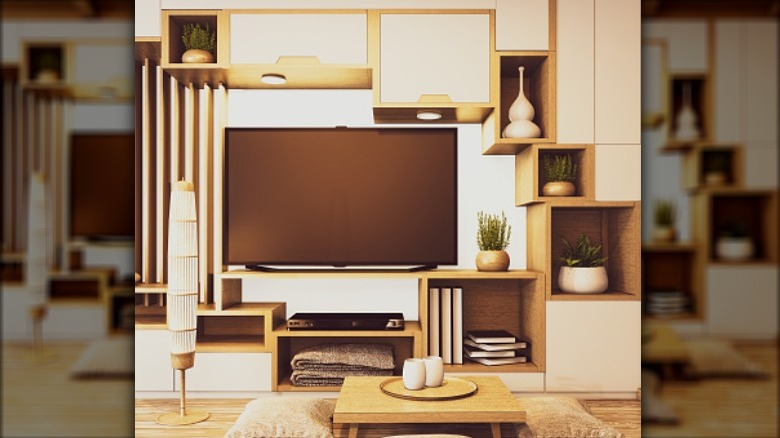 Navamin Keawmorakot/Getty Images
When it comes to interior design, many of us thrive on uniformity. However, this television stand showcases the amazing design you can create when you get creative with placement and size. On the right, three box shelves are situated on top of each other, from the smallest to the biggest, filled with vases and plants that perfectly fit their shapes.
16. Magazine display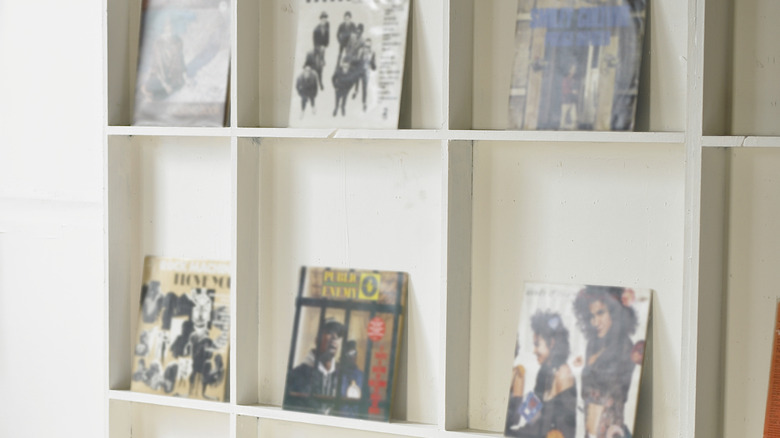 John Howard/Getty Images
Have a collection of literature or records you'd like to display? Box shelves may be the perfect option to do just that. Here, a homeowner mounted shallow shelving onto the wall, and each box frames a record cover in a unique and fun way.
17. Garage storage
Most garages don't have much space to hold large storage units. Which is a shame since most of us tend to put our tools amongst many other items in this space. The solution? Store everything along the walls with the help of box shelves. This design in particular is clean, straight, and convenient. 
18. Linked boxes
Linking your box shelves together is a great option for those who want to avoid the standard stacked designs. In this example, they've used all types of décor to fill in the spaces. We could also see this being a fun nursery option filled with children's books and small toys.
19. Staircase storage
The empty space underneath your staircase is perfect for more storage. This design stands out due to its slanted shape and dark background color. 
20. A fun DIY project
Implementing box shelves into your home can also be done by conducting a fun DIY project! For example, this design was created simply by connecting cardboard boxes and designing the backing with colors complementary to the space.