Jenny Marrs Thinks You're Overlooking This Major Thing In Your Bedroom (And She's Probably Right)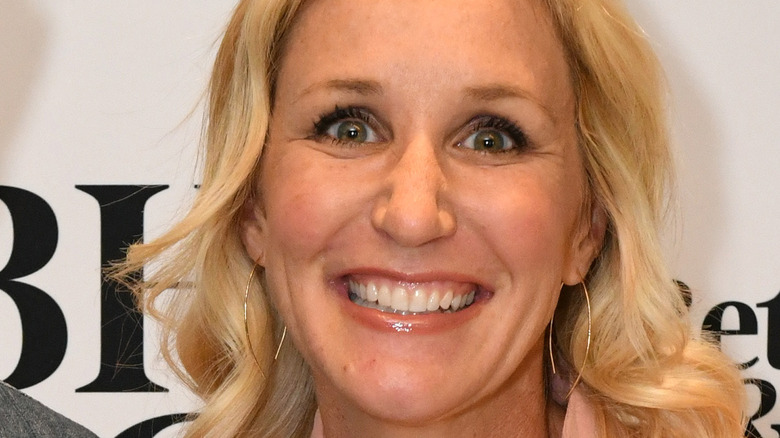 Craig Barritt/Getty Images
Your bedroom should be a sanctuary. This should be a space where you can relax, unwind, and sleep well to wake up rested the next day. A bedroom should be as functional as they are aesthetically pleasing. But many people overlook some of the key details that help make a bedroom a better sleeping environment.
For Jenny Marrs from HGTV's "Fixer to Fabulous," a good night's sleep is essential for managing a home with five kids and a renovation business with her husband. Both in her own home and the spaces she creates for her clients, she stresses the importance of a relaxing bedroom. "It needs to be serene and peaceful, so it's important to have symmetry and harmony in the space," Marrs says of bedrooms in an interview with Realtor.com. "When you're thinking of furniture, bring in two nightstands, two lamps. I think symmetry really helps balance the space and balance your eye." But there are some details, Jenny Marrs believes, that many overlook when they set out to design their bedroom.
Don't neglect the lighting
Deliris/Shutterstock
Interior designers will always stress how lighting can change a room. And they aren't wrong. Lighting has a major impact on the mood of a room. In the bedroom, lighting that facilitates relaxation and helps you get to sleep is what you should aim for. "We want to have more of a soft light in the bedroom and not have a bright fluorescence," Jenny Marrs explains in an interview with Realtor.com. "If you turn on the light when you come in and it's neon, that really interrupts your sleep cycle and doesn't help you wind down to get to sleep." Opt for soft white or warm yellow lighting, which illuminates the space but isn't too bright that it'll hinder your sleep.
However, full brightness isn't always the best option for bedrooms. "So, for overhead lamps, I love to put them on a dimmer. It's nice when overhead lights have remotes with different settings for the lights so you can easily tone it down." When you're getting dressed or ready for the day, turn the lights on to full brightness. But in the evenings, before bed, they can be lower to help you relax.
And to free up some space on your nightstand, Marrs suggests a sconce. "They're really great options if you don't want to do a lamp. Plus, now you can find really great wall sconces that can be plugged in, so you don't have to cut into the wall and wire for it."
Invest in your bedding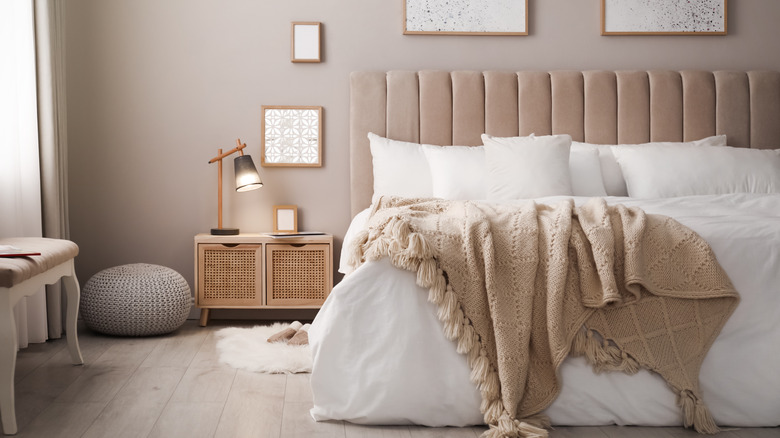 New Africa/Shutterstock
As the central point in the room, the bed should get a lot of design attention. Jenny Marrs told Realtor.com, "I think really making the investments there is important. Those are really hardworking pieces of furniture. In the long run, it's worth it." Good bedding and a comfortable mattress will go a long way in aiding better sleep.
When choosing a mattress, keep material and firmness in mind, especially how it relates to your sleeping position. You want a mattress that will support you and won't leave you sore or strained in the morning. As for bedding material, look for something breathable, like cotton or linen. Both will keep you at a comfortable temperature–not too hot or too cold–and allow for better, less interruptive sleep. Similar to a mattress, the pillows you sleep on should offer support to your head and neck and shouldn't be too hard or soft.