Paper Lanterns Are A Charming Way To Add Light To Your Home. Here's How To Pull It Off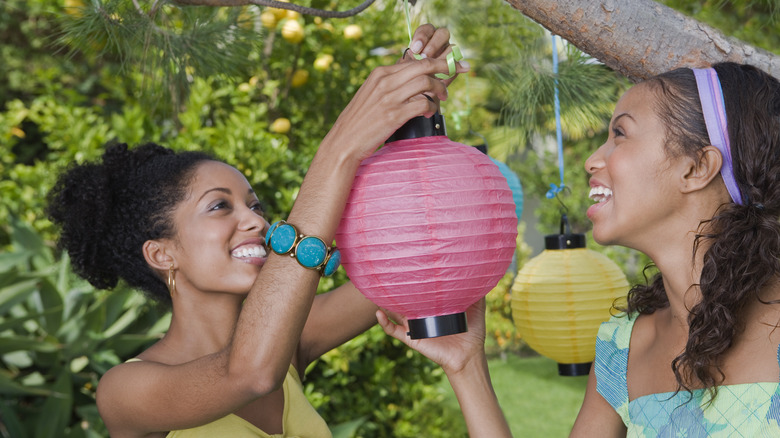 Jupiterimages/Getty Images
Do you want to illuminate your home? Like floating orbs of light, paper lanterns are often an enchanting way to incorporate additional radiance into many outdoor spaces. Originating in ancient China, paper lanterns symbolize hope, fortune, and happiness wherever displayed. The airy lights are typically made of thin rice paper with bamboo framing and illuminate various celebratory events. However, paper lanterns may appeal significantly to an array of spaces within your home. While many paper lanterns were originally red, there are several colors and designs to choose from, including various shapes and sizes.
How can you present the charm of paper lanterns in and around your home? Potentially an alternative to sometimes brighter lamps and chandeliers, you can improve dim spaces with the soft glow of these delicate shades. Lighten up an obscure reading nook with a cluster of them hanging overhead, or center one large piece above the living room or kitchen table as a prime focus. On the other hand, you could attach them to outdoor string lights, either suspended through the trees or draped over a patio dining table. Whether lit indoors or out, paper lanterns are an inexpensive way to create luminosity throughout living spaces.
Create a focal point with one or more similar styles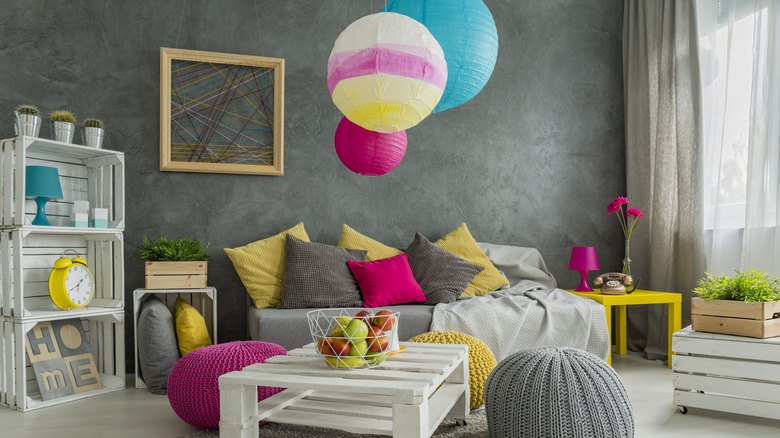 Ground Picture/Shutterstock
While paper lanterns may enliven many areas with their elusive light, there are various shapes to consider, such as beehive, cylinder, oval, and square. Make a statement with an oversized, round lantern. Whether white, black, or a vibrant color, a singular globe instantly attracts the eyes while providing sufficient light in various spaces. Choose a white shade for a modern yet minimal gleam over your breakfast table or spacious living room. For an obvious lure, select a black or purple lantern to fit a more chill, sophisticated atmosphere within a secluded sanctuary. With an extensive range of lanterns, you may even find that some are pretty enough to sway in the sunlight without needing electricity.
As an area may receive plenty of light from a solitary shade, you might opt for a grander presentation. Group together a trio of colorful lanterns (small to large) to give contrast against a neutral background, as pictured above. While the centerpiece is outstanding, the living area showcases bright pink, blue, and yellow hues to stand out against a charcoal gray wall and other muted elements. You could also implement an attractive chandelier above your dining room table or foyer by bunching lanterns of assorted sizes with varied heights. Whether hung in a collection or more as individuals, pendant lights offer both stability and a diverse look in support of this type of installation.
Mix various designs with existing light fixtures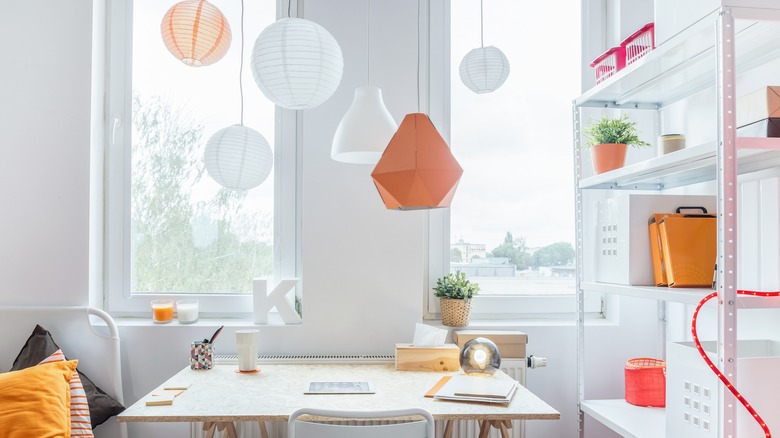 Ground Picture/Shutterstock
If you want to increase the light to a limited space, let your paper lanterns mingle with a current light fixture. Here pictured is a quaint workspace with ample daylight and a sole pendant light over a desk. A variety of orange and white paper lanterns have been installed to provide a serene tone as the natural light fades. Another approach might be creating a backdrop for a chandelier or decorative fixture within a cozy breakfast nook or dining room. According to Anastasia Onishchenko, you can employ several paper lanterns to emanate a romantic, cascading scene by using some fishing line and hot glue. Simply attach the line to your curtain rods, then tie the lanterns onto it. You could also connect some (big to small) for a fascinating geometric design.
You might also add paper lanterns for main events to enhance the brilliance of your indoor and outdoor string lights. Drape the strands across an outdoor plan like a lounge area or pergola and fasten them onto the small bulbs for the right amount of afterglow. Establish a dreamy, rustic vibe by including them with white or multi-colored string lights hung across exposed wooden rafters or fences. Other exploring places might be highlighting a garden border or inside a canopy. However, if you imagine it, blending lanterns of different sizes and shapes will also help to generate depth and interest amidst your string light display.