Here's How To Create Secret Storage In Any Room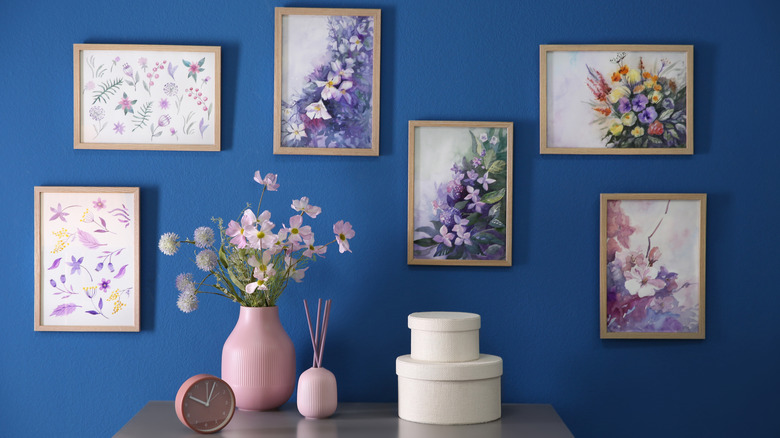 New Africa/Shutterstock
If you love little trinkets but hate a messy-looking home, this DIY is for you. Created by TikToker Sarahli Wilcox, it's the perfect way to hide not only knick-knacks but also other small items cleverly. Wilcox loves thrifting wooden picture frames, then staining them for a warm, aged appearance that gives off vintage vibes. However, she decided to add shelves behind the artwork to take this basic thrift flip up a notch. She attached hinges to access the items on the shelves so the painting could swing out from the wall like a cabinet door.
People on TikTok love this secret storage solution. "I have a small house, so this looks like it would be useful in storing things without displaying clutter," one commenter wrote on Wilcox's video about the project. Another person said, "very clever and practical, looks amazing." Further, this simple project should be inexpensive if you thrift your frames like Wilcox. 
Six steps to unique storage
In the TikTok above, Sarahli Wilcox breaks down the six simple steps to complete this DIY. First, thrift or purchase your picture frames, which you can paint or stain as you please. Second, cut out the pieces of wood for the box cabinet with simple, straight cuts. The pieces should match the size of the frame, and the number of shelves will depend on what you desire. Third, attach all the parts with glue, a brad nailer, or even simple screws and a drill. Fourth, fill in any holes with wood filler and once dry, sand down, then paint or stain the cabinet.
Fifth, you'll need to screw on hinges to attach the frame to the cabinet. "I try to look to see the depth of the nails and always pre-drill the holes. That's to prevent cracking on your wood," Wilcox told Insider. Measure with a ruler and use a pencil to mark where each hinge should go, then screw them in. Finally, while optional, you could attach a magnet to keep the frame attached to the cabinet while hanging it on the wall. 
What to store behind your artwork
Because the shelves are pretty narrow, you're limited on what you can store inside these secret compartments, but there are still quite a few options. Sarahli Wilcox recommends things like medicine bottles and makeup. Other ideas include storing spices in the kitchen, art supplies in the craft room, or alcoholic drinks at the bar. If you placed this artwork near the front door, you could add hooks to the inside for your keys or make it a mail organizer. Your options are endless as long as you can fit the item inside the compartment.
Further, anything unsightly hanging on the walls could be hidden behind your artwork, provided you don't attach shelving. For example, light switches, unused outlets, and thermometers could be out of sight in seconds. However, keep in mind that your thermometer will need some air holes, as it needs to be able to read the temperature of the room — and the reading may be slightly off as well.