The Magical Paint That Makes Hanging Wall Art A Breeze (Without Drilling Holes)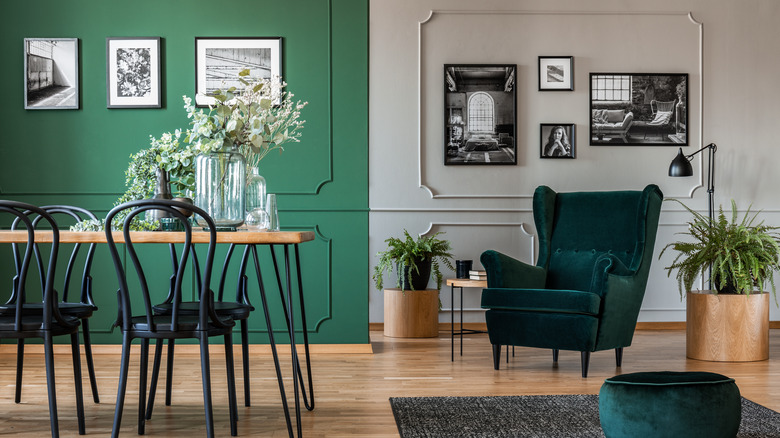 Ground Picture/Shutterstock
We may receive a commission on purchases made from links.
Hanging artwork can be a hassle, as you'll need to drill a hole in the right place and ensure the piece is level. This can take some time and be pretty frustrating, and a tilted piece of art can throw off an entire room's design. These difficulties are magnified when creating a gallery wall, as you'll need to use up to dozens of nails. Further, some may not desire to puncture their wall with countless holes that may need to be filled quickly.
Wouldn't it be great to avoid these issues and hang our pieces without any holes or difficulties? Well, while this may seem like an impossibility, it's possible. It can be done with a product called a magnetic primer, which Rust-Oleum sells on Amazon for around $40 a quart. After adding multiple coats of this incredible product, you can easily hang pieces and adjust them as needed for perfectly level artwork every time.
How to create a magnetic gallery wall
You could use this paint to create a gallery wall or simply hang one piece of artwork in multiple ways. The first option is to cover an entire wall with this primer, then attach your pieces. Second, you could cover the surface with the product, add another latex or chalkboard paint on top, and then put up your artwork. Third, you could only apply the primer to certain areas of the wall where you want the pieces to be hung, perhaps in interesting shapes that give the design more dimension.
Once you're done layering on your many coats of paint, let it cure for a few days. You'll also need to purchase rare earth magnets, which are extra strong (a 100-count pack costs about $10 on Amazon) and attach them to your lightweight frames or prints with a strong adhesive. Then you can hang and change up your artwork however and whenever you desire.
Tips on using this unique paint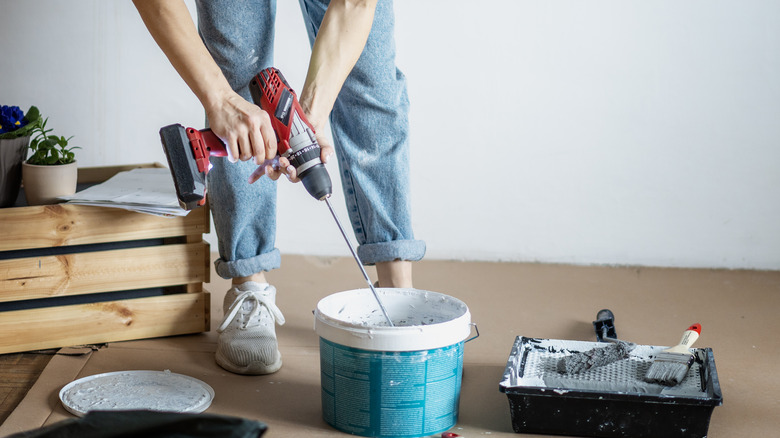 Olezzo/Getty Images
While this product is quite magical, there are some steps you'll need to follow to get the best result, provided in reviews of the Rust-Oleum primer on Amazon. One person said this magnetic paint is quite difficult to work with as it can splatter easily, so wear gloves, use painter's tape, and lay down drop cloths. Further, make sure the can is shaken at the store, and before you start, it needs to be stirred very well — if the paint isn't black, it's not stirred enough.
Some negative reviews complained about things like a strong scent and that it can't hold up magnets. However, others pointed out that there's obviously going to be a potent smell since it's paint, so make sure the space is well-ventilated by using fans or opening windows. If you're having problems with magnets falling off, you may need to add more coats, as the more you add, the better. While Rust-Oleum recommends three, others said they added even up to eight to strengthen the magnetic pull.