Add Texture To Your Walls With The Ragging Painting Method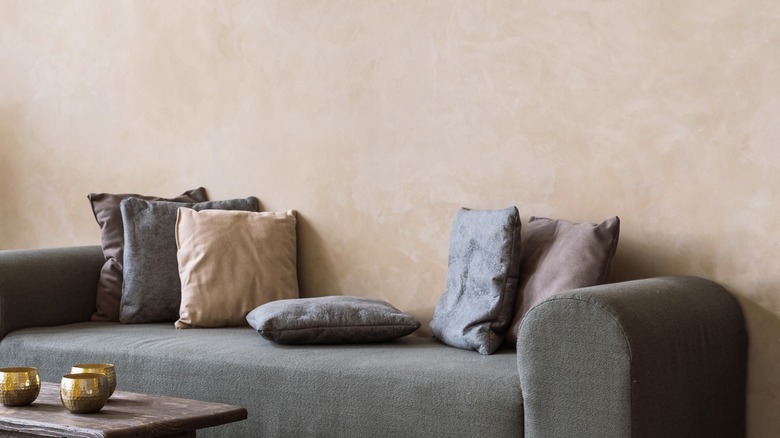 brizmaker/Shutterstock
The ragging paint method is a perfect way to add dimension and texture to any room, offering a great inexpensive alternative to permanently textured walls. Painting is easily one of the swiftest ways to try out trends and refresh your space. This technique is particularly ideal for creating a more antiqued, shabby aesthetic on walls for an old-world European feel of grandeur and dilapidated glamor — think Italian villas and estates in the French countryside. The results often resemble parchment or old plaster, which is both rustic and classic. Rag painting is also the perfect way to get a high-end luxurious look with little expense and minimal effort. 
While many stick to basic neutral shades in both base coat and glaze — such as an off-white base with a darker neutral glaze — there are endless possibilities for creating richer, bolder combos by mixing contrasting and complimentary colors together. Examples include a rich selection of browns by layering a bluish glaze over an orange wall, or a deep, mottled grape shade using purple and blue. You can also use the glaze as a way to warm up or cool down an existing color by applying warmer shades like red and orange, or cooler shades like gray and green.
Preparation and supplies
Steve Cukrov/Shutterstock
It's often best to do a few experiments to get your colors, materials, and desired effects down. Much depends on how you hold your rag, the amount of pressure applied, and how well you can blend the glaze to create a seamless finish. You can practice on a smaller section of wall to try out your technique. 
You can either buy an existing paint that is already imbued with glaze or add it yourself to your desired shade. Many recommend using thinner latex paint as the top coat as a cheaper alternative to glaze. Choosing the correct finish of paint is also important. For the base coat, it is recommended to use a satin finish, since flat paint offers less for the glaze to adhere to, while gloss will be too slippery and may run.
In addition, your rag choice offers multiple possibilities. You can try using basic cotton rags, plastic bags, aluminum foil, terry cloth, corduroy, newspaper, burlap, old t-shirts, and cheesecloth. Each will provide interesting variations of pattern and effect and can work to hide imperfections and textural abnormalities. 
Techniques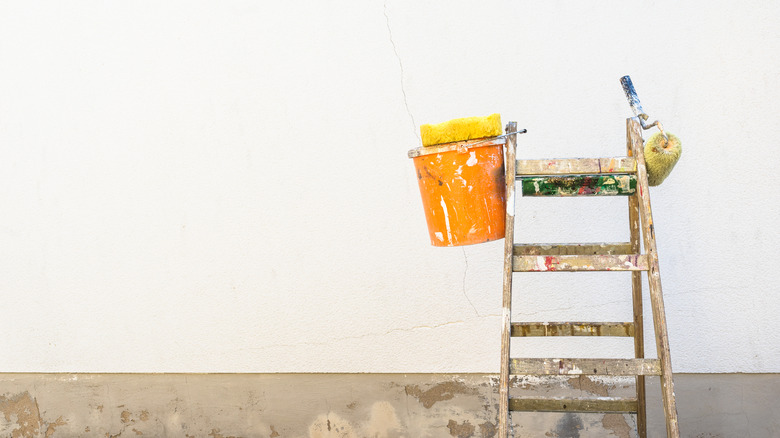 Alex/Getty Images
There are two main ways to achieve ragging paint effects, rag on and rag off, which vary in how the paint is applied to the surface of the wall. For rag-on or positive ragging, you will use the rag to add additional paint to the base coat by dapping excess paint on the wall, similar to sponge painting. This is usually achieved with a darker or contrasting shade over the lighter one. 
Ragging-off, or negative ragging, is the removal of the glaze from the base coat with a rag, unveiling the base coat beneath. Keep in mind when buying supplies that the rag-off technique will require a bit more glaze since you are putting it on and taking it away. Much of your success will depend on keeping your working area wet. Experts advise applying glaze in small areas no larger than 5 square feet, which allows you to successfully remove and blend the colors. Also, make sure to blend your edges back into the previous section to prevent visible seam lines and marks. Finally, use a decorator's brush for fine touches and small areas around ceilings and windows.