Yankee Candle's 2023 Scent Of The Year Is A Clean Scent That Will Keep You Grounded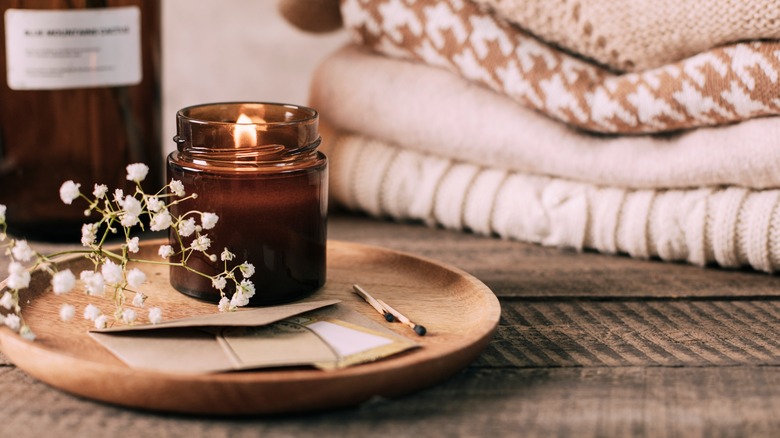 AnikonaAnn/Shutterstock
Nothing's better than coming home after a long day of work, lighting a candle, and sitting down with a good book as you allow the soothing scents of aromatherapy to wash away your stress. So, if you're a fellow candle addict hoping to add another product to your collection, you're in luck. Yankee Candle recently revealed their 2023 Scent of the Year, Wonder, and it's full of relaxing yet upbeat fragrances, per their website. This scent is dedicated to making consumers relish in the joyfulness we experience during the moments of life when we feel most grounded. It definitely seems like a candle that can be particularly useful on a gloomy day.
Wonder is full of different top, mid, and base notes that have been mixed together to create a fresh and clean aroma. We'll explore not only the luxurious scents you can expect but also the design they chose for the exterior of the candle, the price, and other specifications that describe the quality of this product.
Yankee Candle's Scent of the Year: Wonder
First, let's break down all the scents you can expect to indulge in. As noted, the different fragrances are separated by top, mid, and base notes. Your nose will likely detect the top and mid notes first, as the base notes are typically fainter. The top notes for Wonder include ylang petals, white lavender, and citrus, per Yankee Candle. The mid notes contain scents of rose, grass, berries, and orchard fruits. Unlike these first two, the base notes are absent of floral aromas and are instead meant to add warmth with scents of cedarwood, amber, and patchouli.
The design of the glass jar consists of soothing orbs in blue, pink, and orange pastels. It can be used to add a touch of color to your space, especially a bedroom styled with a neutral color scheme. Additionally, it's filled with a premium soy-wax blend, which means it can last longer than other types of products, such as paraffin candles. The average burn time of the 20 ounce candle is between 60 to 100 hours, and it's currently priced at $34.