Ben And Erin Napier Share The Nifty Way To Expand Your Living Space When Your House Is Small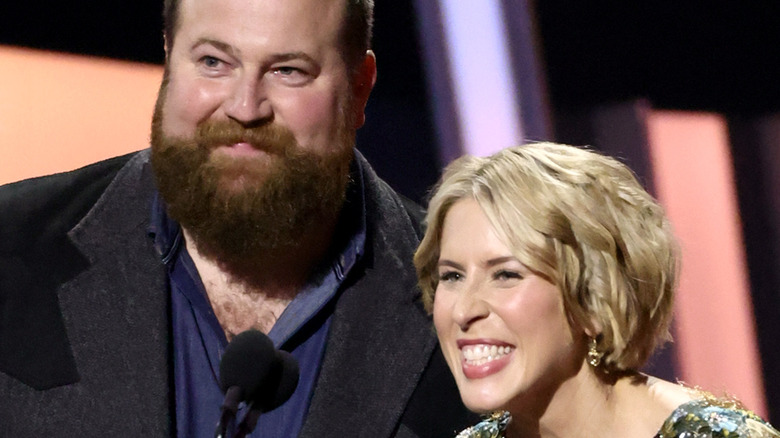 Michael Loccisano/Getty Images
Having a small home can be a challenge; the lack of square footage means having to be smart and strategic about how you use every inch. But there are plenty of ways to increase the square footage in your home and make it more useful for you, your family, and your needs. Ben and Erin Napier renovate homes for clients on HGTV's "Home Town," and through the business, they've come across many spacious properties. In a recent episode, however, they tackle a tiny 250-square-foot guest house. "This wins the award for the smallest house we have ever worked on," Erin Napier says, per Realtor.com. "I can't imagine we'll ever work on anything smaller."
While it might not be a ton of space, the Napiers know that doesn't mean the home can't be livable. The two come up with a strategy to make the home bigger, and their crafty trick for expanding the overall square footage is something that any homeowner can use in their home.
Extend the outdoors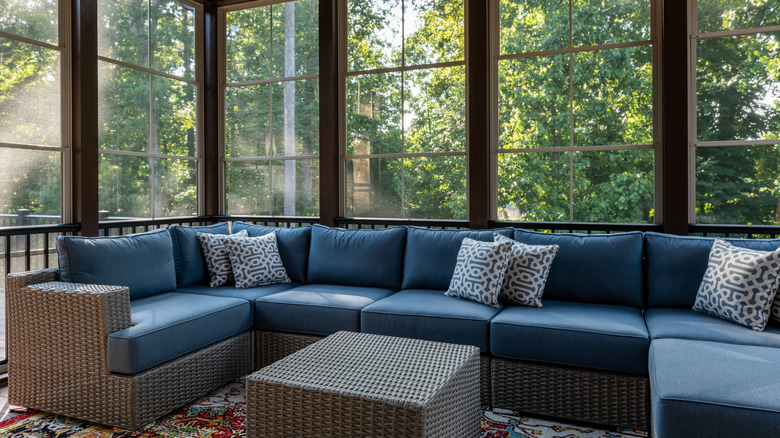 VIS Fine Art/Shutterstock
When you have a small home, the living space can easily become cramped. If a total renovation isn't an option, there are plenty of ways to add square footage to the space. In the episode titled "Second Chances," the Napiers show you exactly how to get creative. The 250-square-foot home has a side porch that the renovating couple decides to enclose with screens. They then add some comfortable furniture to create an extra bit of living space. "It seriously adds so much square footage that the house didn't have before," explains Erin Napier (via Realtor.com). "It's becoming something really special."
You can enclose a porch with screens or glass. Using mesh screens gives you a screened-in porch, so you're able to feel the breeze but keep out bugs. This lets you simulate being outside while retaining some of the comforts of being indoors. Using screens on an existing porch is, on average, $4.50 per square foot, with a range of $600 to $3,510 for the finished project (via Bankrate). But this method may not be the best option in colder climates. If you're looking for a fully enclosed porch you'll be able to utilize year-round, consider using glass to make it a true sunroom. This method is more insulating, allowing you to use it even as the weather gets colder; it can cost $70 per square foot, ranging from $5,000 to $60,000 total.
Comforts of home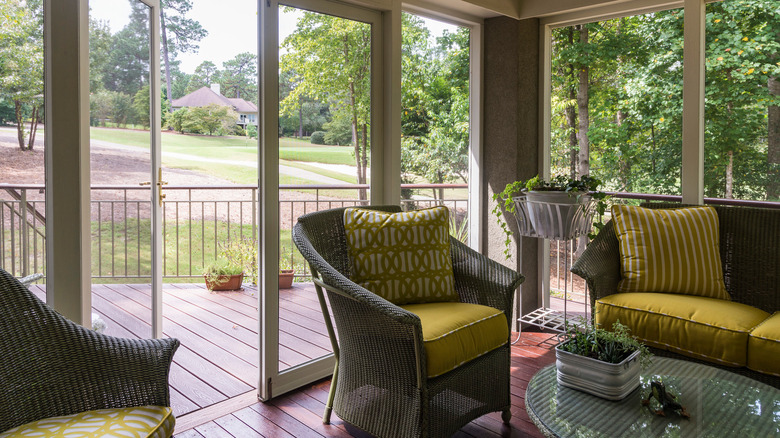 BAF Photography/Shutterstock
Regardless of how you enclose the space, the right furniture is essential for making a porch feel like an extension of the living room. Choose comfortable and durable furniture that you'll enjoy relaxing on. Teak is a great option for outdoor spaces because it's resistant to weather as well as insect and other pest infestations. Soft cushions, throw pillows, and blankets bring some more of the comforts of the indoors outside.
Outdoor lighting in the form of string lights, sconces on the side of the house, or a light on an outdoor ceiling fan will all work well in a screened-in porch. Sufficient lighting will allow you to enjoy your porch through the evening and into the night. Other small details like a rug, curtains, and plants can also make the space feel more like an extension of the main home. And if you like to entertain, you may consider adding electronics like speakers or a television for all the parties you plan for your guests.