The Uniquely Colored Flatware You Should Never Run Through The Dishwasher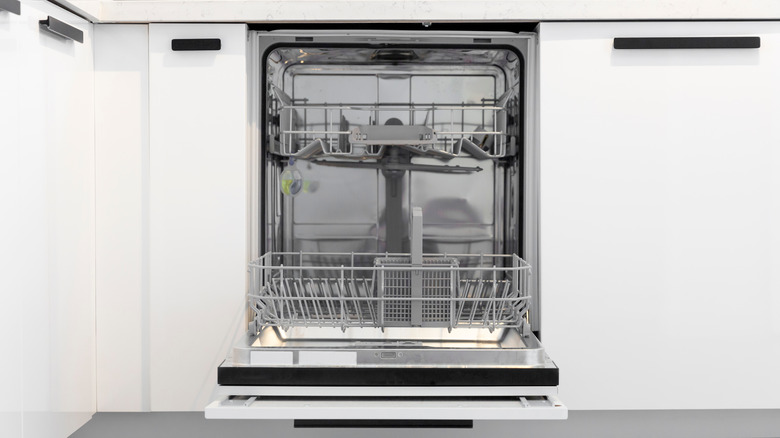 Nadir Keklik/Shutterstock
Incorporating metal elements correctly when it comes to home decor has never been more important than in the kitchen. Stainless steel, silver, copper, bronze, and gold are all examples of metals that are commonly used for appliances and fixtures in the kitchen. It's also become more common to mix metals, but it can be tricky to combine these finishes in a harmonious way — they can create the wrong atmosphere if they are too busy, overused, or not matched with the other elements in the room.
One way to include metal in the kitchen is with your flatware, which should strike the right balance with the other metals in the kitchen. After choosing the ideal combination, the next step is to make sure the finish lasts and maintains its shine. In the case of table utensils, how you wash and handle them is one of the most important things. Here is why you should never run gold flatware through the dishwasher, along with some other delicate items that are better off being hand washed.
Gold flatware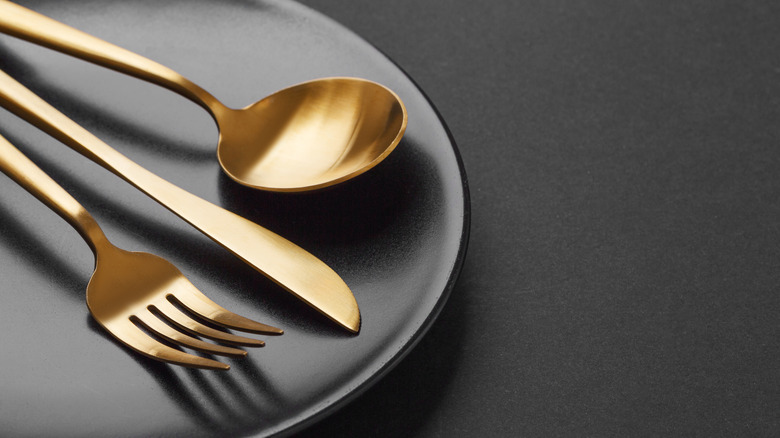 nerudol/Shutterstock
Decorating with gold is a classic due to the warm elegance it adds to a space. Gold finishes are best used for light accents and finishing touches, which explains why golden table utensils have become very popular in the last few years for both decorative and functional uses. As a trend, gold flatware has adapted to various decor styles and now offers more than the luxury we typically ascribe to gold. Matte gold, for example, can be used in themes that are more modern and simple because it feels more accessible than shiny gold.
Gold flatware is produced by coating stainless steel utensils in gold. It is usually more on the expensive side and can be trusted to last, which is why it needs to be taken care of. If it is a vintage or inherited collection, that's even more motivation to maintain it properly. Golden utensils should be washed carefully by hand and never run through the dishwasher because they can get damaged and scratched. In addition, "any dishware with gold rims and delicate patterns, like the fancy china you got for your wedding, is a definite dishwasher don't," says Chantay Bridges from Truline Realty (via Reader's Digest). 
Other items to keep out of the dishwasher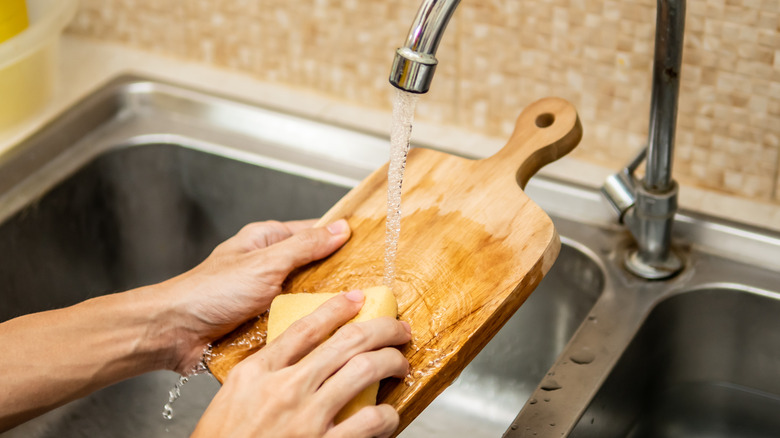 Wachiwit/Getty Images
Though certain items are termed dishwasher-safe, you should still err on the side of caution. This includes decorative china dishware, precious antiques, cast iron skillets, aluminum items, and any items with nonstick coating. "You should always wash your gold plates, silverware, and china by hand to preserve their shine and glitter," says Bridges.
Copper pans, wooden utensils, wooden chopping boards, graters, and insulated items should likewise be hand washed to avoid damage. Some of these items will even be cleaned more thoroughly this way because the dishwasher won't be able to reach all the nooks and crannies. Kitchen chef knives are another item that you should never run through the dishwasher, as the steel blades and edges can be damaged in the cycle. Additionally, it is best to keep sharp knives out of the dishwasher to prevent accidents when loading and unloading.