15 Ways To Soften The Aesthetic Of Your Dining Room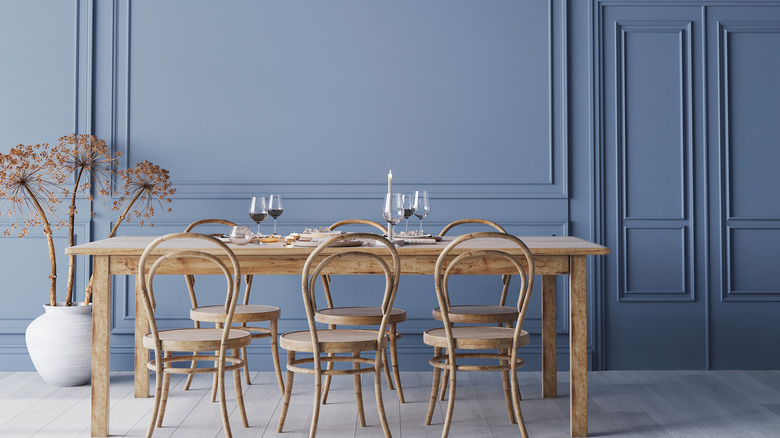 Lilas Gh/Getty Images
Traditionally, a dining room is designed to be very formal. From heavy drapery to thick solid furniture and contrasting colors, these have often been considered the norm. However, homeowners now find themselves searching for different ways to create a cozy ambiance in every room in their residence, with the dining room being no exception. Nowadays, this room performs many functions other than formal dinners. It's often where children do their homework, where adults unwind and read a book, and where the entire family can sit down in their pajamas and discuss their day.
Wondering how to deformalize your dining room? Well, there are plenty of methods available to soften its overall look. In fact, we've found 15 different techniques you can use to create a more relaxed environment through the use of color, lighting, pattern, texture, and more. We'll reveal some of the best ways to implement these design tactics in order to produce a serene space.
1. Hang light and airy drapery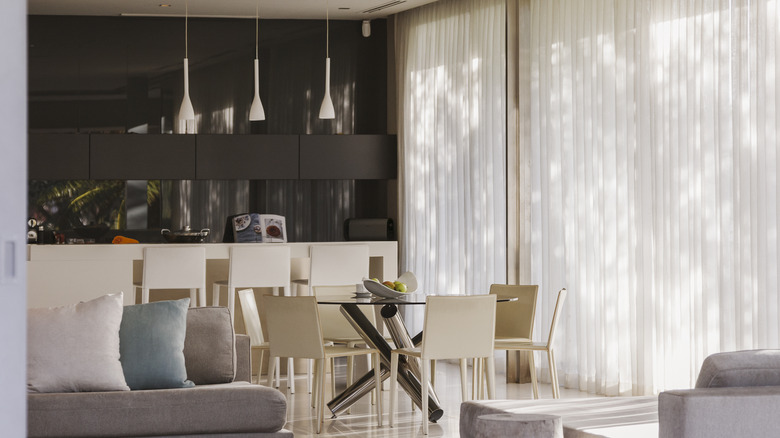 Astronaut Images/Getty Images
A simple way of softening your dining room is by switching out heavy drapery panels with something thin and translucent. This can create the appearance of a bigger and brighter space, and allow the room to feel more casual. Additionally, any light color will work as long as it is complementary to your décor.
2. Introduce an area rug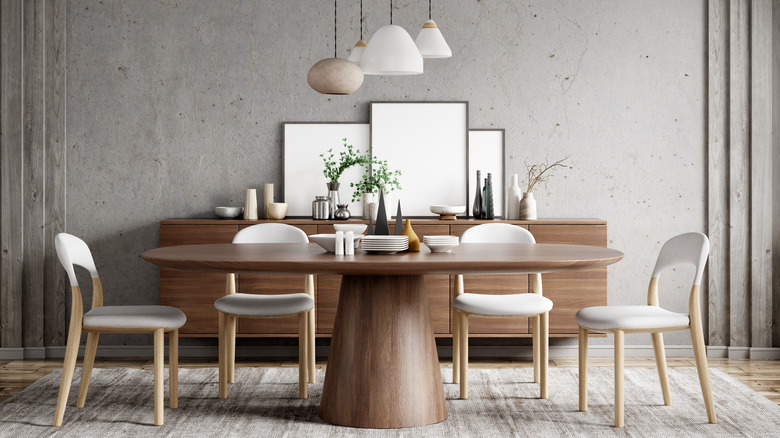 Scovad/Getty Images
If your dining room floor is currently bare, we suggest introducing a sense of warmth by laying down an area rug. Not only can a rug bring in a pop of color, it can also be used to create contrast and balance. Here, it's been used to soften the appearance of a space designed with concrete.
3. Choose one paint color for walls, ceilings, and doors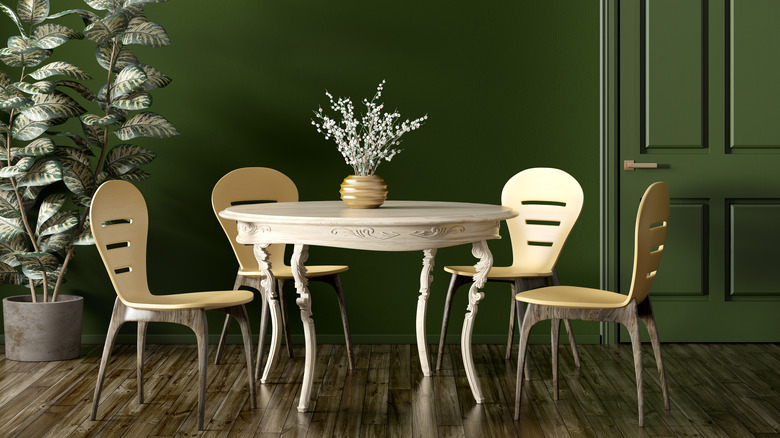 Scovad/Getty Images
Covering the ceiling, walls, and doors in one rich color has become a popular interior design tactic to create a cozy space. Here, the forest green on the wall and door creates a soothing ambiance while the lighter dining furniture establishes interest by contrasting the darker hue.
4. Install a light dimmer
HENADZI KlLENT/Shutterstock
Many people are fans of bright LED lights, however, sometimes we just want to relax in a soft ambient glow. You can do this by adding a dimmer to your light fixture in order to control the brightness throughout the day.
5. Select accent lighting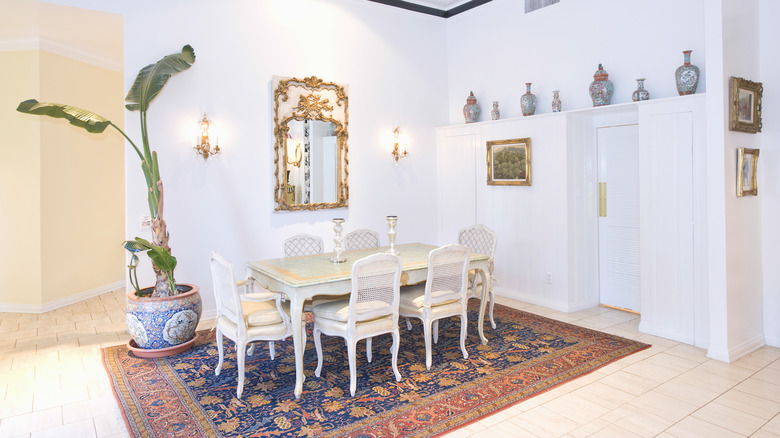 sirtravelalot/Shutterstock
Another tactic is to ensure you have several types of accent lighting in the space. Rather than always relying on one large fixture over the dining table, sconces and lamps can be used to emit a soft glow throughout different corners of the room. This is a form of mood lighting that can be used to create a calming effect.
6. Eliminate sharp edges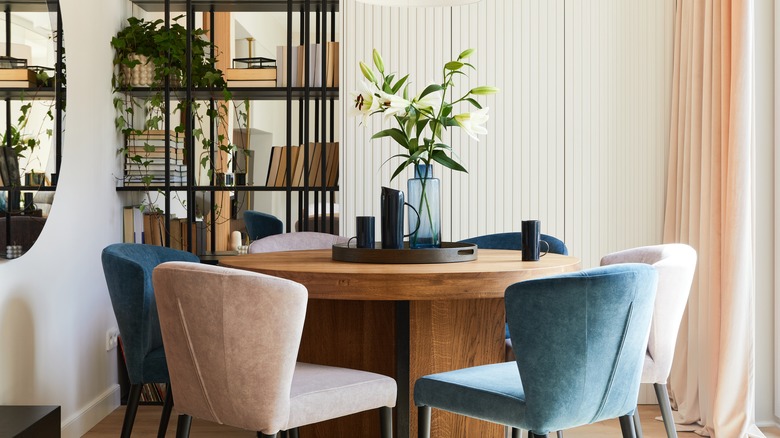 Followtheflow/Shutterstock
By opting for a round dining table, you end up eliminating the sharp corners a rectangular or square table would introduce. Additionally, choosing an option that is made of a natural material rather than metal or glass will also create a more casual and relaxed design.  
7. Choose simple yet interesting furniture pieces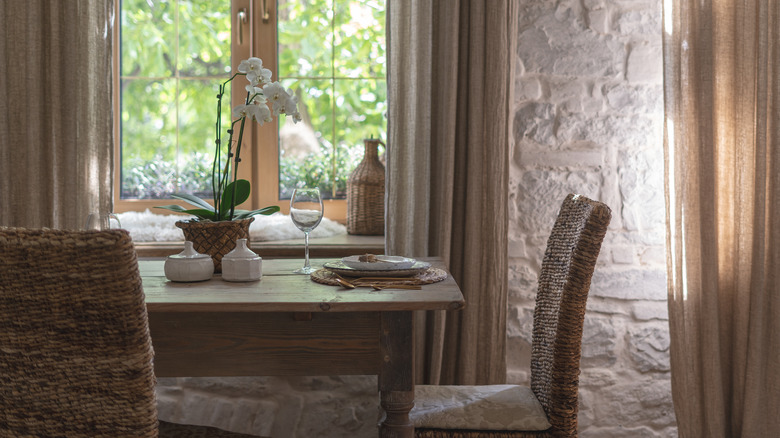 brizmaker/Shutterstock
To evoke a sense of softness, we suggest choosing simple furniture pieces designed with interesting details. Here, these common armless dining chairs have brought texture to the space due to their woven construction and patterned cushion. Additionally, the wooden table has also created interest with the ornamentation detailing on the legs.
8. Find comfortable chairs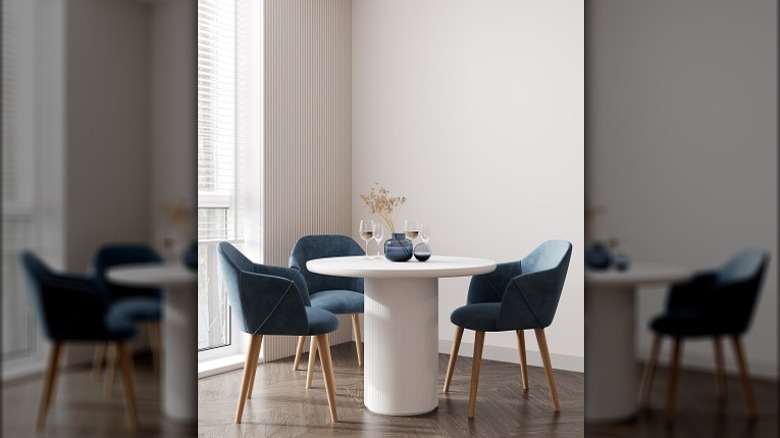 Liliia Lytvyn/Getty Images
If the dining room is where you spend a considerable amount of time, then it's imperative to find chairs you can sit in for hours. Choosing something with cushiony support and a reclined back can transform this space into a relaxation haven; selecting a chair with a curved back is a plus.
9. Search for fun seating arrangements
Dining room furniture doesn't only need to consist of a table and a few chairs. To eliminate the feeling of formality, you can introduce banquette seating to offer guests and family a more comfortable arrangement. 
10. Install wallpaper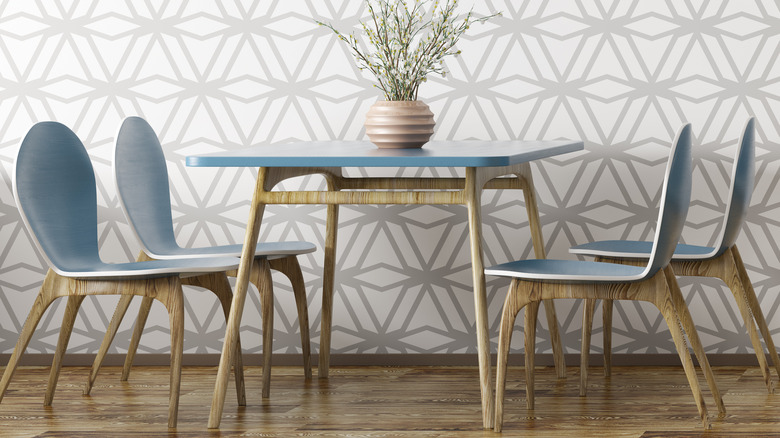 Scovad/Getty Images
In order to create a sense of playfulness, you could also install wallpaper in your dining room featuring different types of patterns and colors. If you'd like to create a more consistent design, we suggest color matching your wallpaper with your current paint color.
11. Go with wall paneling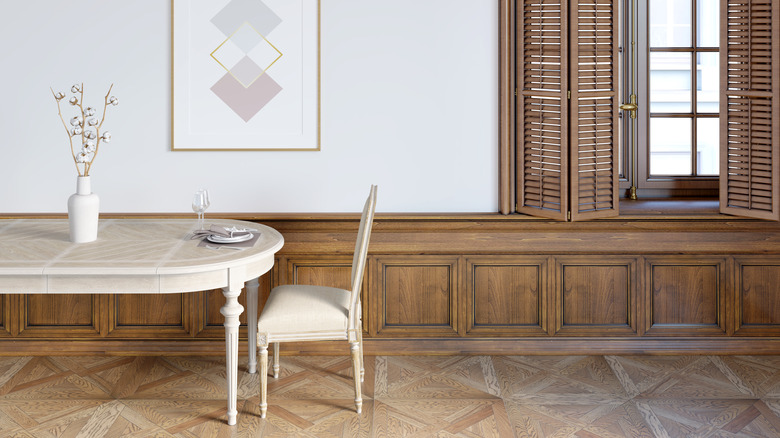 Gamespirit/Getty Images
If wallpaper doesn't quite hit the mark, we suggest installing wall paneling instead. The wood will easily add a dimensional feel to your dining room and a sense of depth that creates a feeling of intimacy.
12. Choose a warm color palette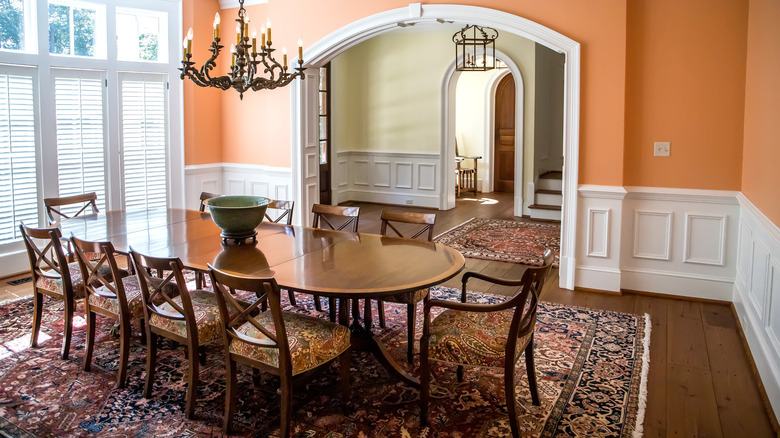 Ucpage/Getty Images
A cool color palette tends to feel more formal compared to warmer hues. Here, the orange walls are beautifully complemented with the area rug, which features different shades of red, off-white, and black. The similar colors on the paisley patterned chairs also unify the space and bring out the warm tones of the wooden features.
13. Add vintage pieces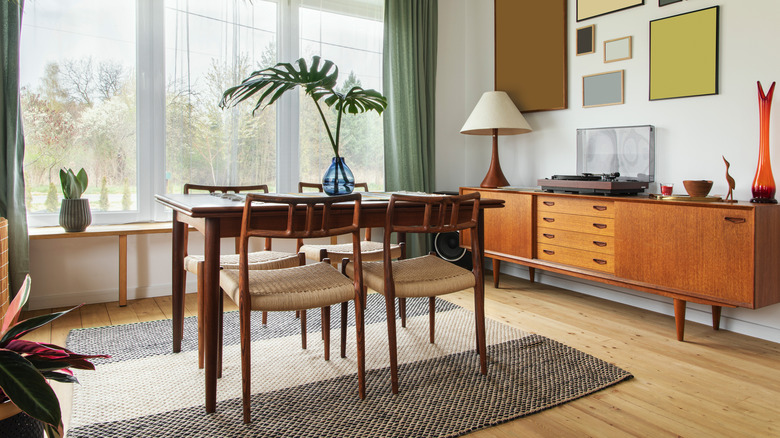 Followtheflow/Shutterstock
Adding some personality to your dining room with the use of vintage décor can perpetuate a sense of charm and welcome.
14. Location, location, location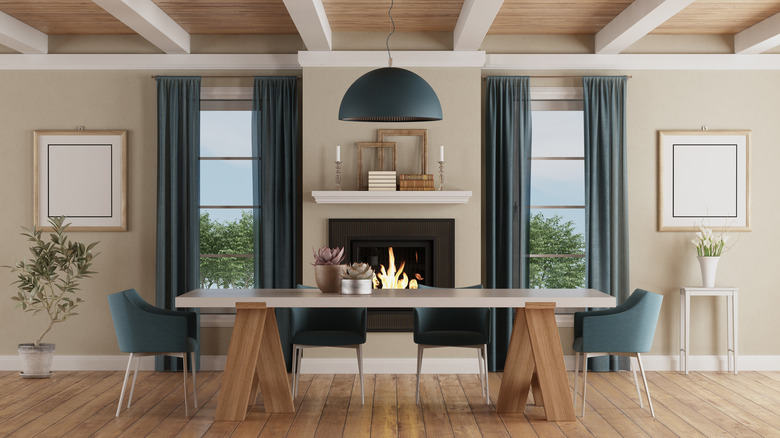 Archideaphoto/Getty Images
For the ultimate sense of coziness, we suggest designing your dining area wherever the fireplace is. Here, the fireplace acts as a focal point, which also holds decorative pieces on the floating mantle.
15. Who doesn't want the window seat?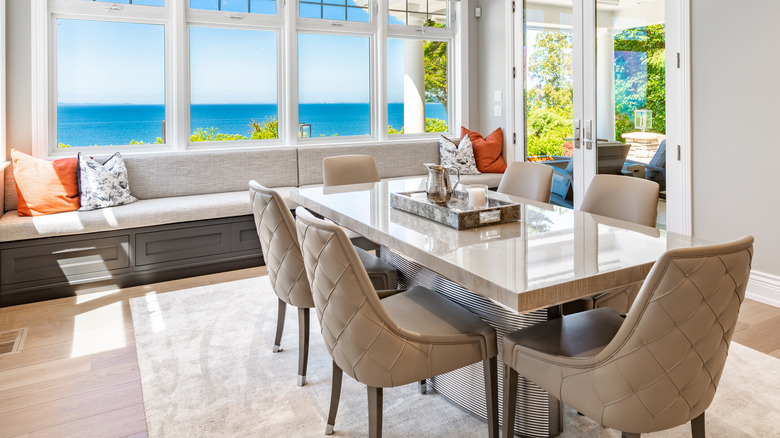 Sheila Say/Shutterstock
If your dining room has a large window, why not fill in the space with extra seating? This tones down the initial formal feeling of the space and creates an environment where the whole family can hangout and relax.