Behr's Paint Color Of The Year Is A Return To The Fresh And Natural Trend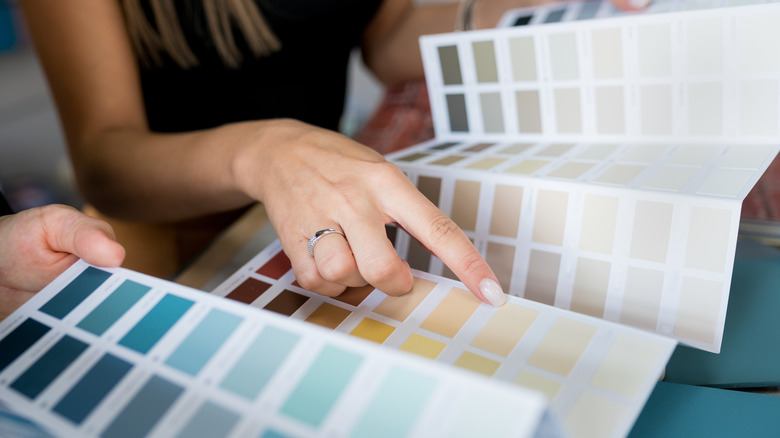 Tatiana Gordievskaia/Shutterstock
With minimalism continuing to trend and people searching for what will make their home uniquely theirs, simple and clean colors are the perfect backdrop. As one of the largest manufacturers of paints, primers, and everything in between, it's no surprise that Behr paint has chosen a 2023 color of the year that will fit into homes of all different aesthetics across the U.S. The vice president of Color and Creative Services at Behr paint, Erika Woelfel, speaks about the dedicated color. "As we look to 2023, we understand that comfort will still be a driving force behind design decisions and style statements," she says (via PR Newswire). Woelfel also notes that the chosen color "effortlessly offers a clean and inviting blank slate that allows individuality and creativity to flow freely."
As the Behr team worked to find the perfect shade to name in honor of 2023, they conducted a survey to get ample ideas on what homeowners value first and foremost in their spaces. Of the respondents, PR Newswire reports that 92% expressed prioritizing a space that relaxes the mind and body, and 90% want their homes to be a place of escape from the outside world. Whether you love the vivid colors of flowers and fruits, organic boho designs, or moody themes with brass and saturated hues, Behr is helping you set the stage first with this fresh tone.
Blank Canvas
Behr's 2023 color of the year is Blank Canvas, a creamy, off-white that warms up a space while keeping it clean and open. The decision behind this color comes from the high response from their survey respondents, with 77% of homeowners noting that white invokes a sense of positivity and 71% saying it releases stress. Additionally, 75% reported feeling relaxed in white spaces, 74% that it is calming, and 75% that it increases their ability to focus (via PR Newswire).
"White paint colors are our top-sellers at Behr," said Jodi Allen, global chief marketing officer at Behr Paint. "In addition to inspiring renewal, positivity, and a sense of calm, Blank Canvas always makes a design-forward statement, whether you're a homemaker working on a DIY living space or a professional painter seeking your go-to white." With a color such as Blank Canvas, you can feel comfortable using it in every room, and it'll take on a different life as it enhances the other elements it surrounds.
Incorporating Blank Canvas into your space
An inviting color like Blank Canvas can transform your home in endless ways. "This white easily harmonizes with a wide range of hues, including neutrals, earth tones, and pastels for a charming and cozy appeal," added Woelfel. "Blank Canvas also pairs beautifully with black for a dramatic impact and with bright accents like green or cobalt blue to instantly lift your mood." Whether used to paint your kitchen cabinets, living room trim, or bedroom walls, you'll feel at ease with how the shade melts into your décor.
Alongside Blank Canvas, Behr has chosen 11 other neutral and earthy shades to include in their 2023 color trends palette, including the dusty blue Half Sea Fog, a deep Conifer Green, Smokey Pink, and a yellowish-beige called Spiced Mustard. Behr's entire trend palette can be viewed on their website, which allows you to order samples and mix and match colors to your space digitally.