HGTV Superstars To Collab On Life-Size Barbie Dreamhouse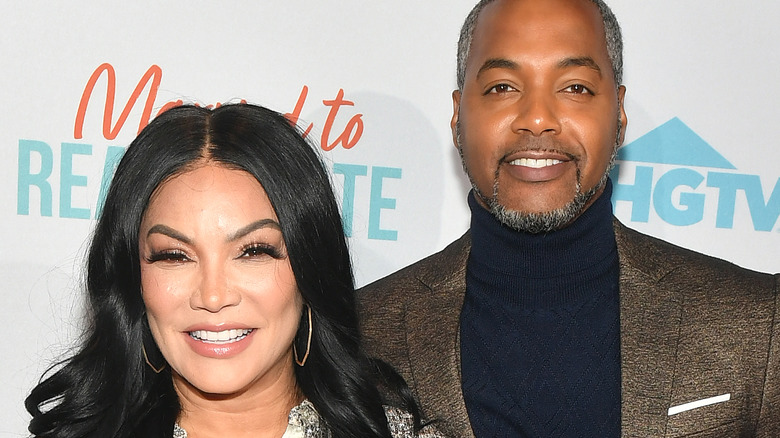 Paras Griffin/Getty Images
If you grew up playing with a Barbie Dreamhouse, you've likely been in love with interior design all your life. The eclectic light fixtures, pink tile flooring, and playful wallpaper may have all been made out of plastic, but as children, we couldn't help but gawk at all the little details. Now, we get to witness childhood toys come to life in the new HGTV series, "Barbie Dreamhouse Challenge," — a promotional effort for Warner Bros. Pictures film, "Barbie," as reported by Variety. The four-episode series is expected to be released this summer before the film hits theaters on July 21.
"By aligning two admired brands — HGTV and Mattel's Barbie — and mobilizing the power of the best-in-class portfolio of Warner Bros. Discovery, Barbie Dreamhouse Challenge will deliver a unique, visually stunning payoff for millions of fans who want to see their favorite HGTV stars bring a treasured childhood icon to life," Loren Ruch, Head of Content for HGTV stated on said via the channel's website.
Supermodel and designer Ashley Graham will be hosting the show as eight teams work to transform a Southern California home into a Barbie Dreamhouse paradise. Want to learn more? We've dropped all the details below.
What to expect
The eight teams working to give this home a Barbie makeover include Egypt Sherrod and Mike Jackson ("Married to Real Estate"); Ty Pennington (Rock the Block) and Alison Victoria ("Windy City Rehab"); Brian and Mika Kleinschmidt ("100 Day Dream Home"); Jonathan Knight and Kristina Crestin ("Farmhouse Fixer"); Jasmine Roth ("Help! I Wrecked My House") and Antonia Lofaso ("Beachside Brawl"); Christina Hall and James Bender ("Christina on the Coast"); Evan Thomas and Keith Bynum ("Bargain Block"); and Anthony Elle Williams and Michel Smith Boyd ("Luxe for Less"), per Variety. As these teams work their magic, the lucky Ashley Graham will be seen cruising around in a Barbie pink corvette during the series.
Each team will be assigned an era that's designated for each space, like the retro 1960s kitchen design or the glamorous 1980s theme for the main bedroom. By the end of the show, not only will the home be beautifully transformed, but a lucky Barbie enthusiast will be invited to stay at the newly renovated residence for a period of time. To stay connected on the latest Barbie-related news, you can follow HGTV on Facebook, Twitter, Instagram, and TikTok.