The Highs And Lows Of Digital Shower Systems
Smart devices are becoming all the rage now as they optimize the home so you can better enjoy its amenities. Things like smart lights, thermostats, locks, and safety systems save time and give you more control over the security of your home. Other products make life much easier or are simply more fun. Smart virtual assistants like Alexa, smart fragrance diffusers, and smart showers are recent examples of this expanding technology.
A digital shower enables the user to control things like water flow and temperature through a control panel. This type of shower has become popular because it can be programmed to suit specific needs and is generally easy to use. Digital showers are often confused with smart showers, but smart showers are a more advanced subset with additional features like the ability to control the shower from your phone or tablet via Wi-Fi. Here is a deep look into the highs and lows of a digital shower system, and whether it's the right choice for you.
Pros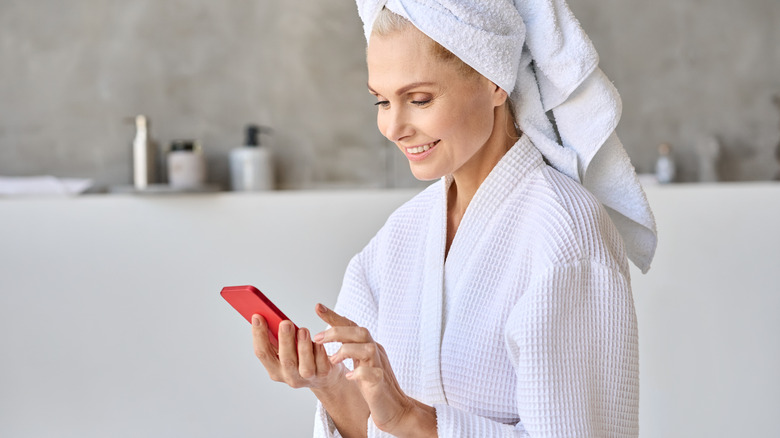 Ground Picture/Shutterstock
The main selling point of digital shower systems is that their numerous features and styles allow you to customize your shower experience as much as you want. Their sleek look can be the final piece to a modern or minimalist style bathroom. In addition to instant hot water, digital showers allow you to set the water temperature and also save it so you don't have to fiddle with the knob every time you get into the shower. Being able to save settings also helps when multiple people are using a bathroom.
Because they can be set up in advance and controlled by the touch of a screen, smart digital shower systems are a great option for those who have mobility issues and need assistance. You can also set a time limit and pause a shower, which is eco-friendly but also promotes planning and flexibility. Other digital shower features can clean the shower and adapt it for safety situations. Overall, this type of shower is beneficial for its ease and practicality.
Cons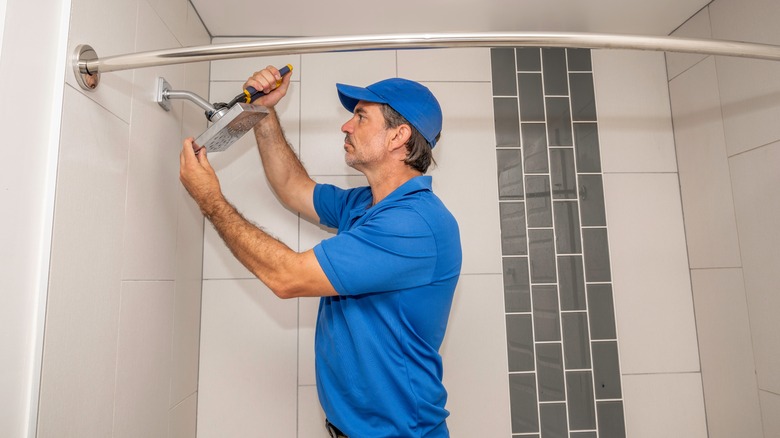 David Spates/Shutterstock
Some of the downsides to a smart digital shower system relate to the cost and installation necessary to add one to your home. If you're in the process of renovation and need to reconfigure your plumbing, or if you're starting the bathroom from scratch, be ready to pay and plan more for this luxury feature. In addition to the shower and materials, an expert is usually needed to install a digital shower, which adds to the expenses. It can cost anywhere from $250 to $1000 for the shower equipment and up to $3,000 for the installation, depending on the difficulty.
Another downside is the full reliance on technology. Digital showers are generally easy to operate, but there are various types with a wide range of designs and features, so if figuring out technology isn't your strong suit, they might be tricky to set up. In addition, digital shower systems rely on electricity, so you probably won't be able to use your shower in the case of a power outage.