Creating Affordable And Beautiful Faux-Stained Glass Is Easier Than You Think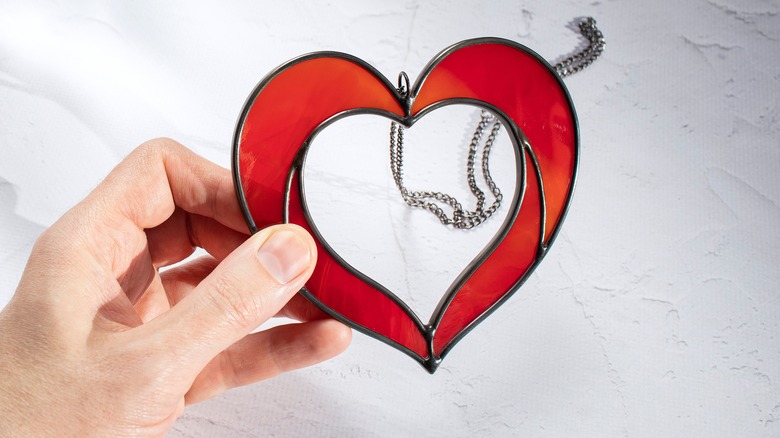 LightGlass/Shutterstock
We may receive a commission on purchases made from links.
Stained glass is most often recalled for its beauty in churches and cathedrals, telling stories of religious figures and scripture. However, the art form dates back to as early as Ancient Rome where it was utilized in the empire's pottery. The 7th century saw the art form transition onto windows, and by the 19th century, it became mainstream. Used to create lamps and other ornamental pieces like wind chimes and sun catchers, stained glass has always been appreciated for its colorful variety and the way the light brings the designs to life.
The timeless craft of stained glass is still used in architecture today from places of worship and businesses to one's own home. But, it's a design feature that doesn't necessarily comes cheap, sometimes costing up to $700 per square foot (via Thumbtack). On the bright side, there are some fun and affordable ways to DIY stained glass at home, giving you the opportunity to make your spaces dance in its colorful light.
A classic approach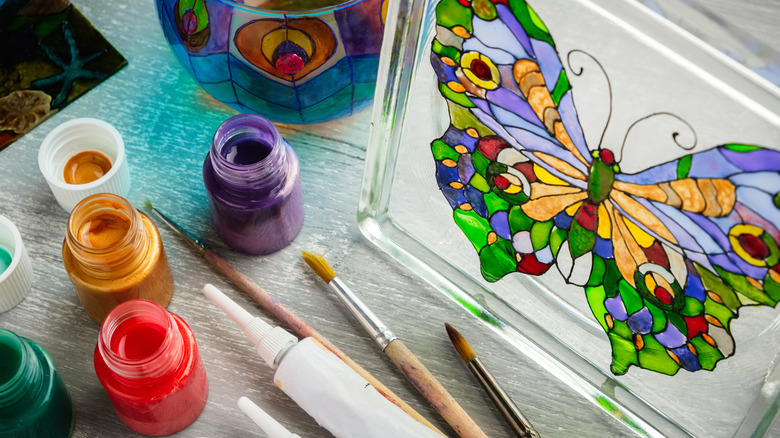 Chamille White/Shutterstock
You can take different methods and approaches to crafting your own stained glass. For one popular technique you'll need a glass surface, rubbing alcohol, a utility knife, painter's tape, a smaller paintbrush, and your paint or stain. When choosing your design, stencils are the easiest to work with; these can be purchased or created yourself. Along with these items, you'll also need a glass stain leading to use as an outliner, like this one from Amazon. The first step will be to clean your glass with rubbing alcohol, allowing it to dry completely. While waiting, finish preparing your stencil which you will place behind the glass. Once the glass is dry and your design is in place, you can use your outliner to trace your pattern onto the surface. The leading typically takes between six and eight hours to dry. 
After the outliner paint has dried, remove any clumps and fill in gaps you may have missed with your utility knife, and let the touch-up dry. Now, you can mix your colors and apply them to the glass as desired. Use a toothpick or your paintbrush to swirl colors together and create a truly unique look. To ensure there aren't any missed spots you'll want to be sure the paint is applied as close to the outlining as possible, as the paint can shrink when drying. Allow your paint to dry, and you will have successfully made your own stained glass.
Using acrylic paint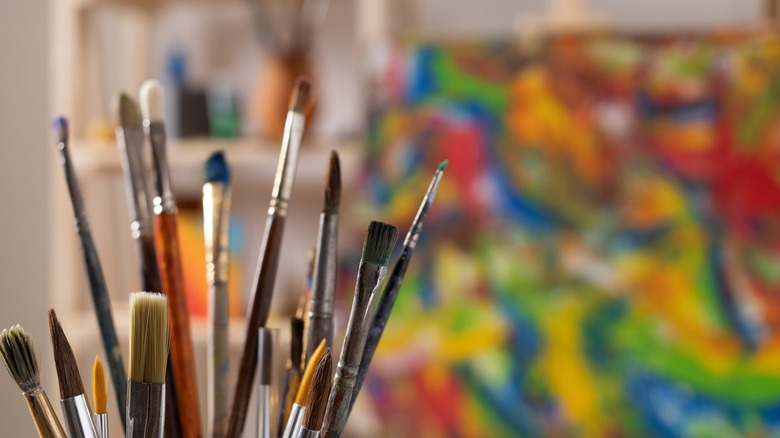 Afotosvet/Shutterstock
When using acrylic paint, your DIY stained glass can be completed in 30 minutes. The supplies needed include Mod Podge gloss, black acrylic paint, a squeeze bottle, disposable bowls, paint brushes, and glass. For other paint colors, feel free to use acrylic or glass paint. A stencil makes designing easier, but it's perfectly okay to trust your free-handed drawing skills. Before beginning, clean your glass with light soap and water, rinse, and dry it. Then, prepare your black paint and Mod Podge mixture, which acts as your outliner. Mix the two solutions in a bowl and use measurements based on your project's size. Once mixed, transfer to the squeeze bottle for easy control of your leading. Slow and steady, create your pattern on the glass and allow it to dry completely.
While drying, you can mix your other paint colors. Add a few drops of acrylic paint to one-half cup of Mod Podge gloss. Mix it well and test transparency on a piece of paper. You'll want this mixture to be translucent to ensure you get that stained glass effect. If it's not clear enough, add in more gloss until you get your desired consistency. Once all your colors have been mixed to perfection, and your outline has dried, you can begin coloring in your design. That's all there is to it, and if you ever tire of this one, all it takes is some soap and water to remove the paint so you can begin again.
Getting crafty with gel squares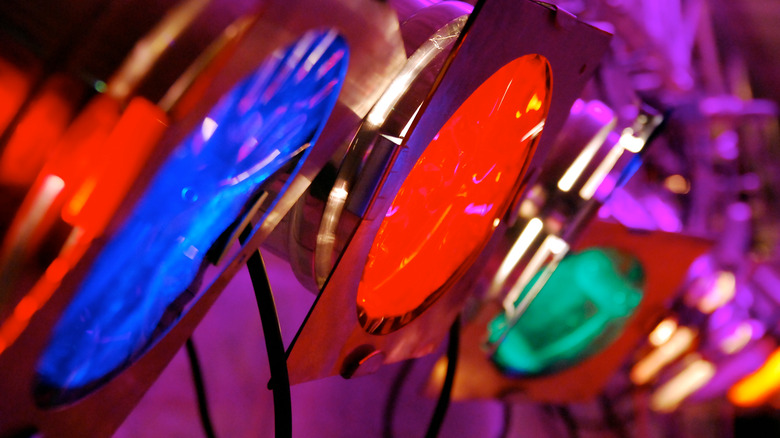 GRpic/Shutterstock
A viral TikTok hack shows creators getting crafty with their stained glass dupes by utilizing spotlight gels. These gel sheets are used in theatre, film, and television stage production to allow for light color changes. Your supply list is small for this process; water, paper towels, and gel sheets, like these from Amazon, are the only tools you need. Start by cleaning your windows thoroughly; the cleaner, the better. Cut your gel squares to your desired shape and size to fit your windows. There are unlimited possibilities of funky and fun designs you can create.
Mist your window lightly with water, targeting the area for your first gel sheet. Carefully apply the sheet to the wet spot and smooth it out using a paper towel to catch any water that dribbles out the side. Repeat these steps for each sheet until your window is covered with make-shift stained glass. These sheets tend to stay on between four to six months and can be easily reapplied whenever they peel off.