Make This Simple Change To Your Fridge To Bring A Pop Of Personality To Your Kitchen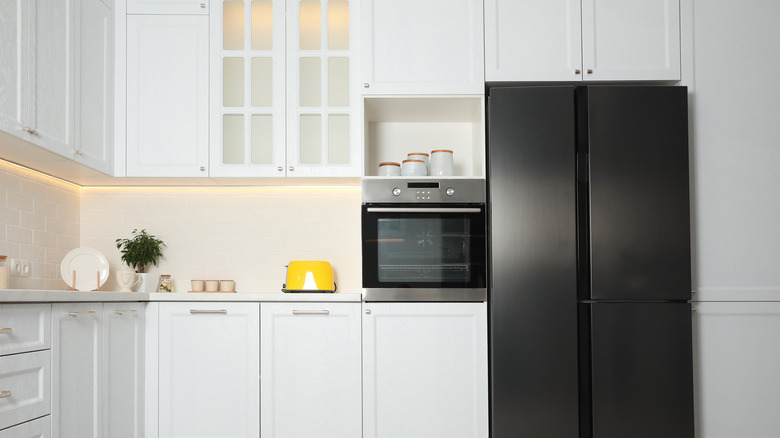 New Africa/Shutterstock
Refrigerators are typically the largest appliance in any kitchen, and they are often noticed immediately when entering the room. This can be a good or a bad thing. While a shiny stainless steel model can look sleek and modern, it may not work with some decorating schemes. In addition, wear and tear, like dents, scratches, and constant fingerprints, may have you looking to make a change. Many rental units, in particular, harbor older fridges in various finishes that may send you looking for a way to make them less dingy, more stylish, or more in line with the look of your kitchen.
The solution to a dated, boring, or ugly fridge is simpler than you would think. Peel-and-stick wallpaper, which is having a new surge in popularity for walls and other surfaces, is a perfect way to liven up that fridge. Not only can you cover the fridge, but it's completely removable whenever you desire. This is great for renters and for people who like a new look every once in a while. This is also not your mother's wallpaper. While once the domain of country duck prints and Laura Ashley florals, peel-and-stick designs now come in many unique and beautiful designs, from bold or dainty florals to stripes and modern geometrics. You can also find faux finishes like wood or stone.
What you will need
Choosing the perfect paper for your fridge is key. Look for materials with a satin finish that are easily wipeable versus a more papery texture. Some wallpapers are thicker and more vinyl-like than others. If possible, the best way to search for wallpaper is in person and able to touch it. If you're ordering online, look for heavier-weight papers made of vinyl. You can also buy vinyl sleeves specifically designed for fridges, which come in both patterned and solid. Since rolls come in various sizes, you will want to measure your fridge carefully to see how much paper will be required. A little extra doesn't hurt since you will be wrapping around doors and corners that require a little bit of excess that will be trimmed away.
You will need scissors, a measuring tape, and a scraper tool that helps smooth out bubbles or creases as you work. An exacto blade or utility knife is also necessary for trimming around elements on the door, like logos or ice dispensers (via HGTV). If the handles can be removed, this will save you some time having to cut around them. Be sure to start with a clean surface on the fridge for the best results.
Wallpapering your fridge
Make sure to measure carefully. The Crafted Life recommends that you consider the front of the appliance as a single surface to save time and work more efficiently. Apply strips of wallpaper vertically from top to bottom, cutting at the space between doors once the paper is applied. This helps to match up the pattern more evenly. You can also work horizontally on vertically stacked fridges, doing each part on its own. Be sure when measuring to leave 3 to 4 inches at the top, bottom, and sides to wrap around doors. 
Begin at the highest point with your strip of paper and work downward, removing the backing and smoothing out wrinkles and bubbles as you go. You can also use the exacto blade to make tiny cuts to release persistent air bubbles if necessary. Once adhered, cut small diagonal tabs in the corners, making it easy to wrap around the sides, similar to wrapping a boxy gift. Once you have adhered the sides, trim away any excess paper and use the exacto to remove bits of paper around the details.