Banquette Seating Is Set To Take Over 2023 - Here Are Our Favorites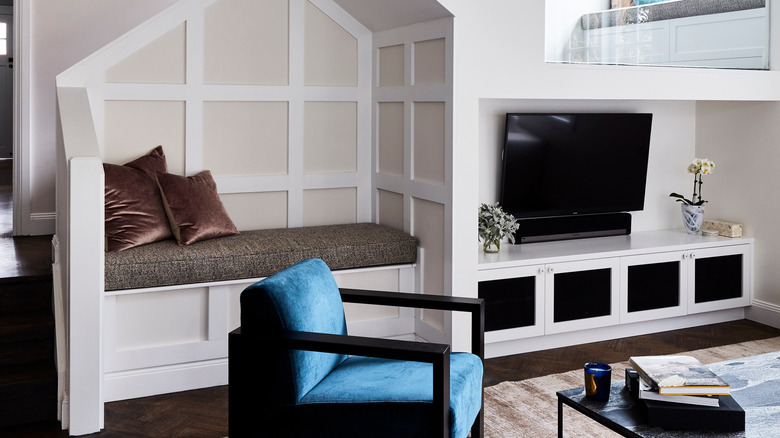 PhotoMavenStock/Shutterstock
Banquette seating is enjoying some newfound popularity not just in the kitchen but in other areas of the home. While a spacious, eat-in kitchen might be the first image that comes to mind, banquettes can be situated in almost any room in the house. In fact, if you have ever arranged a small sofa and chair around a table, you have the concept down, even if it's in the family room. 
Regardless of where you place your banquette seating, there are many ideas for design and decorating that would fit in well with the rest of the space. For example, you can adopt one of the popular styles, such as modern, minimalist, or rustic, or you can go retro by designing an area using heirlooms, or garage sale finds from past decades. There's no limit to what you can do with your banquette to make it comfortable and aesthetically appealing. Moreover, this setup can serve as extra storage if your bench's seat doubles up as a lid or if you add shelving or cabinets underneath it. With those ideas in mind, let's look at some of our favorite design motifs for banquette seating. 
Maximalist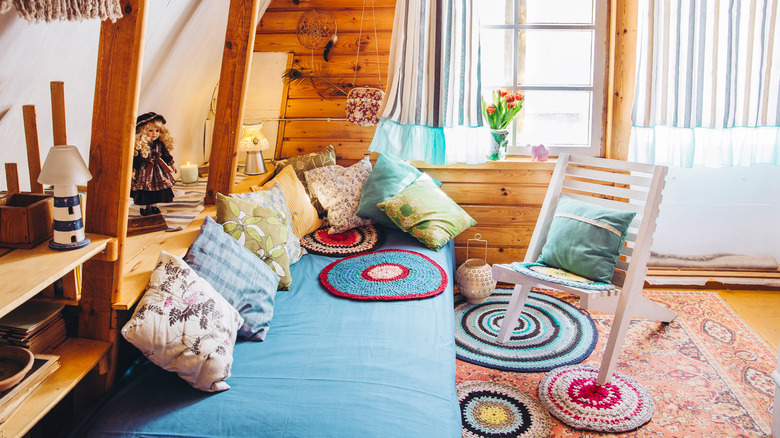 FotoHelin/Shutterstock
The maximalist style works well for a small spot, especially when you integrate those vivid pops of color in however many variations you can create. Starting with the seat cushions, you can use bold solids or unique prints and patterns that coordinate well with the wall color. 
There is yet another advantage to using this style in a small corner of your home, particularly if there's a bare wall behind your seating. That very spot would make the perfect accent wall for patterned wallpaper. Conversely, if the space surrounding your banquette has built-in shelves, add your favorite pictures, vases, and knick-knacks to compliment your dining area. 
If you have a window behind the booth, cheerful floral curtains with a generous array of hues make the perfect backdrop. Additionally, your table can be set with a tablecloth of a dramatic shade and colorful cushions to accent your bench. Add a small but fancy chandelier or another chic light fixture above, and you have the perfect maximalist-style banquette.
'70s-inspired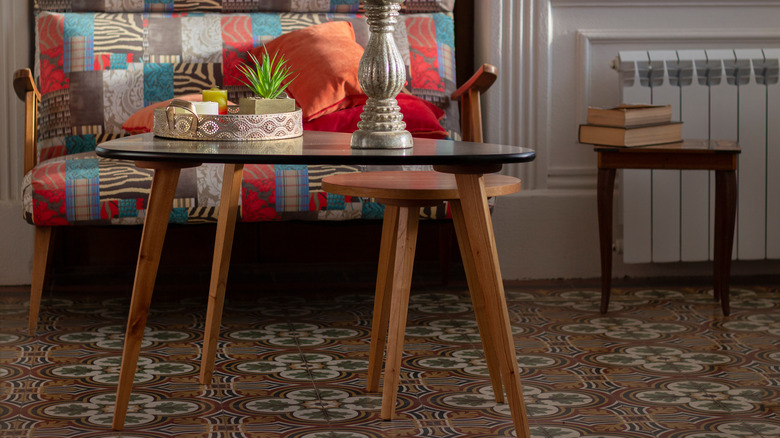 Gabriel Dominella/Shutterstock
Have you ever felt a nostalgic urge to incorporate a cheery color combo from the '70s into your décor? From bright yellow to lime green, a banquette offers the opportunity to bring back the best of this bygone era. However, before you start picturing your grandma's kitchen, think in terms of balance. You can bring in brightly colored upholstery for your seating with more subdued curtains or wall color. For instance, if your walls are neutral, you can opt for a table and bench reminiscent of a retro diner. Red, electric blue, or even two-toned vinyl adds to this blast from the past.  
Also, if you like the carefree Bohemian style, you can add some macramé accessories and cushions or upholstery with large, whimsical, floral prints. Likewise, you might consider adding a rattan table and chairs. A large crocheted doily on a solid tablecloth or just on the tabletop adds more of a '70s touch.
Mediterranean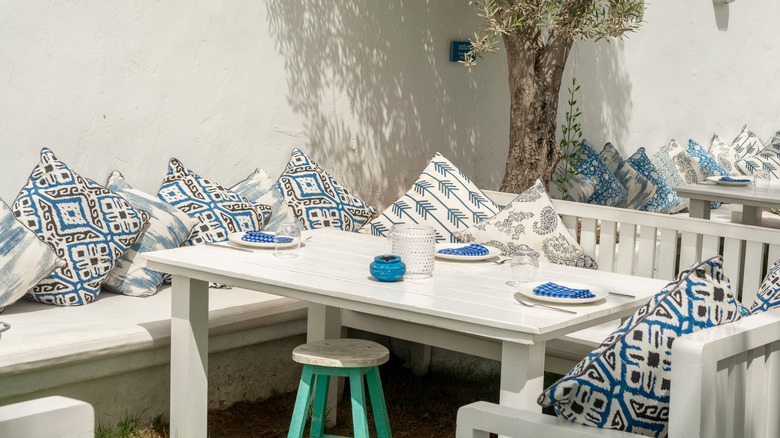 Dddoria/Shutterstock
Who says that banquette seating should be restricted to indoor areas? One of the most pleasing traits of the Mediterranean style is how it ramps up any outdoor space. With alabaster furnishings set against a stucco or a stone masonry backdrop, you have the perfect setting for relaxing or dining reminiscent of Greek architecture and design. To offset the white background, you can add cushions and accessories with intricate bright blue, turquoise, or light green patterns. For the table's center, try adding some candles that coordinate with the cushions, upholstery, an eye-catching bowl of flowers, or a delectable tray of fruit, grapes, and figs. To keep the motif going, you can plant some myrtle or oleander shrubs nearby if your climate allows it. Otherwise, some decorative, artificial duplicates can be strategically placed in this area. 
You can also achieve this style indoors in rooms with exposed wood beams, brick or stone masonry, trademark white walls, and tile floors. If you're staying true to the Greek motif, you can hang hand-woven lamps, but if you decide to integrate accessories from the western part of the Mediterranean (like Italy or Spain), a simple but elegant wrought iron chandelier will do.  
Sustainable
Whether you have a recycled church pew, a park bench that's still usable, or some mismatched dining chairs, you can always upcycle various pieces to achieve the ideal banquette. Do you have a glass-top table that was once part of your outdoor dining area — but the chairs weren't rescued before the big storm? With a clever tablecloth, this piece can be incorporated into a banquette with new-to-you stools or chairs and a bench. 
Another aspect of sustainability is being able to use something for multiple purposes. If you're a fan of DIY upcycling, you can take two tall and narrow shelving units, refinish them and either attach a wide, sturdy plank in between to create a bench or place the units on either side of a bench that you already have. After all, a banquette with storage capacity makes for a comfortable dining area and a great place to store dishes, tablecloths, or whatever you need to have out of the way. 
Curved edges
As you may have seen, not all banquettes are tucked away in a corner — albeit they make great use of extra space. Some can be placed in a spot in the kitchen you're unsure what to do with. This is where curved edges come into play. A curved bench, for instance, would take up very little space and could even create an interesting focal point for the kitchen. A round table surrounded halfway by a crescent-shaped bench adds a bistro-like dining area for morning coffee or a late-evening snack. To play up the theme of curved edges, try placing a simple, round mirror on the wall behind the bench. If your kitchen is fairly narrow, this adds the illusion of having more open space. 
For that awkward spot by the bay window that seems too small to be functional, you can also add curved banquette seating with a circular, woven rug underneath the table for additional color and texture. The area might be small, but it makes for a comfortable spot to enjoy a board game with the kids or an afternoon cup of tea while watching the rain outside.