How Cotton Balls Can Make Your Cut Flowers Last Longer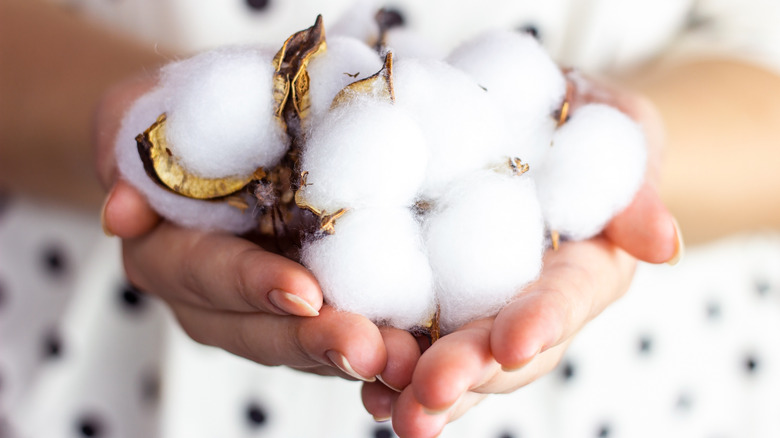 Ildar Imashev/Getty Images
White and fluffy cotton balls seem to have countless uses. From nail polish removal and wound care to the creation of adorable crafts, cotton balls are a simple solution to a wide range of problems. Even better, you likely already have a bag of them sitting somewhere in your home ready to help. In addition to the commonly known uses of cotton balls, they can also be used in some of your cut flower arrangements. When secured to the ends of the flower stems, they can help provide more water to the flowers and keep them looking fresh for longer.
Keeping fresh flowers in your kitchen, living room, or bedroom adds a colorful and natural feel to your home that cannot be replicated by anything else. However, they never last very long, do they? After purchasing a gorgeous, but slightly expensive, bouquet at your local farmers market, it takes less than two weeks for them to start dying. Keep in mind that cotton balls are not a cure-all for flower arrangements, but, for hollow-stemmed flowers such as amaryllis, these little guys work wonders.
What are hollow-stemmed flowers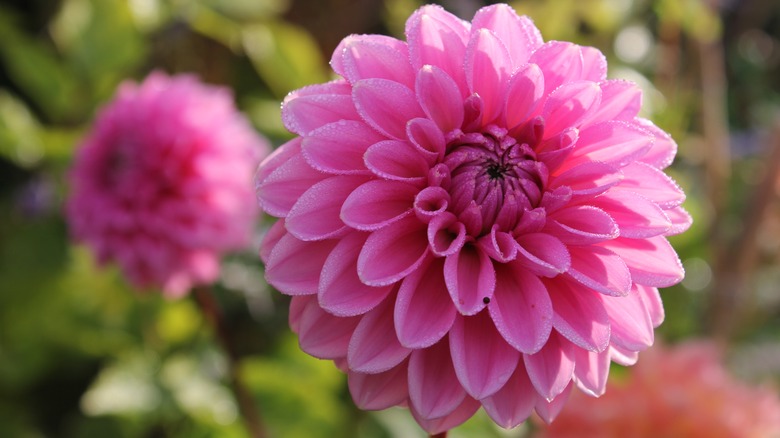 Stecher/Shutterstock
Besides hollow stems, there are six more categories of flower stems that you should be familiar with. They are soft, milky, woody, semi-woody, bulbous, and hearty stems. Different stem types call for certain necessary conditioning before arranging your flowers. It's important that you can identify each of them if you are looking to make your cut flowers last longer.
Before you break out your bag of cotton balls for this great tip, make sure that your flowers are compatible with this project. Unfortunately, flowers without hollow stems will find no benefit from this trick and you'll only succeed in wasting your cotton balls. Hollow-stem flowers include lupines, amaryllises, delphiniums, daffodils, hollyhocks, dahlias, and bells of Ireland. Each of these, and a few more similar species of cut flowers, need to stay hydrated at all times. Providing them with little water will lead to them drying out quite quickly, leaving you with an unsightly bouquet.
How cotton balls can help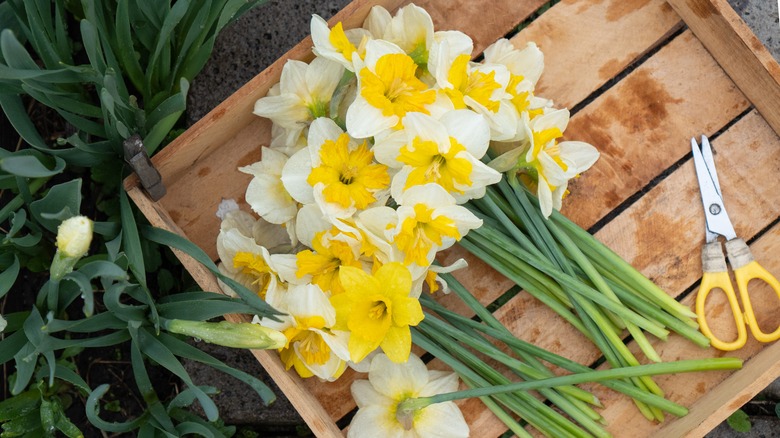 yizhachok/Shutterstock
When using one or more hollow-stemmed flowers in a floral arrangement, consider using cotton balls to plug up their stems. Doing so will ensure that they stay hydrated longer, leading to an extended life span. For the best results, we recommend cutting your flowers' stems at an angle so they can be exposed to as much water as possible. After this, you'll want to flip the flowers upside down before filling their stems with a gentle stream of water. While they are still turned on their heads, place a water-logged cotton ball onto their ends to keep the water in. Finally, you'll want to secure the cotton in place with a string or rubber band before arranging the flowers in a vase. 
Even though the flowers are already filled with water and plugged, you'll still want to fill your vase. The cotton balls will soak up the water and allow more to find its way into the stems. You can also use this method to easily transport flowers by placing a plastic bag over the cotton ball, which will prevent them from drying out prematurely.