What Is Color Drenching? The Painting Trend That Can Boost The Tranquility Of Your Room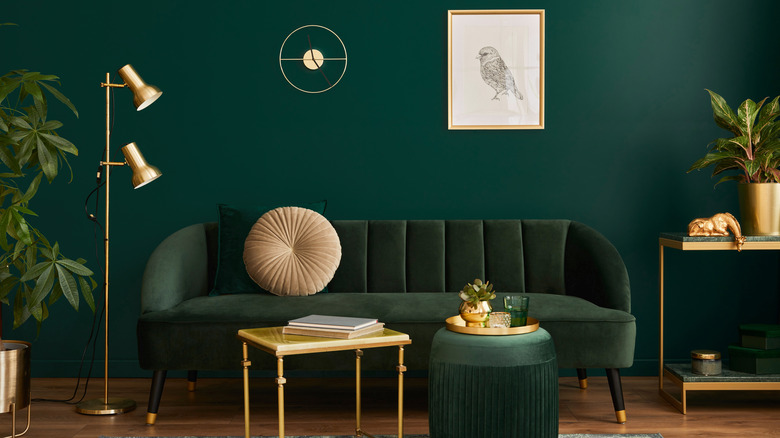 Followtheflow/Shutterstock
Neutrals have been the go-to for interiors for years, but recently, color has taken over. We've seen it in maximalist rooms with a cacophony of many shades throughout the space. We've seen statement sofas and painted bookshelves. Accent walls, wallpaper, and painted ceilings have all been a way for people to incorporate color in bolder ways.
But for people who can't get enough color, there's a new painting method: Color drenching. It" ... signals a move away from white woodwork and skirting and towards a more contemporary, cohesive scheme that feels considered," designer Ruth Mottershead explains (via SheerLuxe). In essence, color drenching is painting multiple surfaces in one room with a single color. Think the walls, baseboards, and trim around the windows all painted the same shade or painting shelves and cabinets the same color as the walls.
You don't have to be a maximalist to use color drenching. This method can work well if you're a minimalist who loves color. While it may have more color than the typical room, it does so in a way that doesn't feel overwhelming. As a versatile technique, you can use color drenching in both traditional and modern homes.
How to use color drenching
Color drenching is a great way to create a mood and envelop your room by using a specific shade. "So, you picked a fun wall color; why not paint the door?" @heygrantly says in a TikTok on the topic. "It creates a cocooning effect of calmness." 
This technique makes a room look modern, clean, and well-thought-out by boldly embracing color. But if this sounds like too much color, or feels like one shade would be an overwhelming commitment, then you can adjust it slightly. Use two or three colors in the same tonal shades when drenching. For example, you can paint the walls sage green, then adjust the hue lighter or darker to use as a secondary color or accent for woodwork, shelves, or trim. 
So, how do you choose a paint color for color drenching? While you can use any color, for this technique, the bolder, the better. Highly saturated colors, jewel tones, and deep shades can make a big impact. However, to achieve a tranquil color-drenched room, consider colors that have a calming effect. Light blues and greens are most often considered peaceful and soothing shades. In general, lighter colors feel more relaxing, bolder shades are energizing, and darker colors feel cozy and enveloping.
Styling a color-drenched room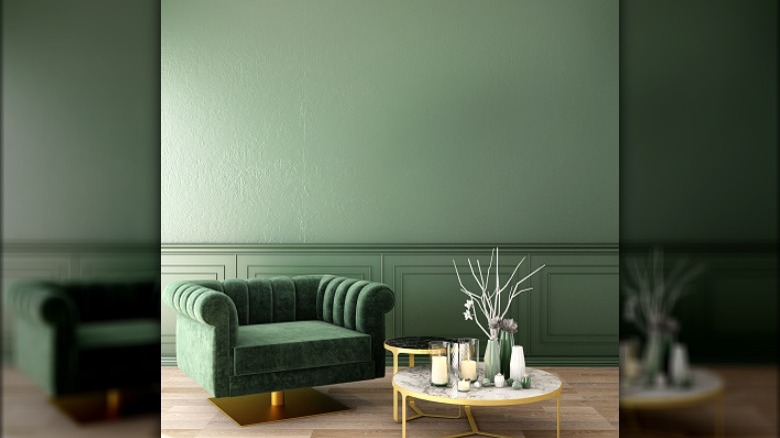 Ume Illus/Getty Images
Though color drenching is about using the same or similar tones on multiple surfaces throughout the room, it doesn't mean that everything in the space must be the same color. In fact, this is a great opportunity to use the monochrome backdrop to feature a statement piece in the room.
Think of painting the walls and ceiling all the same color to feature a chandelier in the dining room. Or, instead of putting one detail at the forefront, you can make the larger pieces the same as the color-drenched color and highlight a secondary color or material throughout the space in small ways. For example, a living room sofa that's the same color as the walls but coffee and side tables in a complementing wood tone.
The simple background is also an excellent way to highlight patterns and artwork. You can lean into the color-drenching technique and select art or wallpaper with similar tones as the main paint color. Or, choose the bolder option of contrasting colors to make the detail pop in the room. Choose a color with your décor and the room's natural light in mind. Consider how the paint will look at different points of the day before settling on a shade. Lighting, such as sconces and spotlights, is also recommended to draw attention to features in color-drenched spaces.