How To Perfectly Match Furniture With Gray Flooring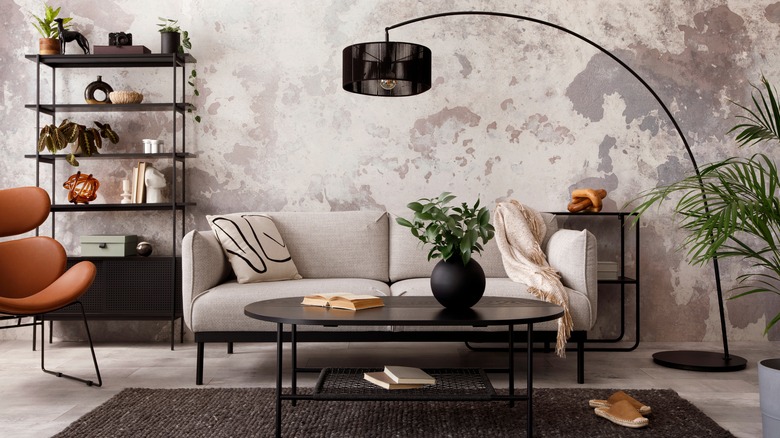 Followtheflow/Shutterstock
Gray flooring has been a staple in home decorating for as much as a decade now. While it's starting to feel dated in some decorating circles, many people are still enjoying this light neutral color as an alternative to the dark brown floors that dominated the early aughts. While the style of furniture you choose is important, the color of the furniture can make or break whether it's going to look great in a room with gray floors. Thankfully many different colors look super with gray — including most shades of blue, brown, white, black, and contrasting shades of gray.
If your sofa's tired and sagging and needs to be replaced, or you are moving into a new home with gray flooring you might require some décor adjustments to get the vibe you're envisioning for your new place. Selecting furniture and coordinating décor you can live with is one thing; picking out pieces to furnish a space you're proud to call home takes a bit more thought. With a few guidelines for matching furniture and accessories to your gray floors, you can go from living with a look to absolutely loving it.
Furniture colors that work best with gray flooring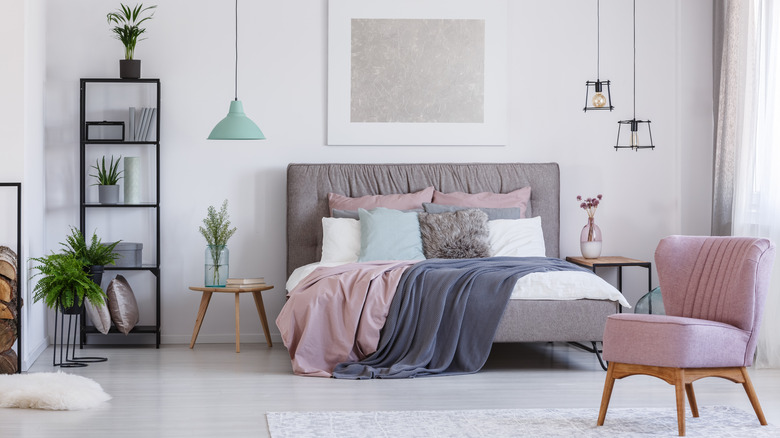 Ground Picture/Shutterstock
While neutral colors always pair well with gray, other colors can work well, too, but may be a bit riskier to pull off depending on the exact hue of your flooring. For instance, pastel pinks, yellows, and greens tend to blend better with lighter gray floors while bright pinks and emerald greens can work nicely with medium to darker grays. Pay particular attention to the color of your couch, since that's often the largest piece of furniture in a living room. The same goes for upholstered headboards and side chairs in bedrooms. 
You can also mix and match the furniture you already have with some new additions to complement your gray flooring. This works particularly well with dining room furniture. You can keep the lovely dark wood table you can't bear to part with and replace the chairs with upholstered versions in a color that works beautifully with your floors. Creamy white, light taupe, and light gray contrast nicely with dark wood tables.
Amp up the accessories to complete the look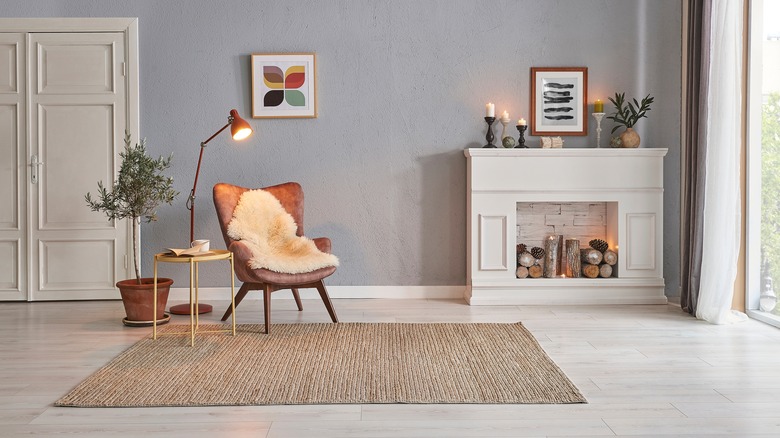 united photo studio/Shutterstock
If you're just not loving your gray floors, and don't want to take on the expense and inconvenience required to replace them, nothing's better than an area rug to get the look you want. The right rug can meld together colors that aren't working for you, so you might be able to keep your existing furniture. Oriental rugs and other options that include varied patterns work in many homes since they blend several colors together. Rugs made from natural fibers like jute and sisal can also look fab with furniture in an array of colors including brown leather.
When on a budget, you can also explore the idea of updating other accessories to go with gray flooring before buying new furniture. Look for throws and accent pillows to give your room a cohesive look. Lamps, planters, and wall art can add pops of warm color that offset the coolness of gray flooring. Accent tables made of oak or black metal also work well with many gray floor colors. With a little shopping effort, you may find that some well-placed accessories are all you need to get your furniture to match perfectly with your gray flooring.