HGTV Fans Slam Tarek And Heather El Moussa's Dreamhouse Reveal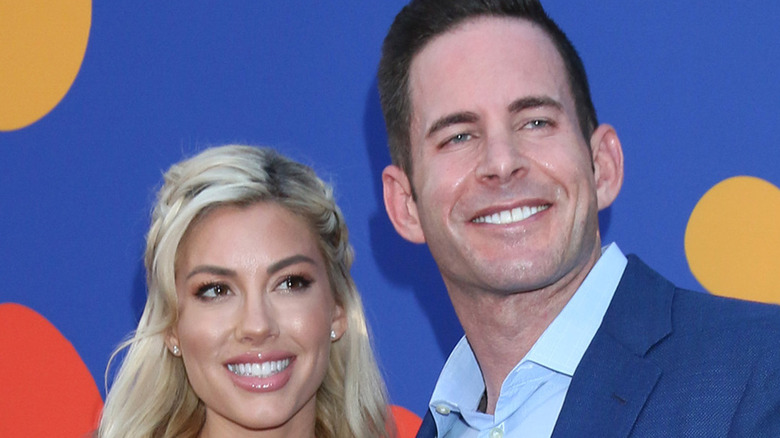 Kathy Hutchins/Shutterstock
Tarek and Heather El Moussa are something of a real estate power couple. Tarek El Moussa has starred in numerous HGTV shows, including "Flip or Flop" with ex-wife Christina, and "Flipping 101." Heather El Moussa is a realtor featured on Netflix's "Selling Sunset." The two met by chance on 4 July 2019 while on separate boats out with their respective friends. They had a whirlwind romance before getting married in October of 2021 and recently giving birth to their first child.
Though it may have been fate that brought the two together, the pairing makes a lot of sense with their prolific careers in the real estate industry. While they both may be known for their ability to find and create stunning homes for clients, their own home has drawn some controversy. The couple recently revealed photos of the first home they designed and decorated together, but the majority of fans don't seem to like what the couple has done with the place. The carousel of images shown on Instagram has over 44,000 likes and 999 comments at the time of writing.
While not every comment is negative – Heather's "Selling Sunset" co-star Chrishell Stause shared three red heart emojis and realtor Elena Cardone added an applause emoji — the vast majority offered critiques of the pair's perfect place.
Lacks some personality and warmth
One of the major themes of the comments was that the El Moussa's home lacked personality and warmth. Their home has a neutral color scheme of mostly blacks, whites, grays, and beige with only a few hints of color in the photos they shared. One comment said, "Black must be your fav color since that's all you seem to wear and your home is drowning in it!!!" while another says, "Sometimes black and white is harsh, not homey." That succinctly sums up why many feel like the space lacks some warmth. In recent years, many interiors have moved away from all-neutral aesthetics to the delight of homeowners. Black and white color schemes can be sterile and impersonal, more like a showcase than a room your want to cuddle up in.
Others commented that the design felt like "everything we've seen before from Tarek and Flip or Flop. It always amazes me when it's like; I have this new, wild idea: black gray, and neutral tones!" As a realtor and someone who flips houses, El Moussa might gravitate towards neutrals, as this appeals to most potential buyers. But fans seem to expect much more color for a home you plan on raising a family and having a life in. The nursery, even, is neutral with a few pops of dark green, a color also found on their patio.
A little showy and tacky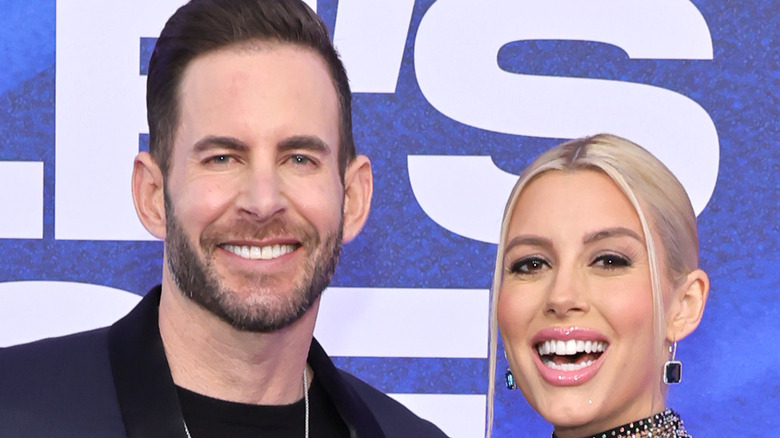 Amy Sussman/Getty Images
Comments didn't only focus on the overall austere vibe of the El Moussa's new home. Fans also got down to the nitty-gritty, calling out some of the details in the photos the couple shared. The kitchen, in particular, had a few critics, with one comment likening the backsplash to dragon scales and another saying the cabinet above the stove looked charred.
Others seem to think the space was too designed, with the abundance of statement details making the space look tacky. "Only because you asked for an opinion ... so happy you love your home but definitely not my taste ... screams cheap skanky Vegas sort of vibe thing," someone commented. Some of the glam details, such as the gold accent details and velvet headboard in the primary bedroom, might be to blame. These details can often look like hotel designs to some. Glam aesthetics can sometimes look like a cheap way to make a space feel expensive.
Though most celebrities tend to expect some negative comments on their social media posts, this amount isn't the norm. The new El Moussa home seems to be polarizing, with the majority disliking some of most aspects. Regardless of how you feel about the design, one comment seemed to sum up everyone's feelings, "not my style but it's not my house, so who cares."