The Dos And Don'ts When Introducing Black Decor In Your Home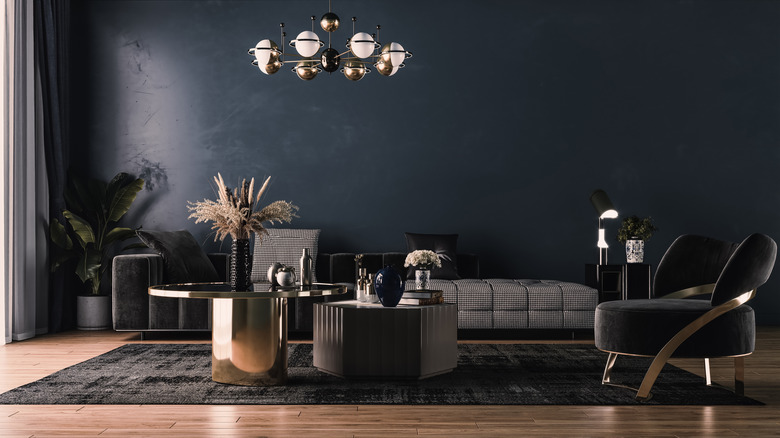 mixphotos/Shutterstock
Black may have previously been seen as too harsh for interior design purposes. The edgy and dramatic color can be polarizing but is generally accepted as neutral nowadays. It provides contrast and visual interest to the space easily, and when you're first struck by black in home interiors, you may be tempted to run to the store, grab a paint can of whatever black shade you can get your hands on, and paint everything in the house. But knowing how to properly use black in your home is important. 
Of course, each home has different needs, and you should play to your unique taste — but having a solid understanding of how to incorporate black into home décor is necessary, or your space can quickly feel like a dreary, angsty, and suffocating space. So take your time to plan it out, and learn a few easy tips to help navigate using black in your home.
Do understand that you can always add more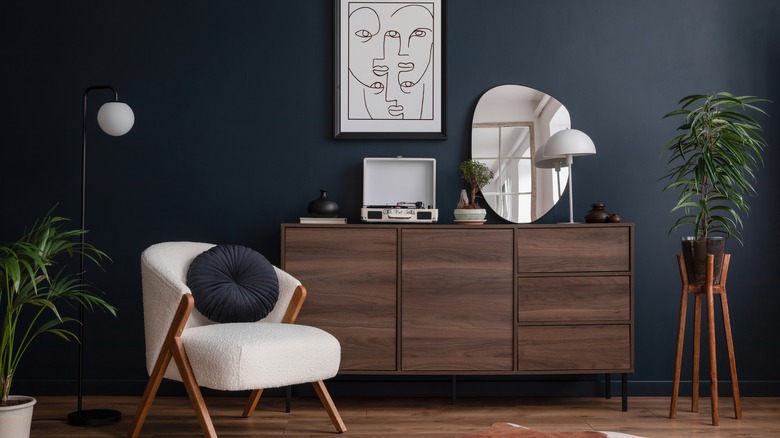 Followtheflow/Shutterstock
While a black-painted living room may look stunning on the cover of a magazine, that doesn't mean it will work in your everyday home without the help of special lighting and careful photography. Think of using black like you would getting a haircut — it's easier to start out with a trim and then take more dramatic chops afterward. So with black, begin with a few changes to your home and add more over time as your tastes see fit. 
For instance, instead of painting an entire room black, try an accent wall. Before you decide to swap out your bedroom furniture for a sleek all-black design, try switching out the bed frame or duvet cover. This goes for larger plans as well — even if you're pretty sure you want black to be in each room of your home's color palette, start with one room and see how it feels.
Don't ignore the building style of your home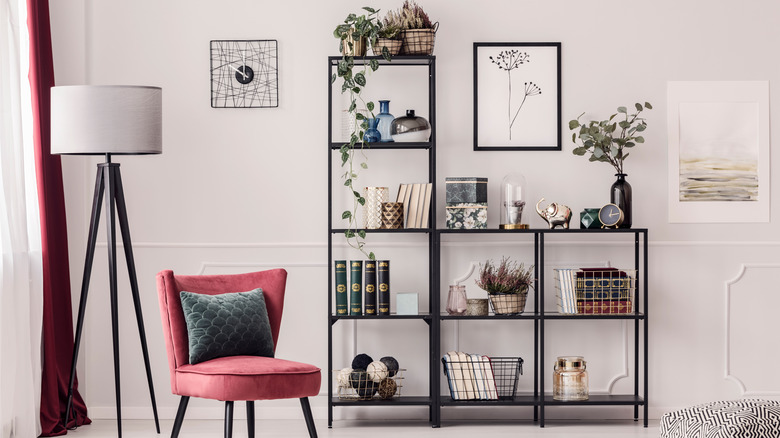 Katarzynabialasiewicz/Getty Images
When you're gathering inspiration for incorporating black into your interior design, it is hard not to want to recreate every stunning display you see — vintage dining hutches in obsidian, matte black midcentury floor lamps, the possibilities are endless. But this can lead to a space that feels messy and inauthentic. Try to identify your home's architectural style or language when deciding which projects and furnishings make the most sense. Creating a black-on-black built-in bookshelf makes sense if you're living in a modern-industrial apartment. On the other hand, if you're fixing up a classic Victorian townhouse, leave the black acrylic coffee table out of the shopping cart. 
That isn't to say that you shouldn't make your home your own and appeal to your own unique tastes, which are almost never one exact aesthetic, but do look for queues from the bones of your home before shoe-horning a design choice.
Do add dimension and texture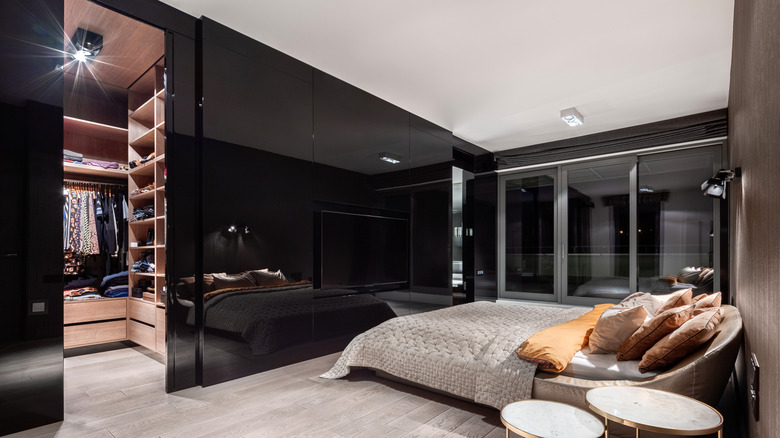 Dariusz Jarzabek/Shutterstock
One of the issues that come with using black décor is that a space can feel flat, even claustrophobic. So that makes dimension and texture key to your design plan, especially if you are planning on an especially dramatic design scape, like a living room with all-black walls and ceiling. There are a few ways to achieve this balance. Look to your furnishings to add new textures and finishes to the space. Metallic-legged tables, crown molding, and mirrors are all excellent choices. 
If you want a more subtle dimension, consider your paint colors. Using multiple shades of black can help break up the space and create depth. But you should also think about the finish of your paint. Matte and semi-gloss paints are often used on walls, so paint the built-ins or dining chairs in a high-gloss finish of the same color. This adds subtle sheen and reflection to the room, which is easier on the eyes but still just as dramatic.
Don't skimp on lighting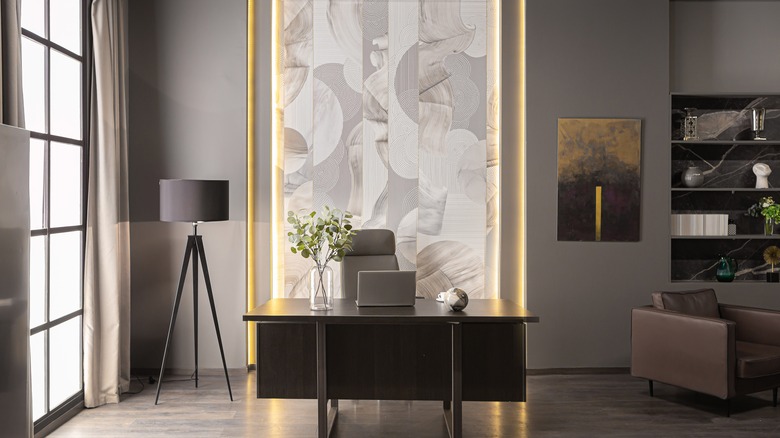 Pinkystock/Shutterstock
In general, one of the most overlooked components of interior design is dynamic lighting. But it can make a huge impact in your space, especially when decorating with black swatches. Similar to a lack of dimension and texture, a sparse can make the room feel flat and boring. Don't rely on your sole overhead light to make a black interior design work. Think of lighting instead as its own design element, able to highlight different elements of the room throughout the day. 
First, consider the room's natural light, and then use lamps and other light fixtures to play around its absence. Using a combination of traditional floor, tabletop, and wall-adhering lamps is a great start, but can get expensive. LED light strips are an affordable but high-impact lighting solution that allows you to tailor the lighting — most come with an app that allows you to change the color and brightness as well, which will play well off of black furnishings and walls.
Do understand that black is high maintenance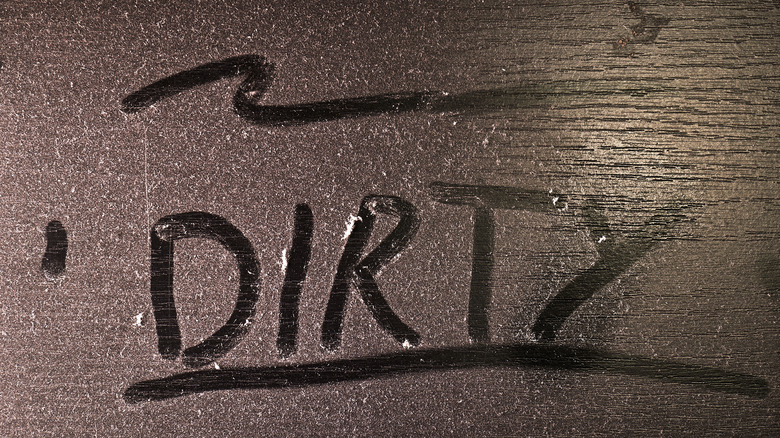 Peter Gudella/Shutterstock
Black is a gorgeous choice in interiors and is loved for its sleek, contemporary vibe. But it is not a low-key, easy-to-maintain décor choice, whether we are talking about a black velvet chair or a coat of black paint on the walls. Black shows everything. Crumbs, dust, fingerprints, and so on. That makes it especially important to consider what materials you're putting in the room and whether black is the right choice for you. 
For instance, a glossy black fridge may look amazing in your kitchen but will show every smudge and smear. So if you have kids and don't want the burden of polishing the fridge daily, this isn't a great choice for your home. There's no hard and fast rule about which rooms black will work in, and it will depend on your cleaning habits and how much time you're willing to put into maintaining black fixtures, but keep in mind that black décor is not low-maintenance.